It's Thursday January 19, 2017
Dock Quote: "Water is patient....
News From The Village Updated Almost Daily
Upcoming Events
Shrimp Fishermen Show Up In Numbers. The Story
Short Term Rental, Floodplain, Electric Charging Stations . The Story
Wind A No Show. 33 Boats Do. The Story
Give A Dragon A Hand. The Story
Sustaining The Groups That Sustain Us. The Story
Walk On The Left. Letters To The Editor
The Geek Checks Out The Options. The Village Geek
Reader Asks Why An "Illegal" Business Exists. Letters To The Editor
The Pig, The Golf Course, The Flood Map. The Story
Fri Dec 9 - Sat Dec 10. The Story
Food For Thought on Shopping Locally. Letters To The Editor
Needed For New Year's Run. The Story
Array of Rules As Pamlico Scouted . The Story
Countywide: 45% Rate. The Story
A Recap: Short Term Rental SUP, Holiday Lights, Spring Cycle. The Story
Matthew's Impact. Letters To The Editor
Hot Chili Raises $3K For Old Theater Roof. The Story
Sunshine. Strings. Smiles.. The Story
Eric Kindle Reports From Princeville. The Story
Pamlico Pays It Forward. The Story
Seeking A Dry Route. The Story
Map your way in. The Story
After The Winds And Rain. The Story
A Town Preps. The Story
High Ground To Escape High Water. The Story
Reader Questions Unclear Plan. Letters To The Editor
Bob Arrington Writes On The Potential Impact. Guest Columnist
Charlie Overcash Reports In. Guest Columnist
Blessed with a Bristol Channel Cutter. The Shipping News
Public Hearing Tuesday Night. The Story
Oriental's Julia Tingle. Spokes
Scott Williams Makes An Exclusive List. The Story
What If Joyce Kilmer Had Seen The Tree?. The Story
NC State Bar Investigation Ends, Funds Returned To Local Clients. The Story
First On T-Shirts, Now A Book. The Story
A Call To Use It Right. Letters To The Editor
7th Annual Festival. The Story
Youth Racing in FJs And Optis. The Story
She said yes. The Story
He taught thousands how to sail. The Story
The Midyette – more recently, the Hinman – house, dating to the late 1800s, is coming down this morning. The home, at the corner of South & Wall Streets, is among the oldest in town. In recent years (recent hurricanes didn't help) it had become more decrepit. In better days the home was host to an annual art class.
Wednesday January 18, 2017
11:45a A controversial proposal to significantly reduce where fishing trawlers can fish was discussed yesterday at a meeting in New Bern. The result, although not final, was a vote to deny the proposal. TownDock.net was at the meeting.
8:18a New deals at Piggly Wiggly Oriental for the coming week are now online.
7:59a Semi springtime warmth. And wet on and off. The forecast for the next few days goes wet / dry / wet / dry / wet / wet. Mid 60s today… rain more likely this morning then just cloudy for the afternoon.
Thursday partly cloudy/sunny and near 60.
Beanie is one seriously cute mini lab. She's looking for a new home.
Tuesday January 17, 2017
4:12p Where is Oriental's shrimp trawler fleet today? In New Bern:
Today is a special meeting, with five advisory committees to the N.C. Marine Fisheries Commission taking public opinion on proposed new restrictions to shrimp trawling. The meeting is at New Bern Riverfront Convention Center… and we're told some one thousand people showed up. TownDock's Ben Casey is there, and reports that about 90% of the attendees are commercial fishermen. They are not pleased with the proposed restrictions. Public comments are limited to three minutes per person, and many are speaking.
As well as commercial fishermen, representatives of the Wildlife Federation are there (many are recreational fishermen). The Wildlife Federation web site cites their concerns:
"North Carolina is the only state on the east coast to allow shrimp trawling in its sounds, fish nurseries, and estuaries. This petition for rule-making aims to bring North Carolina in line with all other east coast and Gulf states in limiting trawling in sensitive and critical nursery and habitat areas."
Commercial fishermen argue that they have done much to reduce bycatch, and that any further restrictions could end shrimp trawling as a viable business on the North Carolina coast.
A more in depth report from the meeting coming Wednesday.
3:25p. What a gorgeous day it turned out to be and warm, too. Like a spring day with bees buzzing…
Actually, beekeepers are getting together tonight for the Pamlico Craven Beekeepers Association monthly meeting.
Meanwhile, the semi-monthly Migraineurs meeting is canceled tonight
Monday January 16, 2017
8:12a Will it rain today? Probably not… if it does, not much. Rain is more likely Wednesday. Unseasonably warm all week.
8:01a Oriental is home to a nationwide exclusive event Friday. Donald Trump and Meryl Streep will appear on the same stage… Old Theater. Possibly not at the same time.
Continuing a tradition, the Presidential inauguration will be shown live on the Old Theater screen. Free admission ($1,000 donations accepted). Doors open 10:30a. Bring your own food and prescriptions.
Later Friday, same stage. Meryl Streep will appear for the Friday Flicks in Mamma Mia. Showtime 7:30p. Tickets $5.50, popcorn included.
Oriental Police may provide heightened security in the theater district.
Friday January 13, 2017
7:32a Boo. Friday the 13th. It's such bad luck that the sun will shine and the local world will reach about 70 degrees today. Humans wearing shorts spotted this morning in Oriental.
Short term rentals, a Microbrewery & Floodplain mapping were among the subjects at January's Town Meeting. Here's the report…
Thursday January 12, 2017
2:46p Weekly specials at The Pig – check 'em out.
2:31p Cycle NC is coming to Oriental April 27-30. Some 1,400 bicyclists will be in Oriental for weekend. Town Manager Diane Miller is seeking some volunteer help:
I'm asking for 33 citizens (locals with the "inside scoop") to man information tent at Lou Mac Park in shifts to simply answer questions and point folks to the places they are looking for and the resources they need. We'll have tables full of information to give out, but we need
YOU
, the citizens, to be able to tell folks about the genre of music at "X", the best seafood (in your humble opinion), where to get great burgers, where I can find someone to sell me a doohickey to fix this on my bike handle, where to find the next dose of Claritin, where to replace the shorts I just split open, where to rent a kayak for the afternoon, etc.
The shifts:
Thursday, April 27, 10AM-2PM (4), 2PM-6PM (4)
Friday, April 28, 7AM-11AM (4), 11AM-2PM (4), 2PM-5PM (4)
Saturday, April 29, 8AM-12PM (3), 12PM-3PM (3), 2:30-5:30PM (3)
Sunday, April 30, 8AM-12 PM (2), 12PM-3PM(2)
To volunteer email Diane at Town Hall,
manager@TownOfOriental.com
.
11:12a The chill of early this week fades. 71 big fat degrees today -and the
Oriental Weather Forecast gives us another day just like this tomorrow.
Not too shabby weatherwise for the King holiday weekend, either. Mid to upper 50's all 3 days – wee chance o' rain Saturday but otherwise, looks beautiful.
Might be not quite warm enough for an evening picnic outside tomorrow night, but is a community dinner planned for inside. You're invited to the Oriental Food Initiative's Healthy Pot Luck. Put your tastiest, healthiest dish together and share. Details here.
Saturday afternoon brings a chance to jam bluegrassy style with the band, Iron Horse. The jam session's at Pamlico Community College. The band plays a sold-out show at the Old Theater Saturday night.
Wednesday January 11, 2017
12:50p Condolences go out to Elizabeth and Roger Cordes. Elizabeth's mother, Anne Holloway passed away on Sunday. A retired teacher, she was 82 and lived in New Bern in recent years. Obituary with more on her life may be read, here.
An update. Organizers of a meditation group say they've had a great response. Look here soon for info on when and where the meditation group will be meeting.
Mindfulness is an ingredient Friday evening at the Oriental Food Initiative's Pot Luck. You're invited. Whip up something healthy and tasty — and share. More details here.
9:55a Ferry's back up and running, says Sue Kinner:

Most of the fog has cleared out and the Cherry Branch Ferries are now running on schedule.
6:19a Long way around if you have to get to the other side of the river. The ferry's not running.

The Cherry Branch Ferries are unable to run this morning due to dense fog.
Tuesday January 10, 2017
12:49p One detail about the floodplain map update that's the subject of a meeting at the county courthouse in Bayboro tonight. It is, as we reported a while back, based on data collected from 1988 thru 2010.
That means the maps take into account the high storm surge of 2003's Hurricane Isabel but not the even higher flooding of Irene which came in 2011- a year after the cutoff of 2010.
Standards for new construction and flood insurance would be officially based on this thru-2010-not-2011 update and that gives some reason to cheer.
But you can't fool Mother Nature, who i'n't paying attention to any map; adding another cinder block above the minimum … probably a good idea.
8a Whoooo, baby it's still fill-in-the-blank weather — colder-than-a-____________ out there this morn. True, it's not in the teens like yesterday – it was in the mid-20's after sunrise – but still cold enough to have warm thoughts about our swampy, sweaty Augusts.
Steinbeck has the mirror image of that in today's Dock Quote.
PCC has some classes starting today… birding class led by Pauline Sterin. And t'ai chi at Town Hall. Details for both in What's Happening.
And tonight at the courthouse, a meeting about the new floodplain maps. The state's updated the maps to reflect the reality of high water events that've happened since the last update, which used data from 1988. Building regs and insurance rates can be affected by the updates.
Monday January 9, 2017
5:57a There was a news item on the radio this weekend about how we humans had gone soft by keeping the temp around us at 70 degrees all year and how exposing ourselves to extreme weather was healthy for our immune systems.
This morning we've got that immuno boost. It's colder than… than an ice-encrusted packet of Emergen-C out there. 17 degrees just before 6a. Oriental Weather Forecast says it'll top out at upper 30's today and back to 20 tonight.
Ferry is back to running today at full strength.
The Oriental Food Initiative's book discussion about 'Food Matters,' planned for tonite is cancelled being put off til a later date, TBD. Temperature matters.
Sunday January 8, 2017
7:02p Hope your heater is heating. Currently 22 degrees… tonight's low now forecast to reach 14.
These mean graphs show it:

8:41a The Ferry is back in operation – earlier on a one boat schedule – but now both boats are running. The word from Cherry Branch:
Back on full schedule as of 8:30AM.
Snow. There actually was a small dusting yesterday afternoon. Not enough to assign a number to it, but you can see it about.
The Duck Pond has a layer of ice this morning. No hockey yet.
7:54a The forecast was about spot on. Overnight we reached 18 degrees (it is still 18 at this writing).
Today… the sun will shine. Beautiful views. Cold thermometers. High today 29. Low tonight 16.
Oriental is awake in the cold. The Bean on Hodges & Oriental Deli on Broad are both open. Right now. Hot stuff awaits.
Saturday January 7, 2017
2:38p An ice & snow mix coming down right now in Oriental… avoid driving if you can.
2:31p For wall to wall weather info, TownDock.net streams NOAA Weather Radio (the same signal you hear locally on a Marine VHF):



Add some diesel stink and it'll feel just like being onboard.
2:18p Windyyy today. High wind 37mph so far – that was at 9:41a. While still breezy, winds have diminished some as the day has progressed… letting water levels go down a bit. Now 1.33 ft (it was almost 2 feet this morning).
Just a few days a go… it was almost calm. January 1 was the Instead Of Football Regatta. Take a look…
1:55p Slow day at Fulcher's Seafood on Hodges. Jeff Styron just closed up shop for today.
Over at Oriental Deli Tim Jalbert says "we will be open snow or shine Sunday 7 – 2 pm."
1:48p Billy Flockhart at The Pig says PIggly Wiggly Oriental is open – but will be closing early today at 5p. Head on down to The Pig between now and 5p and get set for the cold weekend.
Cold? How about low 17 tonight, Sunday… the high won't even reach freezing. High 30. And and low 17 ahead for Sunday night. Sunday will be sunny & clear though.
Stay warm and think ahead a few days. Next week it warms again… clear and into the 60s Thursday / Friday / Saturday.
1:27p From Pat Stockwell at The Provision Company:
We've been open since 9a. Groceries and wine are the big movers. But we did sell some line earlier. Bean is now closed.
Those Provisioners are standing by til 5:30p. Grab a cleat and some Pinot Noir.
12:21p Tom McIlhenney at The Toucan Grill just called in – The Toucan is open, now through "at least 8pm." Tom says staff is there, and happy to have hungry/thirsty visitors. The Toucan plans to be open normal hours Sunday too… noon til 8pm. Hot food and warming beverages standing by…
10:20a Fresh fish could taste good on a cold day. The brave crew at Fulcher's Seafood are open on Hodges Street today…. they will be there normal hours or as long as weather allows.
Dave Seargant is closing M&Ms Cafe for today and Sunday (Dave cites concern re staff driving on icy roads). M&Ms back open Monday regular hours.
9:44a The tough hardy Wheeler's crew are at work early – Nautical Wheelers is open. From Bill Wheeler:
Nautical Wheelers is open early this morning and will be open until 5:30p today.
Women's Duck Boots on sale in sizes 6, 6 1/2, 8 to 9 1/2 ( sorry no size 7 and 71/2), and we several wines that are on sale. We have Gloves, Toboggans and warm Base Layer by Columbia, Smartwool socks and ear muffs.
Help your crew fight off cabin fever with jigsaw puzzles, model ships to build, magnetic dart boards, Tenzi dice games and Bananagrams word games. Open until 5:30 Today and 10-5:30 on Sunday.
Warm
socks and a bottle of wine… life sounds fine. More info in Oriental Go Local.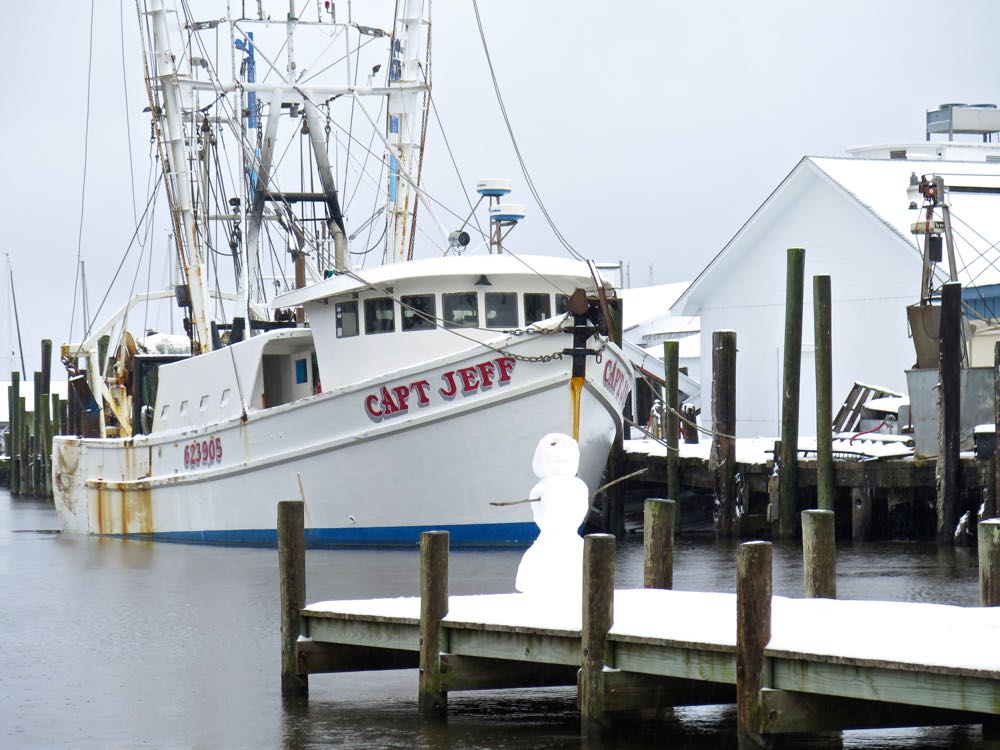 7:20a Snow views are looking less likely today. So, we'll cheat a little. At right, the town dock snowy view from February 2015. Click that image for the big view.
More views from that 2015 snow in Oriental here.
Meanwhile, back in January 2017. Rain. Ice on the way. Read below.
6:45a No Ferry this morning (high water & potential ice make it hard to operate). From Cherry Branch:
We have suspended operation due to adverse weather conditions.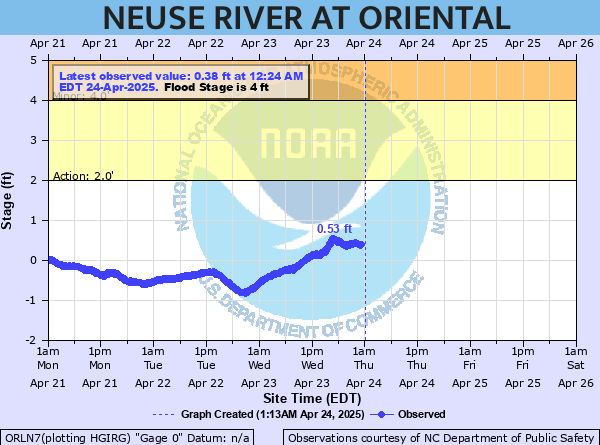 Water levels will get higher today – 20-25 knot north winds forecast for the Neuse. On the Pamlico Sound even higher, 25-35 knots.
Water levels currently at 1.85 ft.
6:37a Will it snow? Hmmmm. Looking less likely.
The hour-by-hour forecast indicates we will reach 32 (freezing) at 11a. You may want to plan any driving to be before 10a at the latest, as icey roads are about assured.
Temps will drop into the 20s as the afternoon progresses. Some snow may sneak in, but sleet & ice are the more likely visitors.
The TownDock Cross Country Ski Team is disappointed.
6:31a Almost an inch of rain overnight. Add brisk north winds and water levels are now at 1.76 ft above normal. Boots help for morning wading.
The Bean is open.
Friday January 6, 2017
5:05p Here is both weather information and a summation of life. It is from WRAL meteorologist Nate Johnson:
Some will get more snow than expected, others will be sorely disappointed.
Damn. Snow is just like a bank balance.
4:22p We may only see an inch of snow, but there is more in the mix. Ice and sleet likely too. The snow & sleet is expected to begin mid morning Saturday.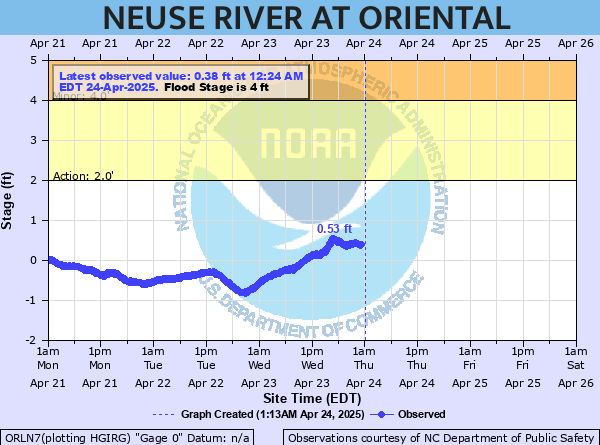 But wait, there's more. Wind. North wind.
North winds on the Pamlico Sound raise water levels here. Keep track with >> Oriental Water Level Guage
NOAA Weather Radio:

More weather links:
1:20p If you've got water pipes that may be vulnerable to the hard freeze coming – say, lines going out to a dock that are not buried very deeply or at a house you can't get to today, give Town Hall a call, pronto. (See below.)
9:14a No one wants water pipes to freeze and then burst. Town Manager Diane Miller says Town Hall can help now, before that winter storm hits. But you have to ask today. Like, now.
If people need their water (or irrigation) turned off today, Public Works is available until 3PM to make that happen.
Oriental Town Hall is 252-249-0555.
8:13a
Standing by for weather. It will actually get warmer today (sorta)… high near 50 this afternoon. Then the cool & wet stuff begins to arrive. First, as rain this afternoon / this evening. Then, it is forecast to just get cooler & cooler… hitting freezing (32) mid-morning Saturday.
By noon, Saturday, snow is expected… but ice and sleet could be in the mix.
Total snowfall of about an inch expected. It might be enough for the semi-annual meeting of Oriental Cross Country Ski Team.
Saturday night a movie (Amazing Grace) was scheduled at the Old Theater. Visiting snow had other plans. It has been rescheduled to Sat Jan 28.
5:30a We'll be getting some stay-inside-and-cocoon weather this weekend. Oriental Weather Forecast has snow, sleet, subfreezing temps, gales from the north, 35mph.
To think this is a week that started with a lack of weather, wind in particular. Photos now up from the 24th Annual Instead of Football regatta.
Thursday January 5, 2017
Today we have the relative warm before the storm… high in the low-50's. Enjoy it. Snow – and sleet and rain – coming up in the Oriental Weather Forecast on Saturday. Basically, the whole winter mess – with temps to match. Near 20 Saturday & Sunday nights.
Your social schedule is getting busy … tonight, auditions for the sequel of It Happened In The Park. Movie night at the Old Theater Saturday night with a showing of Amazing Grace.
Starting this new year with thoughts of eating healthier? A good read on the subject is the book, Food Matters. It's also the Oriental Food Initiative's pick to talk about at the latest 'Food For Thought' book discussion next Monday night.
Much more in What's Happening. – including a meditation group that's forming, a chance to jam with bluegrass band, Iron Horse, and a course on becoming an EMT. Check it out, here,.
Tuesday January 3, 2017
Fog is clearing. It's a lot less pea-soupy out there. The warm air, though, lingers. 65 at midday and in the 60's again tomorrow. Enjoy it now cos that Oriental Weather Forecast shows some precip in the form of flakes come Saturday.
Town Board meets tonight. There's another public hearing regarding a special use permit to rent out a home in one of Oriental's residential neighborhoods for use as a daily, weekly or weekend rental. More on that, here. For the rest of the meeting, see the agenda, here.
Later this afternoon, the newly-formed Migraineurs migraine support group meets.. more on that here.
Looking ahead in What's Happening, there are auditions for a sequel to last year's, It Happened In The Park on Thursday night.
Marsha's Cottage is now having a 50% off sale on the fall and winter clothes. For more on what's for sale locally, see – and hear – Oriental Go Local.
Sunday January 1, 2017
8:32a If you see Bean Barrista Hannah today… she doesn't want to hear Happy New Year. Give up a Happy Birthday instead…
7:30a Rain today? Yeah, it well could. 40% chance. Shhhh. Think of it as a 60% chance of dry. Ish.
It won't stop hardy boaters from hitting the Neuse… the Instead Of Football Regatta starts at noon. Light 5-10 knot winds on the water.
7:16a Happy 2017 TownDocker. Here is the Croaker Drop last night at the town dock:


Thanks to iPhone Filmologist Bonnie Truelove
New Classifieds:
2BR/2BA Waterfront Condo in Oriental
Beanie Needs A New Home
Miscellaneous Items
1977 Cheoy Lee Trawler - Twin Engine
Driveway sale Optosonics 1/19/2017 10-3 PM
Luxury Yacht Charter in Miami
St. Barts Yachts urgently needs yachts to sell
Refrigerator Frigidaire Standard size in black
Washer & Dryer
Tohatsu 3.5 Outboard
Recent cover photos:
See
more cover photos...
Web Cams: