It's Thursday January 18, 2018
Dock Quote: "The art of...
News From The Village Updated Almost Daily
Upcoming Events
Scenes from a snowy village. The Story
6 legs aboard 30 feet. The Shipping News
Rare Woodcock Sightings In Town. The Story
Wider Shoulders On 55, Deeper Whittaker Creek Channel. The Story
Two boats sailed, 50 sailors celebrated. The Story
Oriental Dragon welcomes Year of the Dog . The Story
Christmas displays light up the town. The Story
Quail counter hobbyist. Pet Of The Month
Quick response, quick clean up. The Story
Oriental's Dragon Shouldn't Be Homeless. The Story
Helping Those Who Help. The Story
Recycle a sail, help create young sailors. The Story
We hardy few: festivities continue in spite of rain. The Story
Parade & Lumaria Saturday. The Story
New Commissioners sworn in, retiring commissioners honored. The Story
Electric cars can recharge at Town Hall, Town Docks. The Story
Traditional Boat Building Meets Contemporary Education. The Story
Fay feeds a crowd every night. Pet Of The Month
Fifty Cyclists Uphold Thanksgiving Tradition. The Story
Small Cell Antennas may be coming to town. The Story
The List of Area Non-Profits That Could Use Your Donation. The Story
2017 Spirit of Christmas Parade Needs You. The Story
GMO approved, Fulcher LUP issued, donation for a dog park. The Story
Trees & Traction. Letters To The Editor
Price, White, Overcash, Dammeyer, Simmons - the New Town Board. The Story
Christening celebrates traditional Harkers Island build. The Story
Sharing The Haunted History Of Oriental. The Story
400 Bean Eaters Swarm Chili Cookoff. The Story
A Wooden Boat Restored. The Shipping News
3 incumbents and 4 newcomers vie for 5 Commissioner seats. The Story
Last night's snow collects on a glass globe in the Wagoner garden. Click for more pictures from Oriental's second snow of 2018.
Thursday January 18, 2018
2:38p The Brewery is open…. beer (important) has arrived.
Stormy weather doesn't stop those Wheelers. Nautical Wheelers is open, with warm things available. And with warm weather coming for the weekend, spring clothing too.
11:57a The Brewery will be opening late today… and not from the weather. They are waiting on a key component. Beer. From Lili:
We are awaiting beer delivery (delayed due to massive warehouse fire at distributor yesterday in New Bern). Will touch base with an update on our schedule for today as soon as I can.
9:43a Could a drone perform a coastal rescue? It may sound unlikely, but check this out.
8:56a While do folks buy so much bread when snow is coming? Good news: The Pig has more. The Piglet is open… check out this week's specials.
8:45a The ice & snow is likely to stay around today… it isn't forecast to be above freezing until later this afternoon. And then it will cool down to a low tonight in the mid 20s.
But warmth is on the way. Mid 50s Friday, near 60 all weekend and at least through Tuesday.
7:42a The Bean is closed now open. The Deli & Brantley's are open. The Cherry Branch-Minnesott Beach Ferry has been closed this morning (ice) but will resume normal operations at 8:30a.
5:29a Snow! For the second time this month. Almost 2 inches out there using the official TownDock Stanley Snow Meter.
Be careful if you drive… before the snow fell ice came down for a couple of hours last night. Slippery may be an understatement.
Pamlico County Schools and Pamlico Community College are both closed today. The Minnesott-Cherry Branch ferry is not running. Oriental Town Hall offices will open 3 hours later than usual. Pamlico County offices open 2 hours late. The Village Health Club will not open until 8:30a.
23 degrees this morning. The high today will just reach the upper 30s, maybe 40. It won't get above freezing until this afternoon… but it will be a clear sunny afternoon.
But then… Bunky, we've got warm city ahead. Mid 50s Friday and sunshine & 60 for Saturday right through Tuesday.
Wednesday January 17, 2018
10:37p It's not snow yet… snow is quiet. Not ice. You can hear the sound of ice granules hitting the trees.
10:09p Precipitation is coming down as ice right now. Roads won't be pretty.
It's 31 degrees at this writing, low tonight expected 25. The ice is expected to turn to snow later tonight.
Closings for Thursday haven't been announced yet. The Village Health Club is planning to open late due to weather, at 8:30a. Pamlico County Gov't offices are delayed two hours Thursday.
12:52p Some changes to the forecast. The chance of getting snow has increased… the hour-by-hour cast now has snow later this evening as a %100 chance.
But the forecast amount is now reduced to 1 – 3 inches.
7:53a Snow? Rain? Maybe both. About a 50% chance of rain this afternoon. But as it cools this evening the hour-by-hour shows snow has an 80% chance of coming to our town. Two to four inches.
The colder temps are predictably coming from the north. Some honkin' north winds coming tonight – 20 to 25 knots on the Neuse tonight & Thursday. On the Pamlico Sound 25-30 knots.
Look at us – in the peak snowfall zone:

7:48a Snow appears to be coming. It has our institutes of higher learning closing early today.
- Pamlico Community College will close at 11:50am.
- Pamlico County Primary School will dismiss at 11:30.
- Fred A. Anderson Elementary School will dismiss at 11:40 (car riders & early bus dismiss at 11:30)
- Pamlico County High School will dismiss at 11:50.
- Pamlico County Middle School will dismiss at 12:00.
Tuesday January 16, 2018
1:01p You can learn to make a pizza and about dough… 6:30p tonight at The Silos. Dr Kim Daniels leads the one night class tonight , Jan 16, and then again Jan 23 & 30. You'll learn & end up with a pizza. Class is $20, includes beer or wine. Call 252-249-1050 to reserve your spot.
8:03a Cruising sailboats coming through Oriental do come in all sizes, but most are 35 feet or larger. A man (and a canine) came through recently on a modestly sized cruising classic – a Cape Dory 30.
Sunshine and 50 today. Rain will likely visit Wednesday, but then we have a warmer weekend to look forward to.
This morning it's calm as a mill pond. The Neuse marine forecast is just for 5-10 knots.
Today's quote… deep philosophy.
7:20a All spots available. Not a single boat at Oriental's two town docks. Ya know Elmer, it might be thermal.

Monday January 15, 2018
10:07a While there is a small chance of afternoon showers Tuesday… the day should be mostly sunny, high near 50. Dreaming of more warmth? Mid 50s Saturday, and a forecast sunny & 60 Sunday.
9:23a Crews arrived… ferry back on normal two boat schedule.
6:30a Just one boat operation (half schedule) this morning at the Cherry Branch ferry. The boats are fine – the crew can't get there:
Cherry Branch Ferry is a one boat operation until further notice. Both the Core Creek (101) and the Morehead/Beaufort bridges have been closed due to black ice. Our second boat crew is unable to get to us.
Friday January 12, 2018
It's warm. Humid. A strange feeling may come upon you today. It's almost too warm. Almost.
It's a big swing. It was 9 degrees just a few nights ago. Check it out:

Thursday January 11, 2018
3:27p The latest Piggly Weekly Specials are online. Over at The Brewery, White Street Brewing out of Wake Forest is the visiting brewer. Scotch and Belgian Ales on tap…
1:50p Rain, yes, but at least it's not freezing. Temps in the 60's today. 70's tomorrow, though it could be rainy then, too.
Our reprieve from frigid conditions lasts til Saturday night – that's when the Oriental Weather Forecast says it could again get below freezing. But not like a week ago… low just around 30.
Last Thursday's weather scrubbed an opening reception at the Pamlico Library for artists Lynn Hines and Karen Van Gamper whose paintings are on display there this month. You're invited to the rescheduled reception this evening.
Meanwhile, congrats to Ben Bowditch, the chairman of both the county library board and the regional Craven-Pamlico-Carteret library board. He has been named Library Trustee of the Year by the NC Public Library Directors Association. More, here.
Wednesday January 10, 2018
Sunshine and 60 ahead today. Clouds and maybe rain in the mix Thursday, and a high near 70.
That's a big swing. We had an overnight low of 9 just three days ago.
Tuesday January 9, 2018
2:38p Mom Nature has been kinder than forecast this afternoon… the high so far hitting 64. Melt on.
9:21a Gentle readers who enjoy the article (and photos) about Woodcock, may be shocked to learn that this is Woodcock season.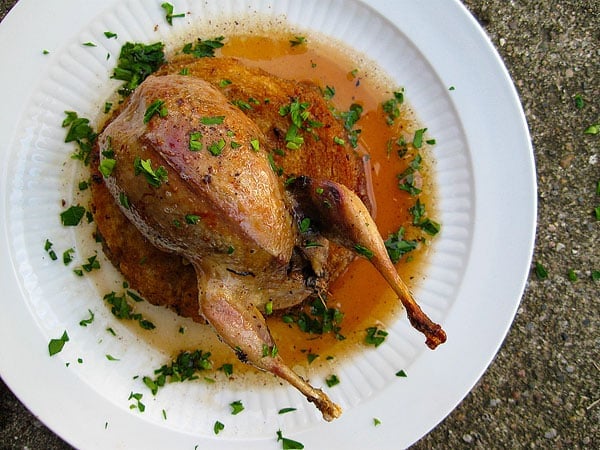 Now through January 28. You can "bag" 3 a day. Actual bag optional.
There are even recipes. Some wrapped in bacon.
But just watching them is still an option.
8:49a Day two of temps above freezing. It feels gooood. Highs mid 50s today and Wednesday.
Melt, baby, melt.
Noticed lots of birds in town? So did a TownDock roving reporter. A look at the snow birds of Oriental…
Monday January 8, 2018
10:43a Above freezing (first time in a few days.) Melting to follow. 34 at this writing, and rising towards 50.
7:40a Things are almost back to normal. The ferry is running on schedule. Pamlico Community College is open. Pamlico County Schools however are closed today for students.
At PCC, they have extended spring registration to include today and tomorrow.
Main roads are clear. From NCDOT:
N.C. Department of Transportation crews have made significant progress clearing four-lane primary roads in Division 2 which includes Jones, Lenoir, Greene, Pitt, Beaufort, Pamlico, Craven and Carteret counties.
As of late Sunday afternoon, road conditions in Division 2 are as follows: Four-lane Primaries are clear with icy spots; two-lane primary routes in Greene, Jones, Pamlico, Carteret and Craven counties are clear with icy spots. Most of the two-lane primary roads in Beaufort, Pitt, and Lenoir counties are clear with icy spots, but some remain partially clear.
Crews in Greene, Jones, Pamlico, Carteret and Craven have now shifted their focus to secondary roads. Most portions of these roads are not in direct sunlight, which makes the salt more effective in these low temperatures, and are mostly covered with ice. Driving on these less-traveled secondary roads will be hazardous, especially on shaded streets where ice continues to cover the road.
Residents are urged to stay home if possible, and to use extreme caution if they must travel. Anyone who must travel should use extra caution and allow plenty of distance between them and other vehicles, especially road clearing crews.
Warmer weather should take care of the roads today – highs near 50.
Sunday January 7, 2018
8:31a Overnight low… 9. NINE. If your pipes didn't freeze, you did well. It's warmed up to a balmy 16 at this writing. High to near 30.
After this long being cold, relief is on the way. Near 50 Monday, mid 50s Tuesday, and an almost margarita sipping 60 Wednesday.
We're waiting.
Saturday January 6, 2018
Overnight it dipped to 11. Brrrr. But standby, sunshine & almost 30 today… but a cure for cabin fever is coming. Monday 50, and Tuesday near 60 degrees.
New Classifieds:
Waterfront Home in the Heart of Oriental
Moving Sale
Moving Sale - China cabinet & Armoire
Table and chairs
2014 Nissan Altima
Fly rod and reel
Local Business Telecom Specialists
Gym equipment.. **SOLD**
Love Your Life
Diesel Engine Repair, Maintenance and more
7kw LPG Generator
Halo is for Sale
Recent cover photos:
See
more cover photos...
Web Cams: