It's Friday September 22, 2017
Dock Quote: "Youth cannot know...
News From The Village Updated Almost Daily
Post-Tropical Jose Forecaster's Discussion & Computer Models
Post-Tropical Cyclone Jose Forecaster's Discussion #
A graphic showing several computer modeled projected tracks is at the bottom of this page.
Post-Tropical Cyclone Jose Discussion Number  69
NWS National Hurricane Center Miami FL       AL122017
1100 AM AST Fri Sep 22 2017

The large circulation of Jose has not changed much during the past
several hours, with a small burst of moderate-to-deep convection
rotating around the center.  Satellite classifications support
reducing the winds to 40 kt for this advisory.  Surface observations
are still showing sustained tropical-storm-force winds in the
warning areas, so advisories will be maintained on Jose. These winds
should diminish this afternoon or evening according to all of the
model guidance as Jose gradually weakens.  The intensity forecast is
a little lower than the previous one, showing a slow decay of the
winds over cold waters, which is well supported by the latest global
model guidance.

Jose has been erratically moving during the past 24 hours, with a
southwestward drift most recently noted.  The system is expected to
stay trapped in light steering flow and move little for the next
couple of days, then take a more westward turn by day 3 as the
circulation of Maria and a ridge over the northeastern United States
steer the weak cyclone. However, all models suggest it will be quite
weak by day 3 and open up into a trough on day 4.  Only small
changes were made to the previous forecast.

KEY MESSAGES:

1. Tropical-storm-force winds, especially in gusts, are occuring
over portions of extreme southeastern New England.  These
conditions are expected to continue through this afternoon.

2. Minor coastal flooding is possible along portions of the coast of
southern New England during the next few days.  Please see products
issued by local National Weather Service forecast offices.

3. Swells generated by Jose are affecting Bermuda and much of the
U.S. east coast, and will likely cause dangerous surf and rip
current conditions for the next couple of days in these areas.

FORECAST POSITIONS AND MAX WINDS

INIT  22/1500Z 39.5N  69.4W   40 KT  45 MPH...POST-TROPICAL
 12H  23/0000Z 39.4N  69.5W   35 KT  40 MPH...POST-TROPICAL
 24H  23/1200Z 39.3N  69.1W   30 KT  35 MPH...POST-TROP/REMNT LOW
 36H  24/0000Z 38.9N  68.3W   30 KT  35 MPH...POST-TROP/REMNT LOW
 48H  24/1200Z 38.8N  68.1W   25 KT  30 MPH...POST-TROP/REMNT LOW
 72H  25/1200Z 38.5N  69.0W   25 KT  30 MPH...POST-TROP/REMNT LOW
 96H  26/1200Z...DISSIPATED

$$
Forecaster Blake
The Forecaster's Discussion above often refers to several computer models. The graphic below is produced by the state of Florida - the multiple projected paths show what the different computer models indicate. The red line is the NHC (National Hurricane Center) path. This graphic is not an official NHC product. For the
official NHC projected path of Post-Tropical Cyclone Jose click here.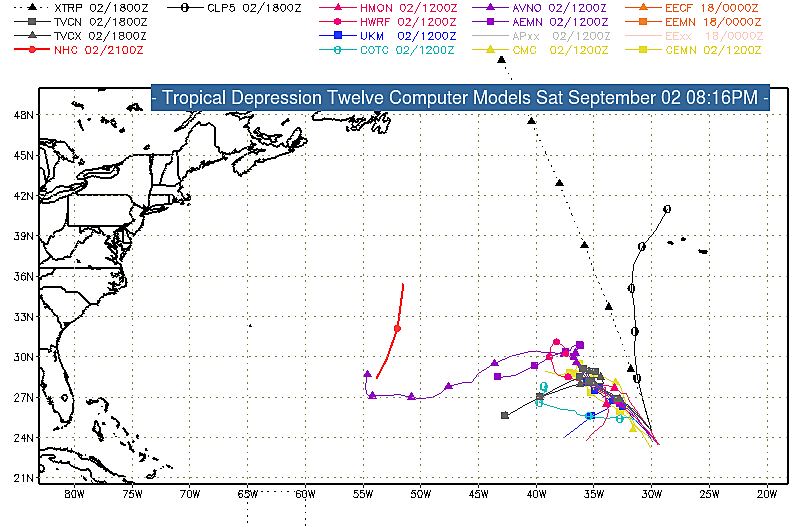 click image for a larger view and more models
For more information about
tropical storm computer models click here.
email this page
|
back to top
Dock Quote:
Youth cannot...
Recent Stories:
• Oriental Cup Regatta - 2017
• Town Board Meeting September 2017
• Piggly Wiggly Sept 2017 Update
• 2nd Marine Air Wing Band at Lou Mac Park