It's Wednesday June 20, 2018

Dock Quote: "You can't get...
News From The Village Updated Almost Daily
Upcoming Events
Signed helmets, a trip abroad, and a $10,000 gift help local non-profit. The Story
Whittaker Point, 2018-19 Budget, and July's meeting moved up . The Story
Four-footed hospice helper. Pet Of The Month
Home-built traditional sailboat. The Shipping News
6th Annual brings a little rain, a lot of music. The Story
Photographs contribute to UNC research. The Story

Push mower with a cupholder and Santa riding a chicken. The Story
Ordinances amended, rezoning request denied. The Story
'Cue for the Neuse brings in nearly $5,000 raised for river protection. The Story
Powerboaters become Loopers on a Meadowlark 37. The Shipping News
Dredge spoil captures deer. Letters To The Editor
A British Seagull, a Chris Craft, and a Swift Trawler all in one place. The Story
NCCHA's new old boat comes to the show. The Story
Fees new and old, rezoning for a sale, street closings finalized. The Story
20 teams from 16 Schools Sail on the Neuse. The Story
Circumnavigators become coastal cruisers. The Shipping News
Bribe the judge for a good cause. The Story

Coach Dana Magliola on the SailPack Regatta. Guest Columnist
A festival celebrating chowder & St. Patrick's Day. The Story
Sailing students train in town. The Story
Classical Radio Ends Suddenly. Letters To The Editor
Breed Ambassador. Pet Of The Month
Hodges Street and Raccoon Creek: A Brief History. The Story
Photographer captures wildlife at Pungo Reserve. The Story
Whittaker Creek Properties Potentially Threatened. The Story
A Dragon, a Rickshaw, and Pots & Pans. The Story
Celebrating two Oriental favorites. Drawing The Town
A 1960's sailboat in a 1780's disguise. The Shipping News
Military training, Chinese New Year, Seismic Blasting. The Story
Man About Town. Pet Of The Month
Green ventilation pipes appeared after the upgrade to Oriental's sewer system. The pipes were soon transformed into dragons. The first was at Fay Bond's. Since then, two more have appeared on Neuse St. This one was Neuse and 1st. Click through for the bigger pic, and other Oriental dragons.
Tuesday June 19, 2018
11:09a It's hot out there. Temps are in the mid 90s today and there is a heat advisory in effect. Heat index readings are up to 109 degrees.
What is a heat advisory? Straight from the weather geeks at NOAA:

A heat advisory means that people can be affected by heat if precautions are not taken. A quick study in the Corning area from the 2005 summer showed that early in the summer, emergency room visits increased when the heat index surpassed 95°F.
The issuance of a heat advisory is important to raise public awareness that these precautions need to be taken. Heat advisories are also used to trigger other actions and regulations such as no evictions, no turning off of power, changing outdoor work requirements, etc.

Today might be a good day to finish those indoor projects. If you have to be outside, stay hydrated.
8:29a Two presentations are happening in town today.
The Oriental Women's Club is hosting Jayne Stasser. She'll tell you all about recycling and what you can and can't throw in those big blue bins. It's at 1007 Gilgo Rd. Refreshments at 9a and the talk begins at 930a.
Pamlico's Master Gardeners will be at Town Hall at 2p to discuss the life and times of the Monarch Butterfly. They'll teach you how to attract, raise, and release them in a talk titled 'Help Save the Monarch Butterflies'.
Both talks are free to the public.
Monday June 18, 2018
10:26a The Garbology Unit for the Croaker Festival needs a few good volunteers. More from Jayne Stasser:
Croaker Festival is fast approaching. A fun way for your group or family to experience Croaker Festival is to "Adopt-a-Garbology-Run! You will receive lots of appreciation from the crowds and all Garbology Run volunteers receive a Croaker Festival t-shirt.
There are 6 runs on the weekend and each run only needs 3 volunteers – 2 relatively strong people to empty the trash bins into the garbology bin on the forklift and one person to collect the bags of trash from the vendors. A run takes between 30-45 minutes.
To adopt a run or learn more, contact Jayne Stasser at jayne.stasser@gmail.com or call 617-9219.
7:014a A thunderstorm early this morning dumped nearly 2.5 inches of rain before 6a. The Duck Pond is full, but Hodges St. is clear.
It looks like more rain is incoming, but temperatures are forecast to reach 90 later today with a heat index reading of up to 103.
Sunday June 17, 2018
7:30a Looks like the last day for temps in the high 80s. It's going to get hotter, but only by a few degrees. Low 90s through Friday. 50% chance of rain this afternoon.
It's Sunday. Rest. Relax.
Croakerfest and July 4 fireworks are coming up quickly. Parade Master Paul Fairbanks will soon be in search of entries for the Croakfer Festival Parade.
Saturday June 16, 2018
6:28a Just about nothing but sunny & clear skies in the near term forecast ( a very small chance of showers Sunday & Monday.)
Mid week will be hot – lows on dipping down to near 80 / upper 70s. Its that "low tonight 80" weather that makes the cold stuff in January (that didn't seem like such a great idea at the time) seem not so bad.
Today's sunny mid 80s is poifect for what's goin' on. Outdoor painting, hula hooping, wine tasting. The ODC Sunfish fleet is racing today.
On the Neuse East 5-10 knot winds.
Friday June 15, 2018
Oriental has a coffee roastery – it just opened this spring. Croakertown Coffee sells mostly to wholesale accounts, but on Fridays they are open for retail, 9a – 3p. Maybe this year Dad gets coffee beans for Father's Day. He really doesn't want another tie.
Patrick Bliss plays at The Red Rooster tonight. Wine tastings Saturday afternoon at Nautical Wheelers. At New Village Brewery Saturday Zoey will teach you hula hoop. Beer helps.
Thursday June 14, 2018
12:40p Billy Flockhart is back with the June update from the Oriental Piggly Wiggly. There are specials for summer and for Father's Day. Billy says if you mention the video ad on TownDock.net, you can also get $5 off a new Piglet shirt.
8:18a Father's Day is this Sunday. Don't know what to get him?
The Pig has specials on ribs and steaks.
The Brewery is celebrating with the Wilmington Brewing Company, offering up their IPA Dad Beer Session for the weekend.
This weekend's events are all in What's Happening.
Wednesday June 13, 2018
3:26p Saturday night, over 300 people gathered for a gala dinner for Hope Clinic. TownDock was there.
2:54p Virginia Draughon (aka "Miss Cricket") passed away this morning. She was 101. Miss Cricket had observed her 101st birth this past January 23rd. There was a small party at Brantley's Restaurant – where Miss Cricket had breakfast every day.
Miss Cricket would drive her pickup to Brantleys every morning. And after breakfast, you'd see Brantley helping Miss Cricket to get back into the pickup for the ride home. Miss Cricket operated Green Bay Marina, a peaceful place on Greens Creek.
If you have a photograph of Miss Cricket we'd love to share it on TownDock. Thanks to Sally Farrell for the picture of Miss Cricket on her 100th birthday.
11:01a TownDock.net has learned that Bruce Goodman passed away this week. The long time resident of Minnesott Beach was a frequent site at all things Oriental until recent years. Our sympathies to Bruce's wife Donna. Bruce had a smile that seemed to imply he was always up to something. Below – Bruce (at right) looking for deals at the 2013 Town Wide Yard Sale, and on the foredeck of Valkyrie in the 2008 Oriental Cup Regatta:


click images for a larger view
9:30a Grilling out for Father's Day? There are some specials at The Pig that just might help.
See this week's specials here.
8:54a There's a lot going on today. It's the last day of the library book sale.
There's a casual race on on the Neuse tonight at 5:30p (weather permitting). Boats gather at Oriental Marker #1 and sail to the upwind mark, either Garbacon or Adam's Creek.
Or you can eat, drink, and sing at the Silos Open Mic Night.
7:45a A little over 2 inches of rain fell yesterday. That's 5.78 inches for the month of June. Today there's a 40% it may rain again. Temps will reach mid-80s later today.
Tuesday June 12, 2018
4:14p Now almost 2 1/4 inches of rain today. Word from Oriental Town Hall – town is wet, and you can help:
Public Works has been working tirelessly on drainage throughout town. But we need residents' help.
Attached are a few photos of the stopped drainage on Church St. It was amazing how
LITTLE
debris clogged up both sides of the street on Church and turned it into a torrent moving in the wrong direction. Once raked out, it drained fairly quickly, but we can't be everywhere all the time. Clearing the culvert under driveways is the homeowner's responsibility – we clear open ditches, not culverts, except those under the roads. Any and all assistance is appreciated.
Here are the wet views:
click image for the big view and more wet pics
2:52p Today's alternative quote is from George Carlin:
"There will be a rain dance Friday night, weather permitting."

Back here in river city, Friday night is thankfully forecast to be dry. Today, over 2 inches or rain has fallen. And it is still coming down…
2:07p Make that a dark and stormy afternoon. Over an inch of precipitation already.
While we are one wet town today, fear not dear reader. A sunny & dry weekend is ahead.
To go along with that sunshine – there are events in town. Patrick Bliss plays The Red Rooster Friday night. You can paint a lily. You can learn to hula hoop Saturday. It's all in What's Happening.
1:56p Ay caramba. That's a lotta rain. So far about 3/4 inch today, but more will accumulate – it is coming down at a brutal rate.
7:36a High tide? It's been over a month since water levels were this high… about 1 1/2 feet high this morning.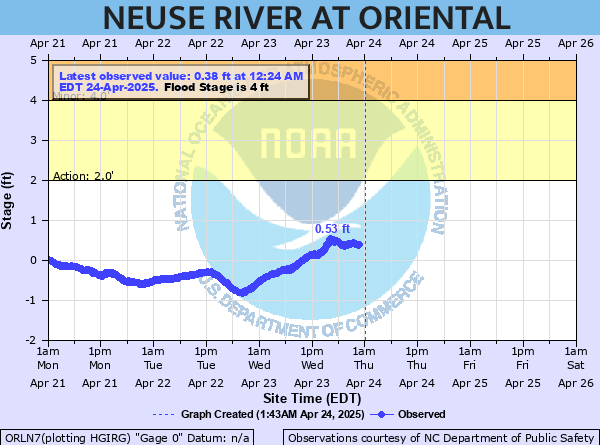 Water is covering Hodges Street by the harbor – you can see it on HarborCam.
Almost an inch and a half of rain yesterday. Overnight it didn't really rain – but the world is damp & drizzly this morning. One might say the air is soggy. Today looks to stay wet – 70% chance of rain – afternoon thunderstorms likely.
Monday June 11, 2018
4:50p June's Town Meeting (Tuesday June 5) was packed – the discussion about the Whittaker Point Restoration Project was what drew a larger audience than most meetings. TownDock.net was at the meeting – here's the story.
3:51p It seemed liked it rained a lot on Monday evenings during summer of 2017. And here we are – the first day of Open Sailing for 2018. Rain, with no sign of relief. From Jim Edwards at Bow To Stern:
NO GO for open sailing tonight… radar does not look remotely promising. We will try again on the 4th Monday of this month – that's June 25 – with small keelboats (21,24,24,25 ft) and a potluck dinner after… call ahead 252-474-6000 to reserve a spot as space is more limited on the keelboats.
Sunday June 10, 2018
8:45a Andy Schneider won the $10,000 drawing at the Hope Regala at River Dunes last night. After quickly conferring with his wife, they gave the money back.
The $10,000, along with other money raised this weekend, helps run the Hope Clinic in Pamlico County for the coming year. The Hope Regala is the key annual fundraiser for the Hope Clinic.
Saturday June 9, 2018
9:22a It is clammeee out there. High humidity and still to light winds the order of the day. While there is a chance of showers, anything should be a quickish burst. Mid 80s today, nearer 90 Sunday and Monday.
Water levels staying in the positive range – about a half foot about normal this morning.
New Classifieds:
Skutt 1027-240 Kiln
Candys boat, car, RV, wash, wax, detail
Smith Creek Waterfront with Multi-Slip Dock
Secluded Waterfront Cabin
Building Lot and Deep Water Boat Slip, In Oriental
Sailboat, Hunter 27, In water, cruise ready, documented
Oriental Harbor Condominiums, A-7 $218,500
Captains Quarters
2018 Lark Trailer
Nikon Coolpix 510 digital camera 42x zoom - SOLD
Recent cover photos:
See
more cover photos...
Web Cams: