It's Sunday May 26, 2019

Dock Quote: "Freedom's just another...
News From The Village Updated Almost Daily
Dredging $Funds
Upcoming Events
Vehicle awarded, public hearings set. The Story
Shark suits and sewing machines. The Story
A life filled with art. The Story
Pushing the limits. The Shipping News
An Oriental icon restored. The Story
Power boats, coastal cruisers, and an electric boat. The Story
Hosts NC State win first place. The Story
Dedicated to Oriental & The Old Theater. The Story
Coach Dana Magliola on the 2019 SailPack Regatta . Guest Columnist
They chose each other. Pet Of The Month
Waterline work begins, CycleNC returns, Board responds to NCDOT. The Story
Over 200 paws hit the pavement for the pet parade. The Story
"It's the best kind of idiocy.". The Shipping News
21 Performers Invade The Porches Of Oriental. The Story
Board asks Cycle NC for cooperation, repair contracts to be awarded. The Story
Toucan's Clam Chowder Takes 1st Place. The Story
Town, County officials meet with NCDOT. The Story
Help Pamlico High Math Teacher win $10,000 for her school. The Story
Adventurers marry on the town dock. The Story
Captain John Rahm Tells The Story. Guest Columnist
Childhood Story Returns as a Children's Book. The Story
A pig and a dragon meet on Hodges St.. The Story
The pier could have a dock. Letters To The Editor
Dog personality in a cat's body. Pet Of The Month
Oriental's favorite beasts dance. Drawing The Town
Dragon burned for the Arts. The Story
"I've always felt like a boat was my first home". The Shipping News
Bidding begins on pier and Whittaker Point projects. The Story
Trimarans, power boats, and two Army Landing Craft. The Story
Traditions and a fresh start. The Story
Oriental's spiritual guide. The Story
Oriental's Dragon Needs A Present. The Story
'Nautical Christmas' in Oriental. The Story
Have a Nautical Christmas. The Story
Speed limit 45 to 35 on Broad, South Ave update. The Story
New grant brings total to $1.5 Million. The Story
The List of Area Non-Profits That Could Use Your Donation. The Story
Silospalooza 2019 kicks off at noon today, and rocks til midnight.
It's all at the Red Rooster, behind The Silos.
An actual rooster will be in attendance.
(Yes, a rooster will be there. However, the handsome rooster above won't be able to make it, due to a previous engagement as an entree for a village fox.)
Saturday May 25, 2019
3:02p Lots of folks around town, talking in the holiday weekend on their boats~porchs~a palooza~a brewery. Temps are thankfully cooler than yesterday's high of 97. Here's the Oriental Weather Station temperature graph:

8:36a Happy weekend dear reader. We kindly get a more temperate day today – forecast high just into the mid 80s.
The cool kids will have a Silospalooza shirt from past years on today (this is the 7th annual Silospalooza). Or get the 2019 version:

Friday May 24, 2019
2:07p It's 95. Heat Index: 105. Oy.
12:20p Feel warm? It's 92 at this writing. With the Heat Index it feels like 101.
9:31a It marks the traditional (if not scientific) beginning of summer. Memorial Weekend looks perfect. Sunny and 90 today, a pleasant mid 80s Saturday, 90 Sunday & Memorial Day.
After that, look out for heat. High 95 next Wednesday.
No Thai for lunch. Jasmin Tasty Thai food truck will start serving at 3:30p today at the Brewery.
Thursday May 23, 2019
5:01p There is a whole lotta music goin' on this weekend in Oriental.
Right now Salty Paws is playing at New Village Brewery til 7p. Friday night Charley Dunsag does blues at the Red Rooster starting at 7p. Also Friday Randall Whorton plays acoustic tunes at the Brewery from 6 til 8p. Saturday is Silospalooza, noon til midnight at the Red Rooster Bar, behind The Silos. Here' the Schedule:
~ Peace Soldier, 12noon – 1:30p / Brant Island Strings, 2p – 3:30p
~ Dust Parade, 4p – 5:30p / Salt Water Gold, 6pm- 7:30p
~ Joe Brown, 8p – 9:30p / Gary Dudley & The Max Tones, 10p – 11:30p
Then Sunday Into The Fog plays in the Beer Garden at the Brewery from 3 til 5:30p.
8:30a Mom Nature is smiling on your weekend plans. Sunny, dry, daytime highs from the mid 80s to near 90 right through Monday/Memorial Day.
On the Neuse: lazy sailing / calm powerboating. 5 to 10 knots forecast for the weekend.
Sailor/Cruiser Martijn Dijkstra hails from Holland. He has been visiting Oriental on his travels for over a decade, usually stopping by in spring or fall. Martijn draws attention, sailing alone on an over 50 ft boat. His lifestyle is his own – he lives frugally and might be called a Master Scavenger.
A British videographer, Bryony Stokes, visited Martijn aboard his boat and has produced an impressive video about Martijn & his life. Take a look:

Wednesday May 22, 2019
10:44a Memorial Day weekend is ahead. For grilling or just laid back get-togethers Oriental's Piggly Wiggly has it for you. FYI, the Piglet is open 7a-8p Sunday – Thursday, then til 9p on Friday & Saturday nights (for those evening I gotta-have-ice-cream emergencies.)
7:55a We got spoiled overnight… cool, dry and a low 64. Sunny and 80 today, 85 Thursday and then highs near 90 for Friday and the weekend. Nothin' but sunshine.
Tuesday May 21, 2019
5:25p And that was that. Andrea is now post-tropical. Andrea's brief 2019 stormy career is over. She started yesterday. Dismissed today.
We can now imagine that tropical storm season hasn't started yet. Coverage for the moment is over, and will officially begin again June 1.
• Post-tropical Andrea Tracking Chart
• Post-tropical Andrea Forecaster's Discussion & Computer Models
• Post-tropical Andrea Public Advisory
8:39a Storm Andrea will remain Subtropical. The "before the season storm" is forecast to pass south of Bermuda, dissipating Wednesday.
But a 2019 name has been used. Andrea ✓. Tropical Storm/Hurricane season is supposed to be June 1 – Nov 30. Storm names coming up: Andrea, Barry, Chantal, Dorian, Erin, Fernand, Gabrielle, Humberto and Imelda.
8:24a Croakertown Coffee, Oriental's own coffee bean roastery, is raffling 2 tickets to the Hope Regala BBQ dinner on Friday, June 7. Stop by the store at 108 Straight Road to enter. The drawing will be June 5.
You don't have to buy anything to enter the drawing, but you can check out Croakertown's Daily Brew or the new Fire House Brew while there. For every bag of Fire House Brew sold, Southeast Pamlico Volunteer Fire Department Station 19 receives 1$.
Croakertown is open Tuesdays & Saturdays 7:30a – noon and Wednesday 'til Friday 7:30a – 2:00p.
Monday May 20, 2019
8:50p It is now confirmed a Cherry Point Marine Corps Harrier jet crashed tonight near the Cherry Branch ferry station, some 4 miles from the runways at Cherry Point. The following is the Marine Corps' statement on the crash:
MCAS

CHERRY

POINT

, NC
— A 2nd Marine Aircraft Wing, AV-8B Harrier based out of Marine Corps Air Station Cherry Point, N.C., crashed earlier today near Havelock, N.C. The pilot ejected safely and is currently being transported to Carolina East Medical Center in New Bern, N.C. for further evaluation. There are no reports of civilian casualties or property damage at this time.
Personnel from 2nd Marine Aircraft Wing responded to the scene and assisted the Havelock Sheriff Departments, which initially responded to the accident location.
The crash site has been cordoned off by military officials. The cause of the mishap is currently under investigation.
Aircraft Crash near Cherry Branch Ferry. Marine Corps On Site.
7:54p
There is no confirmation regarding the aircraft crash near Cherry Branch ferry this evening, however Sue Kinner confirms that Cherry Point Marine Corps Air Station personnel are currently on the scene.
7:38p The ferry has shut down for the night due to a nearby aircraft crash:
The Cherry Branch Ferries are shut down for the remainder of the night in order to enable rescue and recovery equipment access to the recent aircraft crash next to route 306 (Ferry Road) in the vicinity of the Cherry Branch Clubhouse.
Photo provided by Sue Kinner at Cherry Branch:
6:44p That was fast. NOAA sent an aircraft out to look at the "disturbance" on the Atlantic this afternoon. They confirmed it was a subtropical storm. So Subtropical Storm Andrea has been declared. Andrea won't bother us, but is forecast to rain on Bermuda: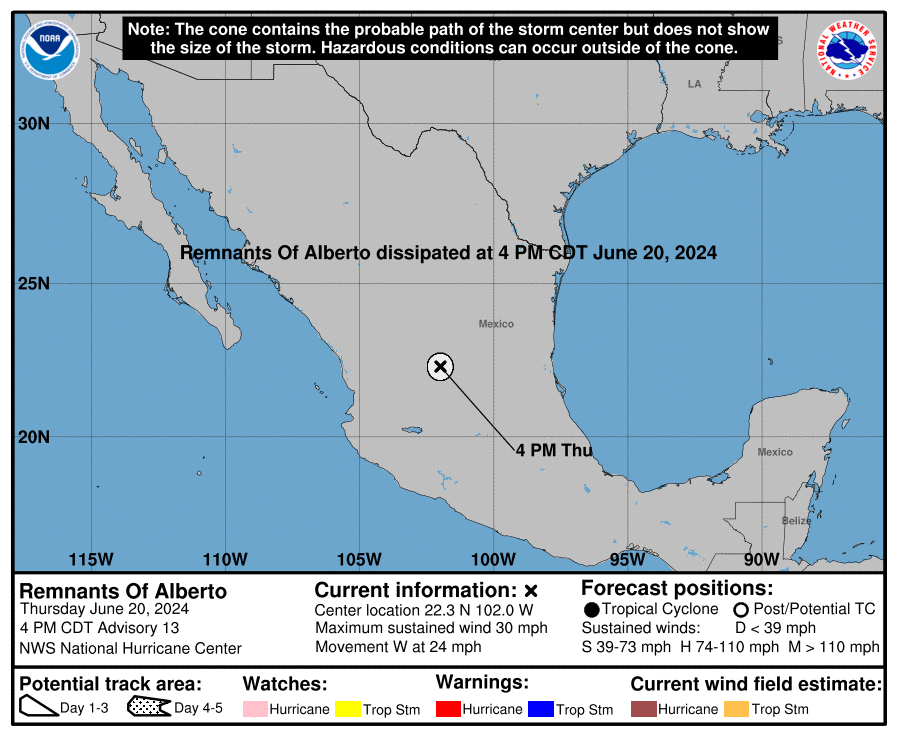 • Subtropical Storm Andrea Tracking Chart
• Subtropical Storm Andrea Forecaster's Discussion & Computer Models
• Subtropical Storm Andrea Public Advisory
Today is May 20. Tropical Storm / Hurricane Season doesn't officially start until June 1.
But here we are.
2:01p It is looking more likely that a subtropical storm could form on the Atlantic. But too be clear – it isn't coming anywhere near us. The latest from the National Hurricane Center:
Showers and thunderstorms associated with a broad area of low pressure located several hundred miles southwest of Bermuda are showing signs of organization. Environmental conditions are expected to be conducive for the formation of a short-lived subtropical or tropical cyclone later today or tonight. The disturbance is expected to merge with a cold front on Wednesday.
An Air Force Reserve reconnaissance aircraft is currently en route to investigate the disturbance.
• Formation chance through 48 hours…high…70 percent.
• Formation chance through 5 days…high…70 percent.
Click
here to see the computer models on this disturbance.
Chalk this up to being a real reminder that hurricane season begins June 1.
9:10a The TownDock creative writing crew is slow today. Brains melting just a bit on day three of summer~ish heat in May.
Sunny & 90 today. Meh. It's cools down to daytime highs of 80 for Tuesday & Wednesday.
Sunday May 19, 2019
2:25p That disturbance on the Atlantic is now being tracked as Invest 90. NHC says "This system could develop into a short-lived subtropical or tropical cyclone late Monday or Tuesday while moving northward or northeastward."
You can see if it forms that the forecast takes it east and away: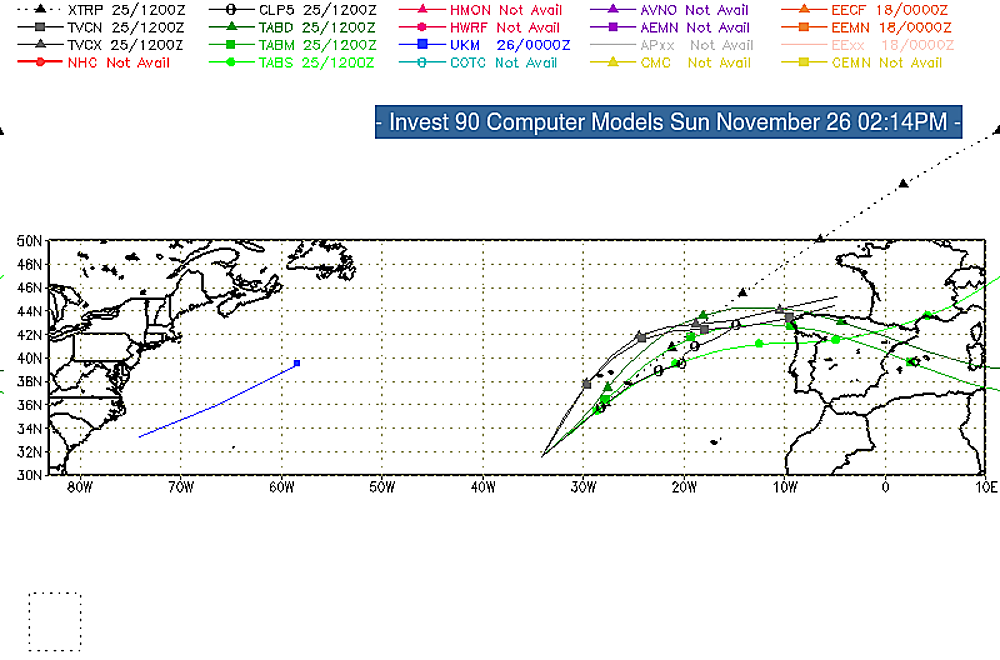 click image for the big view
9:10a Today the Pamlico County Democratic Party hosts a Block Party at Lou Mac Park, 3-6p. Free food, drink & talk.
8:35a Both summer and storm season may be arriving a bit early. Summer officially starts June 21 – the summer solstice. Saturday peaked at 90, and today and Monday are expected to be the same. As well as hot today, almost no breeze. The Neuse marine forecast is for south winds at 5 knots.
The potential storm in the Atlantic looks a bit more possible this morning, but beyond the alarm of this happening in May… this won't be a concern. If a storm develops (and it probably won't), weather conditions indicate it will stay at sea – likely just slowly moving north over the Atlantic. From NHC:
An area of low pressure is expected to form by Monday several hundred miles southwest of Bermuda. This system could develop into a short-lived tropical or subtropical cyclone late Monday or Tuesday while moving northward or northeastward. Environmental conditions are expected to become unfavorable for further development by Wednesday.
Here's a look at the disturbance (X marks the spot) and it's forecast route if it formed:
Saturday May 18, 2019
3:30p Hurricane season officially starts June 1. Even then, activity isn't likely the first month. But the Atlantic may have other plans… a potential system is out there today. From the National Hurricane Center:
A large and elongated area of cloudiness and disorganized thunderstorms has developed well to the east of the Bahamas. An area of low pressure is expected to form within this area of disturbed weather several hundred miles south or southwest of Bermuda by early next week. Gradual development of this system into a tropical or subtropical cyclone is possible during the early and middle part of next week while it moves northward or northeastward.
• Formation chance through 48 hours…low…near 0 percent.
• Formation chance through 5 days…medium…40 percent.
Mom Nature. Just keeping you alert.
We have some good storm names on tap for 2019. They include: Andrea, Barry, Chantal, Dorian, Erin, Fernand, Gabrielle, Humberto and Imelda.
9:07a If you purchase Jeff Little tickets online (you can at this link) just bring a printout of the email ticket confirmation as your ticket tonight. Meanwhile, here's some Jeff to tide you over until then:

There's more Jeff Little Trio if you scroll down this page. There are tickets at Nautical Wheelers too if you like that real ticket experience. Speakin' of Wheelers, they'll be semi-delicately tasting wine today at 3 & 4p.
6:50a All is calm this morning. The barometer trended up. The winds down. From The Oriental Weather Station:


click image for the big view
Sunny and near 90 today… the same forecast is with is through Monday.
Friday May 17, 2019
7:37p It has been a much breezier day than forecast. High wind 29 mph this afternoon at the Oriental Weather Station, and at least one boater reported over 30 mph gusts on the Neuse. A lot to handle for sailing, but the air felt good in town on a porch.
Saturday should be calmer.
2:32p There have been some significant donations to the Whittaker Creek Dredging fund in the last week. It is up about four thousand dollars – the new total $93,237.
That is over 85% of the $109,389 the town must raise to be eligible for a $218,744 grant. The fundraising mission is getting closer.
10:05a Your dance card can be full this weekend in Oriental.
Risque film tonight at the Old Theater. Ken Belangia is making music tonight at the Red Rooster Bar (behind The Silos.) Food trucks today & Saturday at New Village Brewery, plus acoustic artist Melissa Plett performs Saturday night in the Beer Garden. Go kayaking Saturday morning with Bill Hines & Larry Summers. Wine Tastings at Nautical Wheelers Saturday at 3 & 4p. The PCC Foundation annual golf tournament is Saturday at Minnesott Golf & Country Club.
Saturday night's big event is a fundraiser for the Ol' Front Porch Music Festival.
The festival brings performers to the porches (and stages) of Oriental for days of free music (the festival is Oct 4-6 this year.) That free music is possible due to generous donations and a couple of fundraisers. Like Saturday night's performance of the Jeff Little Trio. The Trio's sounds have roots in Appalachian, Americana, and old timey music. The concert is on the big stage at The Red Rooster. Tickets $22 at Nautical Wheelers, or get them online at this link. $25 at the performance.
Event details in What's Happening.
For more info about October's Ol' Front Porch Music visit olfrontporchmusicfestival.org
5:55a Wake up. Be brave. Sunny mid 80s ahead. The weekend will be just like #&%$ summer, highs near 90 both days.
Should you be a seafaring type, light 5-10 knot southwest winds today through Sunday on the Neuse. On the Pamlico Sound a bit brisker, 10-15 knots.
Thursday May 16, 2019
1:59p Most of the debris from Hurricane Florence is gone. But this morning, Carol Mabe told TownDock.net she found these photos in a debris pile just before the entrance to White Farm Rd.
If you know these smiling faces, let Carol know at cmabex2@gmail.com or 252-249-1600. Carol's got the photos waiting for you.
8:12a Pickleball. Strange name for a popular game. Learn the game, or brush up on your skills, with the local Pickleball league at one of two introductory sessions this month. The first is this Friday from 9-11a at Camp Caroline.
It's the third Thursday of this month. That means the open jam session at Pamlico Community College. Bring an instrument, your voice, or just a chair to listen.
Wednesday May 15, 2019
3:12p A reminder re hours at New Village Brewery – they are now open Wednesday – Sunday.
Got grill? At The Piglet specials this week include NY strip steak and Videlia onions.
If you like spring's cooler days today is the magic day. For those that crave summer, sunshine and temps near 90 this weekend.
7:53a Sun and clear skies all week. High 70s today and high 80s later in the week.
Tomorrow morning is the Tourism Board Breakfast Meeting. Business owners and non-profits gather at Brantley's at 8:30a. If you'd like breakfast, be there at 8a. On the agenda – getting ready for CycleNC 2020.
New Classifieds:
1980 Hunter 33
Waterview cottage in Village
Carolina Classic 25
One Owner 2000 Beneteau Oceanis 411 for sale
Very clean 1988 Ericson 38-200
Waterfront Home with Private 125 ft Concrete Pier
Nacra 5.1 Catamaran
1977 Islander 28, Located Oriental, $4900.
2009 Smart Car, $2000.
Sailing friend wanted to sail on my boat
Recent cover photos:
See
more cover photos...
Web Cams: