It's Sunday October 17, 2021

Dock Quote: "People say it...
News From The Village Updated Almost Daily
Upcoming Events
Rain Didn't Dampen The Music Festival. Letters To The Editor
Village Gallery's October Artist of the Month. The Story
October 2021 Town Board Meeting. The Story
Running for Oriental Town Commissioner . Letters To The Editor
Nautical self-help. Captain's Blog
Meet the man and his boats. The Story
The 20th Anniversary. The Story
Scheduled to begin Summer 2022. The Story
Marine weather all in one place. The Story
Artists' Reception, Sept 4, 2-5p. The Story
Local knowledge required. The Story
Meet librarian Caitlin Kuhn. The Story
Prepping on the water. Captain's Blog
Sailing through the rain. The Story
51 years of watermelon with the Bonds. The Story
August 2021 Town Board Meeting. The Story
August Artists of the Month @ Village Gallery. The Story
Just the first two used to be inevitable. Captain's Blog
ODC's annual hot air event. The Story
From Croaker to Flounder. The Story
Singers (and dancers) come out to play. The Story
Locally grown rice and seafood is the attraction. The Story
Paperwork: federal and/or state?. Captain's Blog
Artist, Dreamer, Caretaker, Curmudgeon. The Story
Gentleman, Father, Mr. Fixit. The Story
June Town Board Meeting. The Story
Silospalooza 2021. The Story
Fulfilling a dream. The Story
Staying clear of restricted waters. The Story
Fireworks, parades, and community support. The Story
Studio space, gallery, art education. The Story
Be someone nicer. Captain's Blog
Town Board Meeting May 2021. The Story
Vacancy leaves space for recommendations. Letters To The Editor
Outside the limits. Letters To The Editor
Dancing under the big white tent. The Story
Treasure hunting in the yard sales of Oriental. The Story
A change in the law helps clear the waters. The Story
Will become part of a mid-Atlantic group of boatyards. The Story
Yard Sale Map & Information. The Story
Join an event or DIY. Letters To The Editor
The multi faceted business finds the right new owners. The Story
Scooters were trouble in Raleigh. Letters To The Editor
Turtles on the move. Letters To The Editor
2nd Annual Classic Car Poker Run. The Story
Town Board Meeting April 2021. The Story
Dragon Burn 2021. The Story
Few things are certain, except death, taxes and going aground. Captain's Blog
Saturday's Classic Car Show hosted a record 100 automobiles. Winning
Best In Show
was this 1950 MG TD, brought to Oriental by Mike Morgan of Swansboro.
(click pic for more MG views)
Sunday October 17, 2021
10:25a Twenty-two boats were registered for the Oriental Cup Regatta. Complete results coming, but here are the 1st place winners:
JAM

Division, SV Bodacious, J34C, skipper Steve Peters
Spinnaker Division, SV Heartbeat, Etchells, skipper Bob Slook
Cruising Division, SV Illusive, skipper Dale Hedin
10:14a Autumn, at last. Overnight lows dipped into the low 50s, and are expected to be in the upper 40s tonight.
In the coming week Thursday may reach 80, but all other days are forecast to be sunny and near 70.
On the Neuse fine sailing… NW winds 10-15.
Saturday October 16, 2021
11:15a The car show has a new record # of autos on display: an Olds Toronado rolled in… making it 100 cars today.
9:49a
Sam Myers, organizer of the Oriental Classic Car Show, talks numbers:
8:48a Cars are already lining up along South Ave for today's Oriental Classic Car Show. It's a free event to see, though you'll have to pay to register. The Rotary club is onsite selling breakfast sandwiches, water, and burgers, and more.
Out on the water, sailors are taking part in the Oriental Cup Regatta. They meet on the water at 12:30p, race starts at 1p.
ArtWorks Oriental hosts visiting artist JJ Jiang for his six hour workshop (beginning at 10a) on adding mood & color to watercolor paintings. You'll have to register for this one.
After all that excitement, there's still more. Jim Kellenberger is grilling bratwurst at the Brewery for PCFLO's Beer & Brats. $10 a plate. Jim starts serving at 4:30p, and there's a limited supply – only 125. They go fast.
It's also the first day of the Pamlico Library's BYOB Book sale from 10-2p, and Oriental Museum's new exhibit Birds in our Backyard.
It's all in What's Happening.
Friday October 15, 2021
1:28p OK campers, here's the weekend lineup:
Hoff'n'Finch play the brewery beer garden tonight, 6-8p (the duo were a crowd fave at last weekends porch music festival). The movie News Of The World is 7p tonight at the Old Theater. Today the history museum begins its new exhibit Birds in our backyard.
Saturday its the 2021 Oriental Classic Car Show at the waterfront, plus the 2021 Oriental Cup Regatta on the Neuse. JJ Jiang Teaches Mood Techniques for Watercolorists at ArtWorks. There's a book sale at the Pamlico Library. At New Village Brewery Jim Kellenberger cooks up brats & kraut (it's a fundraiser for Pamlico County Fishes and Loaves), then Caffeinated Soul Boogie plays from 5:30-7:30p.
11:20a TownDock has never had a found dog ad posted, where the found dog photo was only of the canine's posterior. Today that changed:

(Since this was posted in the classifieds this morning, the dog found a home, and the ad was deleted. The photo of the dog's posterior lives on.)
9:18a After deep early morning fog… a bright sunny & dry day will emerge. High near 80.
Saturday promises to be mostly sunny with just a small chance (20%) of afternoon showers. On the Neuse 5 knots today, 5-10 Saturday, freshening to 15-20 Sunday.
• Oriental NC Forecast
• Neuse River Marine Forecast
• Pamlico Sound Marine Forecast
• Neuse River at Oriental Water Level Gauge
6:30a Deep fog over Oriental this morning.
Thursday October 14, 2021
9:44a Friday Flicks are back at the Old Theater. Friday night brings a story tellin' man… its News Of The World:
Doors open 6:30p, movie starts 7p. Admission just $6, includes popcorn.
Wednesday October 13, 2021
4:26p Saturday, Jim Kellenberger is back at his grill for a good cause. He'll be in the beer garden at the Brewery, grilling for Pamlico County Fishes & Loaves Outreach's Beer & Brats event.
Brats come with sauerkraut, green beans, and warm cinnamon apples. They start serving at 4:30p. Caffeinated Soul Boogie entertains with live music at 5:30p.
There's 125 plates at $10 each. One dollar from every beer bought at the Brewery Saturday also goes to PCFLO and their mission to keep Pamlico fed.
11:12a If you've a mind to get some practice in before this weekend's Oriental Cup Regatta, tonight offers up a good opportunity.
Wednesday nights, a group of sailors meet on the water at SC1. You can join them (for free) in a relaxed race around the marks, practicing your skills with whatever weather Mom Nature provides.
SV Pelican during the Wednesday Night Sail, June 2021
As the nights get longer, the start time gets earlier: the warning horn is at 5:25p, the race at 5:30p. The Wednesday Night Sail usually shutters for the season around the end of this month.
8:42a The sun looks like it's struggling to come out. Nonetheless, it's forecast to be partly sunny today.
The town dock is one of the worlds more prestigious transportation portals. This morning, however, it's possible that more attention will be on a rocket launch site near the town of Van Horn in west Texas.
That is where Jeff Bezos' Blue Origin rocket is taking off. It would be only getting modest attention, if not for one of its passengers: 90 year old William Shatner… aka Captain Kirk.
The Blue Origin ship seems a bit tame compared to James T Kirk's usual ride:

Shatner and crew will make it to the edge of space. No warp drive… they will hardly make impulse power. The whole flight is scheduled to be about 11 minutes.
Star Trek has had our imagination for 55 years.
Oriental's Piggly Wiggly store's weekly specials begin every Wednesday.
Here are the deals for October 13 through 19.
Tuesday October 12, 2021
8:44a There is some light fog on the Neuse… nothing that will stop boating. The Cherry Branch / Minnesott Beach Ferry is back on its normal schedule today.
There are boating events this week. Tonight, RC Lasers at Bow To Stern. Saturday is the Oriental Cup Regatta… you can still register to participate. While it is a race (and it will have a winner) this is an event that non-racers / occasional racers can feel comfortable sailing in.
Saturday is also the Oriental Classic Car Show. While the car show does attract pristine Jaguars & '57 Chevys – it can also get a rusty pickup (or two) in the mix.
A past car show entree – Billy Creech brought this crusty/semi-rusty 1952 Ford Truck. The gas tank leaked, so Billy fitted an outboard fuel tank to the fender. While the truck didn't win an award, Billy did manage to sell it at the show.
Attending the car show is free. Whatever your car may be, it is welcome to register (registration is 30 bucks and goes to the Oriental Rotary club's charitable missions).
More info at orientalclassiccarshow.com.
Monday October 11, 2021
2:52p Learn to sail a Laser from land.
Tuesday, Bow to Stern hosts a free Remote Control Laser sailing event and potluck starting at 5p.
Never sailed by remote control? Alexis Edwards invites you to come out and learn. Register here. They'll have hot dogs and hamburgers. Just bring a dish to share.
One joystick controls the rudder, the other the sail.
1:38p TownDock crew forgot it was Columbus Day, until we discovered the bank was closed.
Even if Chris Columbus has fallen out of fashion lately, Happy Columbus Day to you.
8:40a It rained over the weekend, but nothing got rained out. Friday was kindly partly sunny & dry, Saturday saw 1.6 inches, Sunday about 2/10ths.
Folks simply adapted to the wet, as befitting a town full of sailors (and that gets lots of visiting sailors).
The award for color coordinated rain gear goes to village Physical Therapist Jennifer Smart:
7:03a The ferry is running, but on a half schedule:
Cherry Branch operation remains on a 1-boat schedule Monday morning due to weather/tides:
CB: 5:00, 5:45, 6:45, 7:45, 9:00, 10:00, 11:00, 12:00, 1:30
MB: 5:25, 6:15, 7:15, 8:30, 9:30, 10:30, 11:30, 12:30
6:41a Water levels are still up, however they are down a few inches from Sunday morning's high: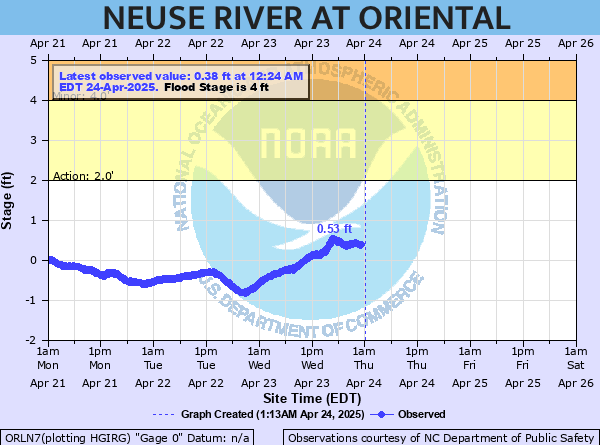 The elevated levels are from brisk north winds. Those north winds are forecast to stay for a few days, but not as brisk. 10-15 knots today, Tuesday & Wednesday 5-10 knots.
Sunday October 10, 2021
11:50a Faith & Harmony literally lifted folks out of their seats this morning at the Riverfront Stage:
8:21a It's high water on Hodges St, but The Bean is open. Boots or bare feet wading are suitable styles.
The high waters are from brisk north winds over the Neuse & Pamlico Sound. The forecast on the Neuse today, 20-25 knots from the north.
7:30a You look like you might need some early morning salvation. Saturday The Gospel Ensemble performed.
This morning TownDock has some Gospel Ensemble to help you out:
This is the final day of the 2021 Ol' Front Porch Umbrella Festival. Today all performances on the Riverfront Stage… on tap:
Faith & Harmony, 9:45AM – 10:45AM.
Nu Blu, 11:15AM – 12:00Noon
Pamlico Flutes, 12:30PM – 1:00PM
Saturday the rain didn't kick in til 2:30~ish. The pre-rain crowds bought & ate stuff… t-shirts & hats sold out, as did several of the food vendors.
A sea of umbrellas showed up for Cain Mill Road's 4p show:
Saturday October 9, 2021
3:11p. Drizzle? Yeah. But Cane Mill Road is still playing, 4p at the Riverfront Stage.
2:33p The rain held off, and it held off some more. And then it rained. Performances are still happening… just wear your hardy rain gear.
There is a Gale Warning on the Pamlico Sound tonight, and a Small Craft Advisory on the Neuse.
• Oriental NC Forecast
• TownDock.net Radar
• Neuse River Marine Forecast
• Pamlico Sound Marine Forecast
The disturbance off our shores, Invest 92, has a 50% chance of developing into a modest subtropical storm system.
Still up this afternoon: At 3p, The Gospel Ensemble, Moores Creek Bluegrass, Ken Belangia and the Wyldwood String Band. Click here for the complete schedule.
When you are checking out that schedule, check out Sunday too. There are Sunday performances from 9:45a til 1p, all at the Riverfront Stage.
12:47p Great crowds & music at Ol' Front Porch. It may have rained overnight, but so far, just threatening clouds.
There is one venue change today – Nu Blu was scheduled to play on Artworks Deck at 6p – that has changed to the New Village Brewery Beer Garden. The change is due to potential wet weather (there is a tent at the brewery).
7:05a Yeah, it's probably going to rain at times. But there will be music.
Grab a jacket or an umbrella… there are 19 performances scheduled for today, starting at 10a. The schedule is at this link.
One of the performers you'll see today is Nu Blu. Check em' out:
Nu Blu plays today at noon on the Riverfront Stage, and again at 6p on the Artworks deck. at the NV Brewery Beer Garden.
Friday October 8, 2021
1:22p Brant Island Strings are playing right now at 502 South Avenue – Frank Roe sent in a video clip:
Also playing right now til 2p, Into The Fog, at 500 South Avenue. At 2p Blind Phoenix on the Riverfront Stage, 3p the PCHS Jazz Ensemble on the Cartwright House porch. The rest of the schedule is here.
How to find the locations? Here is the festival map.
12:12p The 2021 Ol' Front Porch Music Festival is underway – the schedule is here.
11:16a There is a last minute schedule change for the music festival today: The Tan & Sober Gentlemen are not coming – two members have COVID. So… here' the deal. Wyldwood String Band will play today at 4p, on the Riverfront Stage (instead of the Stallings porch).
9:53a You can get a vaccine shot this afternoon at your choice of two non-typical medical locations: Lou Mac Park from Noon til 3p or The Piglet from 3 – 6p. More info here.
8:42a Please note, that at this moment, the sun is out.
They won the 2018 Folk/Bluegrass Carolina Music Award. They're visiting the festival from Charlotte. It's Province Of Thieves:

Province of Thieves play Saturday @ 10a on the Riverfront Stage.
8:30a Just for the festival weekend, Church Street is one-way. From Town Hall:
Church St is now
ONE
WAY
from Broad Street toward the River until Sunday, and parking is only on the Town Hall side of the street.
Lunch plans? There is a fish fry today. From Yolanda Cristiani:
To kick off the Ol' Front Porch Music Festival, Darrel Gibbs (Hope Clinic board member and all around great guy) will be selling lunch plates at Town Hall's porch today beginning at 11:30 (ends when the food runs out). $10 includes fried fish, coleslaw, & hush puppies. These sales benefit Hope Clinic.
8:19a Yeah, it does look like rain. The latest forecast, 40% precip today, 80% Saturday. And the show must go on.
This weekend's Ol' Front Porch Music Festival is on, rain or shine. With 25 performing acts, re-scheduling is not an option. But you're a hardy sailor, so onward with the show. Grab that rain gear (even your crusty so'wester)… and take in the festival. A little hardship is part of traditional music culture… and a bit of rain is pretty low on life's hardship scale.
The music starts at noon today. The festival schedule is at this link.
If you have one of the printed schedules, there is a change – Wyldwood String Band plays at 4p today (not 3p) on The Stallings House porch. The Riverfront Stage.
How 'bout a song about rain goin' away:
Thursday October 7, 2021
5:18p That tropical disturbance off South Carolina is now being tracked as Invest 92. This probably isn't going to become a tropical storm system… but it will bring some wet. From NOAA/NHC:
A low pressure area located about 100 miles off the coast of South Carolina continues to produce disorganized showers and thunderstorms to the east of its center of circulation. Although upper-level winds are expected to be strong during the next few days, some tropical or subtropical development will be possible through the weekend before the low interacts with a frontal boundary located to its north. The low is forecast to move slowly east-northeastward at about 5 mph, and it could bring gusty winds and locally heavy rain to eastern portions of the Carolinas through the weekend, regardless of development.
4:53p There are two sailing events coming next week. There is the Oriental Cup Regatta Oct 15-17 (the sailing is all on Saturday).
There is also a new event, where you can go sailing without getting on a boat.
Huh?
It's RC sailboat racing. Bow to Stern has acquired a fleet of radio controlled Laser sailboats. Tuesday, October 12 @ 5p, you're invited – it's free to participate. Bow to Stern is providing the boats, no experience needed.
4:40p Village Gallery's October guest artist is a sailor, and originally from Poland.
4:36p The Chatham Rabbits, Sarah & Austin McCombie, return to play in the Ol' Front Porch Music Festival again. Have a listen to their song 'Abigail', about the women who were hired to deliver books to rural towns in Kentucky:
The Chatham Rabbits can be found on the Riverfront Stage on Saturday at 2p.
During their 2019 appearance at the Ol' Front Porch Music Festival, they inspired local artist Laura Turgeon:
12:19p Now for something a little different. Laurelyn Dossett singing Leaving Eden:
Laurelyn sings the songs of North Carolina, traditional and contemporary. You can find her playing in the New Village Brewery beer garden Friday night at 7p.
About that weekend weather… TownDock says 70% chance of rain Saturday. Some national weather sites say 80%. Others 60%. No matter what, the Ol' Front Porch Music Festival is a rain or shine event. Get your rain gear, prep for a stroll in the rain, and enjoy the music.
8:54a Need a jump start to your morning? 'Celtic-punk grass' from the Tan and Sober Gentlemen should do it.
You'll find The Tan and Sober Gentlemen Friday at 4p on the Riverfront Stage near Lou Mac Park.
New Classifieds:
1995 Dodge Ram Custom Coach
Stunning 3 Bedroom/2.5 Bath Home in the Village
Mint 2006 Boston Whaler 17
Tucker needs a home
Solid Cherry Dining Room Suite
Deep Water Boat Slips from $200
3BR/2BA on .96 Acres with 2-Car Garage
Rare Indy Fiero 1984
Doggie Day Care
Part-time Bookkeeper/Office Assistant Needed
Recent cover photos:
See
more cover photos...