It's Monday September 25, 2023

Dock Quote: "In seed time...
News From The Village Updated Almost Daily
Upcoming Events
Getting that License. Captain's Blog
9 kinds of boats. Only one rubber chicken.. The Story
Birthdays, the Polar Plunge, and a Public Forum on Paving. The Story
Travel cat with a leash. Pet Of The Month
Rosenwald School makes the list. The Story
Music fans brave the heat. The Story
Hundreds Come Out For A Summer Tradition. The Story
"I'm just so devastated". Letters To The Editor
Traveler, Mother, Volunteer, Musician. The Story
Webster shows Woodies how it's done. The Story
Warm ocean temps could feed hurricanes. The Story
No chickens, but record setting fish. The Story
Thanks to the community. Letters To The Editor
Piggly Wiggly Party. The Story
Different year, same fight. The Story
Should the Town Join the Distressed?. The Story
43 years of Croaker Celebration. The Story
Educator, entrepreneur, family man. The Story
A cruising boat that's a family member. The Shipping News
The right prep makes for a calmer storm. Captain's Blog
Tracking The Fundraising Progress. The Story
Special Thanks. Letters To The Editor
Budget passes without funding roads. The Story
Marines seeking room to maneuver. The Story
A once-a-year appearance. The Story
Salute to a friendship. Letters To The Editor
At 80 years old. The Story
One Commissioner's View. Letters To The Editor
Litzenbergers swallow the anchor in Oriental. The Story
Two nights and over $200k raised for the Hope Clinic. The Story
A Sneaky Second Attempt at Partisan School Board Elections. The Story
The 2023 Town Wide Yard Sale. The Story
Sailcraft rezoning, dog bites, Airbnbs. The Story
1,300 cyclists come and go. The Story
High wind chaos Saturday; Sunday smooth sailing. The Story
Sail, power, paddle - even painted fish-on-a-stick. The Story
4 humans aboard 82 salvaged feet. The Shipping News
Mother, Grandmother, Caregiver, Companion. The Story
Injuries sustained. The Story
Pick 'em up. Letters To The Editor
SailPack Coach Dana Magliola needs some help. Guest Columnist
'Unanimous vote' shuts out School Board & parents. The Story
19 bands playing bluegrass, folk, gospel and more. The Story
Rezoning public hearing set. The Story
Mr Cunningham's contribution to sailing. Captain's Blog
Supporting Commissioners remain silent. The Story
2nd Annual Shine a Light Fundraiser. The Story
Burning a mythical creature supports the arts. The Story
A Pecan Grove channel marker is both perch and lookout tower.
Monday September 25, 2023
11:07a Trash pickup is running a little late today; it has good reason. A garbage truck encountered a sagging utility line across Church Street. (Likely a result of this weekend's storm.)
The driver was okay and it was determined it was a Spectrum line – not a power line. It is now being disentangled. The driver reports trash pickup will resume once his truck has been freed.

Click images for the big view.
10:08a An oyster roast for your 20 closest friends. A week-long getaway on Bald Head Island. And a 10-day sailing vacation from St. Lucia to the Grenadines.
They're all up for bid this coming weekend at HeartWorks' Harborfest.
Bid on a trip to The Grenadines from St. Lucia in the live auction.
Once a year, HeartWorks goes all out for their Harborfest Gala – a fundraiser supporting their mission to provide summer and after-school education and meals for elementary and middle school children. There's dinner, dancing, a live auction, and an online auction – all on the HeartWorks grounds.
Today is the last day to purchase tickets for the event – the chef needs a final number for the big night. You can purchase your Gala tickets here.
The online auction is live and closes at 5p, October 1. Take a look at the auction catalog, and the details on the live auction items.
Sunday September 24, 2023
9:25a From the TownDock Chill Pill archives:

The Neuse from Lou Mac Park. Video from January 2019, a few minutes after 7a.
7:01a It's safe to come out. Feels like an autumn Sunday morning (and the calendar agrees – autumn began Saturday).
Ophelia is now Post-Tropical. Her remains will rain on the northeast today.
The barometer is much happier this morning:
Sunny & low 80s today and Monday. On the Neuse, 10-15 today, calming to 5-10 knot winds Monday.
• Oriental NC Forecast
• Neuse River Marine Forecast
• Neuse River at Oriental Water Level Gauge
The ferry is back on a normal two boat schedule.
Saturday September 23, 2023
2:38p New Village Brewery is open today. Tanja's Hella Fat Food Truck will be onsite and ready to serve by 4:30p.
The Minnesott Beach / Cherry Branch Ferry is back in service with 1 boat in operation. The ferry schedule is:
Minnesott Beach: 3, 4, 5, 6, 7, 8, 9, 11p
Cherry Branch: 2:30, 3:30, 4:30, 5:30, 6:30, 7:30, 8:30, 10p
12:31p Water levels have come down – now about a foot above normal.
12:24p Power is back in Oriental. That was a quick fix – well done Duke.
11:34a You're thinking you've had enough of this. Well, in the midst of Tropical Storm Ophelia… a new tropical system has formed. Welcome to Tropical Depression 17 (future storm Philippe).
There's good news. Seventeen / Phillipe is going to be polite and stay far away.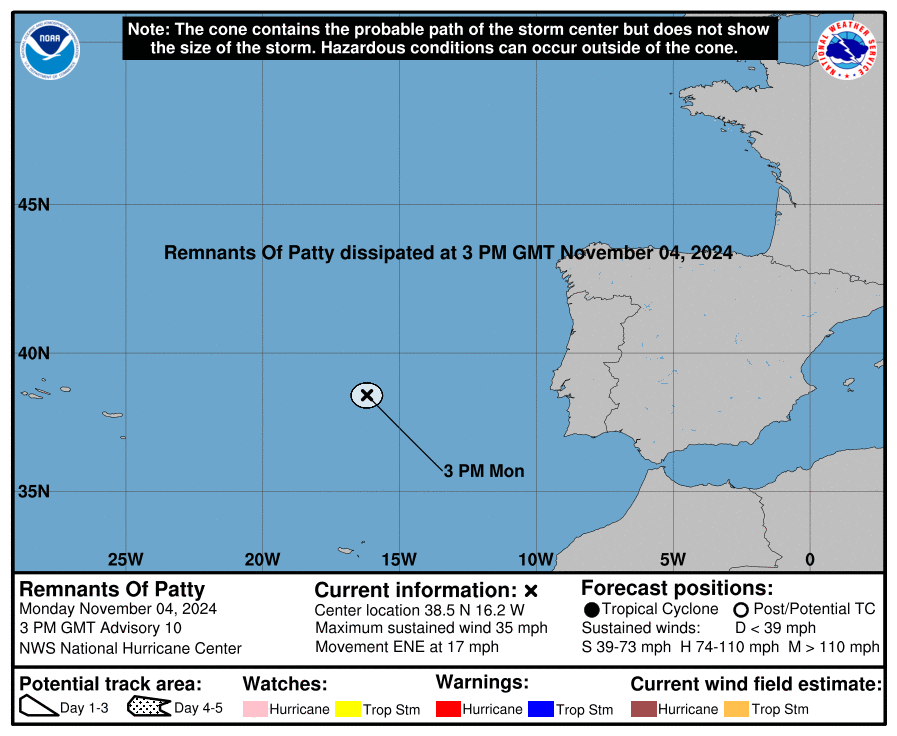 11:17a From Pastor Anne at Oriental United Methodist Church:
The Flo Sylvia memorial service scheduled for today at noon has been postponed until Sunday at 2pm at
OUMC
.
11:10a Ophelia now has max 50 mph winds, and moving away (north) at 13 mph.
• Tropical Storm Ophelia Tracking Chart
• Tropical Storm Ophelia Forecaster's Discussion
• Tropical Storm Ophelia Public Advisory
8:55a Nautical Wheelers is closed today in Oriental (no power).
8:27a TownDock's Allison DeWeese went out looking for wind this morning. Found some on South Ave (no additional charge for windshield wiper):
8:14a The barometer has finally started to move up. Ophelia begins to depart.
8:03a The 8a report from NHC, Ophelia has 65 mph winds, moving north at 13 mph. At the Lou Mac park wind gauge, max 52 mph so far this morning.
• Tropical Storm Ophelia Tracking Chart
• Tropical Storm Ophelia Forecaster's Discussion
• Tropical Storm Ophelia Public Advisory
Only about a half inch of rain since midnight. Added to Fridays heavy rains, and just over 4 inches so far from Ophelia.
At TownDock HQ, the wind is howling in the trees.
7:50a At the Wildlife Ramp… a seagull roller coaster:
7:17a Power is out in the village. The Duke lights went out about 10 minutes ago. Locally, over 1,300 Duke customers lost power. TownDock pull-start generator now in action.
These high winds are ripe for causing damage to lines. Duke Energy does not yet have any estimate on restoration. now says power back today by 6:00p. Duke is known for cautiously over-estimating repair times… power will likely be restored well before 6:00p.
6:39a The winds are very powerful right now. TownDock Senior Management attempted a walk for photos… at times the wind made it hard to stand up.
A retreat ensued.
While the surge concern may have passed, Ophelia's high winds will be with us for many hours.
6:34a It's almost sunrise. It does appear you've survived the night.
A TownDock tradition after a tropical storm / hurricane overnighter, is the national anthem at sunrise:
Bunky, you really should stand.
5:29a The Lou Mac wind gauge registered 46 mph at 5:06a. The Morehead City weather station reported a 58 mph gust a few minutes ago.
5:02a Tropical Storm Ophelia's path is tracking a bit farther west and inland than initially forecast. That's causing the south winds, and the surge to promptly recede.
It also means we will get the most powerful side of the storm. We're feeling it right now – high winds & gusts. This is a moment it pains not to have the TownDock weather station wind gauge (it failed Friday). However, we do have access to wind data from the water level gauge at Lou Mac. It registered a 39mph wind at 4:24a this morning. The Cherry Point weather station reported a 52 mph gust a few minutes ago.
It is really windy right now.
• Tropical Storm Ophelia Tracking Chart
• Tropical Storm Ophelia Forecaster's Discussion
• Tropical Storm Ophelia Public Advisory
The barometer is still dropping:
So far 3.9 inches of rain from the storm (almost all of it Friday).
• Oriental NC Forecast
• Neuse River Marine Forecast
• Neuse River at Oriental Water Level Gauge
3:41a Water levels have dropped in the past couple hours – now down to just 2 feet above normal. As storm Ophelia moves by, the winds have switched to south (meaning from the south). In and near Oriental, north / northeast / east winds raise water levels, while south / southwest / west winds drop water levels.
As measured by the state water level gauge at the Lou Mac Park pier, peak surge was 4 ft, just after 8p Friday night.
At TownDock World Headquarters near the harbor, the semi-official TownDock measuring tape measured a max 4 1/2 feet of surge.
Friday September 22, 2023
11:10p NOAA has raised its surge projection to 4-6 feet for the Neuse and Bay rivers.
8:48p The GOES East satellite view… Tropical Storm Ophelia nears:
Weather radar has a very wet view.
8:00p Tropical Storm Ophelia has 70mph winds, just below hurricane strength.
Water levels now at 3.71 ft by the official state water level gauge. The TownDock ruler says 4.25 ft.
The latest rainfall forecast 4 to 6 inches – 3.23 inches have already rained down since midnight.
• Tropical Storm Ophelia Tracking Chart
• Tropical Storm Ophelia Forecaster's Discussion
• Tropical Storm Ophelia Public Advisory
7:34p The water level gauge graphics are back: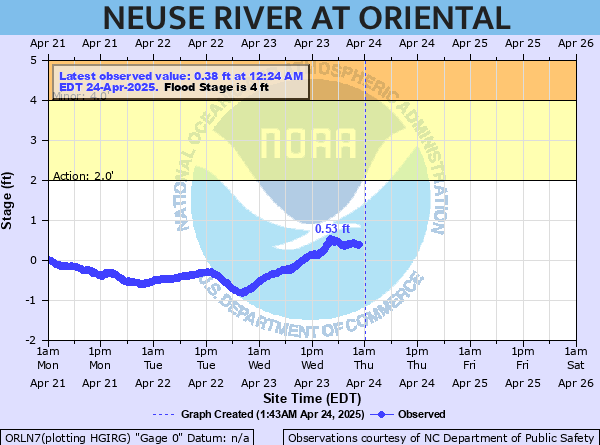 7:09p While the state gauge is back working, TownDock's direct ruler measurements have surge levels now at 4 feet.
7:01p The Oriental Water Level Gauge is back working… currently reading a surge of 3.5 feet.
FYI, those readings are not yet present in the pretty graphs created by NOAA, but TownDock has access to the data and will manually report it if needed during this storm.
A big salute to Gary Thompson with NC Division of Emergency Management – they reacted really quickly when they learned the gauge was down today.
6:02p The latest surge forecast from CERA – Coastal Emergency Risks Assessment:
In Oriental, 5.9 ft at 4am. New Bern, 7.8 ft at 5am.
The NOAA/NHC surge forecast is more general: 3-5 ft for the Neuse River & Pamlico Sound.
Our latest storm status from NOAA:
TROPICAL STORM WARNING IN EFFECT. HURRICANE WATCH IN EFFECT.
Michael Brennan at NHC has a video update:
5:25p The water level gauge may be back. From Gary @ NC Division of Emergency Management:
Staff are traveling to Oriental to work on the gauge. They should arrive by 6:00 p.m.
5:00p Ophelia is turning out to be more than expected. From the National Hurricane Center:
AIR FORCE HURRICANE HUNTERS FIND OPHELIA HAS STRENGTHENED. HURRICANE WATCH ISSUED FOR PORTIONS OF EASTERN NORTH CAROLINA.
Ophelia now has 70 mph winds – almost a hurricane.
• Tropical Storm Ophelia Tracking Chart
• Tropical Storm Ophelia Forecaster's Discussion
• Tropical Storm Ophelia Public Advisory
So far today, 2.4 inches of rain.
• Oriental NC Forecast
• Neuse River Marine Forecast
4:12p Two inches of rain have fallen since midnight. It's coming down hard – the Oriental Weather Station reports a rate of almost an inch an hour right now.
TownDock has contacted the NC Division of Emergency Management re the broken water level gauge. They say they may be able to send someone onsite to fix it today.
2:34p Some of the automatic gauges we rely on, won't be working for Tropical Storm Ophelia's visit. TownDock's wind gauge went out early this morning. The state's water level gauge (and our back up wind gauge) stopped reporting at 10:50a this morning.
Re water levels, all will be OK. There just won't be that pretty graph. By TownDock Senior Management's eyeball meter, water levels are now already at 3 ft surge. We'll simply do manual measurements (a Stanley shop ruler) for this storm. It works.
We also have the state's gauge in Bayboro as a reference, plus Tommy Wheeler with Tidewater Rice is kindly sharing water level data from their rice farm in Pamlico County. It all is a good reference.
1:59p It is now officially Tropical Storm Ophelia.
• Tropical Storm Ophelia Tracking Chart
• Tropical Storm Ophelia Forecaster's Discussion
• Tropical Storm Ophelia Public Advisory
1:50p CERA (Coastal Emergency Risks Assessment) has just issued a surge prediction report. It predicts a 4.9 ft surge for Oriental, peaking tonight/overnight at 4am.
FYI, CERA predict a 6.1 ft surge for New Bern, Saturday at 5am. The surge predictions from NOAA are more broad, simply stating 3-5 ft.
1:26p We've already had an inch of rain fall today. NOAA shows Oriental about on the line between a 6-10 inch storm rain prediction, and a 4-6 inch prediction. Call it 4-10 inches. We're gonna get wet.
TownDock regrets to report our wind gauge is not operating. We have the spare parts, but Senior Management is declining to climb on the TownDock World Headquarters metal roof during a tropical storm to fix it. We'll have it back sometime next week, but will miss it's wind readings during this storm's visit.
TownDock will have access to wind readings from the water level gauge at Lou Mac Park, which we will provide during the storm. It's not ideal (too low), but it is a source. It reads a high of 19 mph so far today.
Water levels are now at 1.88 ft.
• Neuse River at Oriental Water Level Gauge
• Oriental NC Forecast
• Neuse River Marine Forecast
• Pamlico Sound Marine Forecast
12:19p Ferry operations at Cherry Branch/Minnesott Beach have been suspended due to the weather.
Town Hall is closing at 1p today.
11:50a National Hurricane Center Director Michael Brennan has the latest on the approaching storm system – he notes the storm's center is becoming better defined:
Note re surge: 3-5 ft of surge means 3-5 ft above normal water levels. It does not suggest 3-5 ft over land.
9:36a With the coming storm, several events have been either cancelled altogether, or rescheduled for another day. Here's the list:
Rescheduled:
• The Mad Fiddler at New Village Brewery – rescheduled from Friday night to October 21
• Mark Hewitt Pottery Exhibition – rescheduled from Saturday to Wednesday, September 27
Cancelled:
• Brant Island Strings at the Red Rooster Friday night
• Roadside Dogs Food Truck at New Village Brewery Friday night
• Saturday Oriental Farmer's Market Saturday morning
• Rabies Clinic Saturday afternoon
• The Fish Fry Fundraiser Saturday afternoon
New Village Brewery is closed Friday.
8:11a We are beginning to feel the storm's outer edge… the beginning of tropical storm conditions. Water levels now about 1.4 feet up, a result of the north winds.
The system will approach the NC coast tonight, with the center of the storm expected to make landfall overnight. Maximum sustained winds now are near 50 mph. The storm is expected to strengthen to 60 mph. It is likely to become a tropical storm later today (it would be Tropical Storm Ophelia).
Even if it doesn't technically become a tropical storm, it will still bring tropical-storm conditions to our area.
• Potential Tropical Cyclone 16 Tracking Chart
• Potential Tropical Cyclone 16 Forecaster's Discussion & Computer Models
• Potential Tropical Cyclone 16 Public Advisory
5:33a The "potential" storm system is forecast to become Tropical Storm Ophelia later today. Ophelia's peak winds are expected to be 60 mph. As the storm approaches it will cause brisk northeast winds – that will push water levels higher. NOAA is predicting surge levels of 3-5 feet.
The rain graphic from NOAA/NHC has Oriental on the edge between a 4-6 inch rain prediction, and a 6-10 inch prediction. Either way, we're getting a lot of rain.
• Oriental NC Forecast
• Neuse River Marine Forecast
• Pamlico Sound Marine Forecast
• Neuse River at Oriental Water Level Gauge
At the ferry, a reduced schedule:
Cherry Branch operation is currently on a 1-boat schedule beginning Friday (22nd) morning. More schedule interruptions are expected as weather conditions worsen throughout the day.
Based on previous storm experience, higher water levels (and winds) will likely stop the ferry runs sometime today.
Thursday September 21, 2023
6:22p The updated storm surge forecast from NOAA/NHC has us at 3-5 ft:
Friday morning TownDock will provide the latest surge forecast from CERA – Coastal Emergency Risks Assessment. Right now CERA is predicting a 3 ft surge for the Oriental area. Planning on the higher end of NOAA's 3-5 ft will keep you out of trouble.
• Potential Tropical Cyclone 16 Tracking Chart
• Potential Tropical Cyclone 16 Forecaster's Discussion & Computer Models
• Potential Tropical Cyclone 16 Public Advisory
5:55p The latest video update on the storm system, from the National Hurricane Center:
4:58p In the 5p NHC update for Potential Tropical Cyclone Sixteen, some changes. From the forecaster's discussion:
• NOW 29.2N 75.9W 30 KT 35 MPH…POTENTIAL TROP CYCLONE
• Fri 5a 30.8N 75.8W 40 KT 45 MPH…POTENTIAL TROP CYCLONE
• Fri 5p 32.6N 76.0W 45 KT 50 MPH…POTENTIAL TROP CYCLONE
• Sat 5a 33.8N 76.5W 50 KT 60 MPH
• Sat 5p 35.6N 77.0W 50 KT 60 MPH
• Sun 5a 37.3N 76.9W 35 KT 40 MPH
• Sun 5p 38.7N 76.1W 30 KT 35 MPH…POST-TROPICAL
Now forecasting 3-5 ft of surge, 4-6 inches of rain.
1:01p It may currently be called "Potential Tropical Cyclone 16" – but we are almost certainly getting a tropical storm (or tropical depression) Saturday. Expect Tropical Storm Ophelia.
• A Tropical Storm Warning has been issued from Cape Fear, North Carolina, northward to Fenwick Island, Delaware, including Albemarle and Pamlico Sounds, and the Chesapeake Bay south of Smith Point.
• A Storm Surge Watch has been issued from Surf City, North Carolina to Chincoteague, Virginia, and the for the Chesapeake Bay south of Smith Point, including Albemarle and Pamlico Sounds.
Initial predictions for our area are 2-4 ft of surge, 4-6 inches of rain.
10:55a A low off the Florida coast is now Invest 99. That Invest has been promptly renamed Potential Tropical Cyclone 16. This potential storm will at the very least rain on us this weekend… and it will likely develop into a small tropical storm system. From the National Hurricane Center:
A broad non-tropical area of low pressure has formed well east of the east coast of Florida this morning. Although this system is forecast to remain non-tropical during the next 12-24 hours, the dynamical model guidance indicates that it will likely acquire tropical characteristics late Friday and early Saturday as it approaches the coast of North Carolina.
As a result, advisories are being initiated on Potential Tropical Cyclone Sixteen to issue Tropical Storm Warnings and Storm Surge Watches for portions of the coasts of North Carolina, Virginia and Maryland.
If Potential Storm 16 develops (as expected)… it will become Tropical Storm Ophelia.
Wednesday September 20, 2023
9:24a The sun is shining and the high today is near 80. TownDock junior staff says it's a lovely day in Oriental.
This weekend may be a slightly different story – thunderstorms likely Friday with a 70% chance of rain Friday and Saturday.
The 70% can be misleading – it means there's a 70% chance that a drop of rain will fall in the area sometime during that 24 hour period, not that it might rain 70% of the day.
That said, the Arlington Place Open House scheduled for this weekend has been postponed until Tuesday, September 26. Want to find out what else is happening in town this week, or weekend? It's all in What's Happening.
The specials are updated every Wednesday at Oriental's Piggly Wiggly.
Here are the Piglet deals for September 20 – 26.
Tuesday September 19, 2023
12:49p Captains abound in Oriental. But there's always room for more.
The Captain's Blog explains the highs and lows of having a captain's license. And how you can get one.
Monday September 18, 2023
5:14p A hidden rubber chicken and a capsizing (or two). It happened at the 2023 Greens Creek Challenge.
2:39p The high today was forecast to be near 80. As of this writing, it's only reached 74.
It's a welcome shift from the near 90 degree temps of last week. High temps for the week are expected to keep close to 80.
County Commissioners meet this evening at 7p for their second monthly meeting. They're meeting in the Courthouse Annex. The public is welcome to attend.
As of this morning, Storm Nigel is now Hurricane Nigel. Nigel is expected to become a powerful hurricane. And stay far away.
Sunday September 17, 2023
10:05a The Greens Creek Challenge. So named for the challenge of finding a rubber chicken hidden in the creeks.
• 1st: Bob Slook
• 2nd: Izzy Humphries and Fiona Somers
• 3rd: Jack and Brian Burgess
Here are some of the small boats sailing the creek Saturday:
There are other awards to be won, usually determined in the moment, and by circumstance:
• Breakdown Award: Don DiStephano, Sean Travis, Chuck Love, Joe Johnson
• Single Handed Award:  Adam Phillips
• Young and Old: Jack and Brian Burgess
• Stick to it award: Bobbie Cochran
• Sculler award: Rob and James Rivenbark
• Rubber Chicken: Jude Brown
Story and photos coming Monday…
9:50a If you see Tom Lathrop today, Happy Birthday is the proper salutation. Tom is 92.
On Tom's 90th birthday, TownDock published a story about Tom and his creations.
From the Oriental Weather Station, a pleasant thermal trend:
• Oriental NC Forecast
• Oriental Weather Station
• Neuse River at Oriental Water Level Gauge
• Neuse River Marine Forecast
9:34a On the Atlantic, lotsa action, none of it coming our way. Lee is post-tropical, visiting Prince Edward Island. Margot is running outa gas. Tropical Depression 15 has become Tropical Storm Nigel. Nigel is expected to be a hurricane Monday.
Nigel is thankfully living up to his gentlemanly name, steering away from land and generally heading north.
Friday September 15, 2023
2:51p Tonight at The Red Rooster/Silos, Ken Belangia plays. Today at New Village Brewery Jasmine Tasty Thai food truck rolls in from 4-8p.
Saturday morning the Oriental Farmers' Market has a full crew on Hodges St near the harbor. It's the annual Greens Creek Regatta Challenge, for sailboats 20 ft and under. Nautical Wheelers has wine tastings at 2 & 3p. At Oriental History Museum from 2-4p see the paintings of Lucille Truitt, and learn more about her life.
Also Saturday, at the brewery the La Cocina del Coqui Food Truck (Cuban), plus the prolific Ken Belangia performs 5-7p in the Beer Garden.
12:22p Tropical Depression Fifteen has formed (from Invest 97). This will become named storm Nigel, and is expected to reach hurricane strength.
Fortunately, Fifteen/Nigel is also forecast to take a familiar path – turning north well before reaching the US east coast.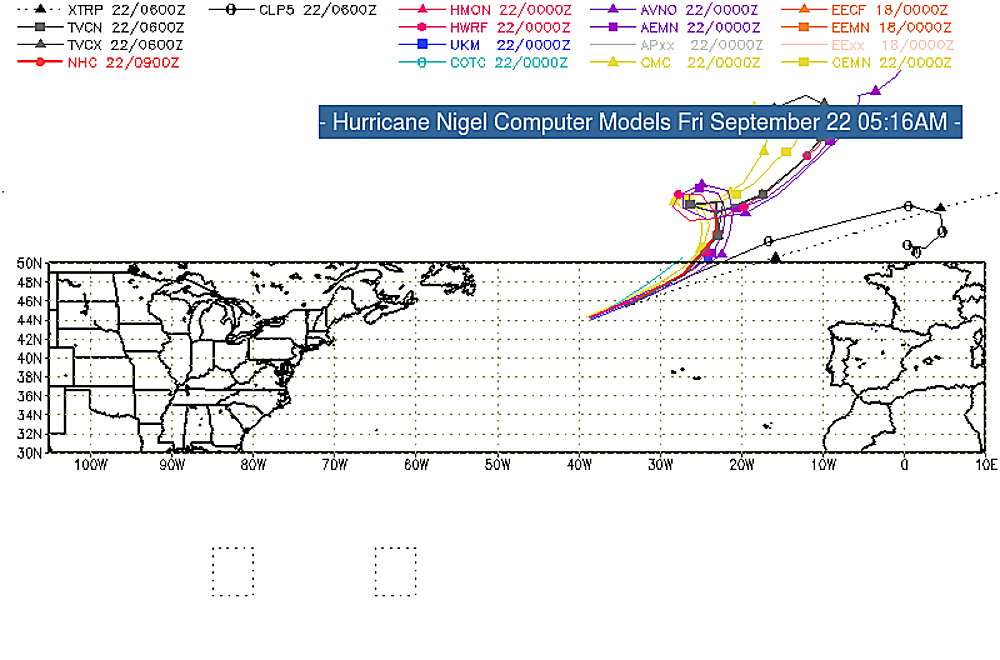 • Hurricane Center
• Tropical Depression Fifteen Tracking Chart
• Tropical Depression Fifteen Forecaster's Discussion & Computer Models
• Tropical Depression Fifteen Public Advisory
9:49a Lili Bacon, co-owner of New Village Brewery, celebrated her 50th birthday earlier this month. As part of that celebration, she took up a collection of food donations at the Brewery for PCFLO – the Pamlico County Fishes and Loaves food pantry.
Those donations added up. From an email to Lili from
PCFLO
Chairman Ray Ruppert:
What a great birthday present – 244 lbs of food! Using a standard government formula that poundage is the equivalent of 205 meals. That is a lot of meals.
Lili sends a thank you to everyone who donated, and ads that the Brewery will serve as a collection point for local, charitable non-profits for anyone wanting to use their special occasion to help out.
Thursday September 14, 2023
8:06p Hurricane Lee is distant, but still having some impact as the storm passes to our east. From the National Weather Service forecast discussion:
Our most impactful weather continues to come from distant Hurricane Lee. Lee will continue to track northwards tonight making its closest point of approach to
ENC
this evening. Inland, winds will be 10-15 mph with 25+ mph gusts. Closer to the coast and along the
OBX
, winds will be slightly stronger 15-20 mph with 30-35+ mph gusts. Winds are forecast to become slightly lighter overnight but will still be elevated.
As high pressure continues to build into the region and strong northerly winds continue, a cooler and drier airmass will overspread
ENC
tonight allowing dewpoints to drop by several degrees compared to last night. Overnight lows will also be several degrees lower, into the upper 50s to low 60s inland and into the low 70s along the coast and
OBX
. Coastal conditions will continue to deteriorate as northerly winds surge and Hurricane Lee's powerful swell increases.
• Oriental NC Forecast
• Neuse River Marine Forecast
• Pamlico Sound Marine Forecast
3:57p You've likely heard of Reiki. You may have a dog.
It turn's out the two can go together. There is an Animal Reiki Class starting at 7p tonight, at the Spirit Shack on Hodges St.
8:08a The GOES East satellite view… Hurricane Lee makes his way north:
This time Friday morning Lee will be directly to our east.
• Hurricane Center
• Hurricane Lee Tracking Chart
• Hurricane Lee Forecaster's Discussion & Computer Models
• Hurricane Lee Public Advisory
Wednesday September 13, 2023
9:30a Hurricane Lee is a testimony to how good computer models have gotten. The current official track is almost exactly what the long term models predicted over a week ago. Lee will be directly offshore to our east Friday, expected to make landfall near the US/Canadian border late Saturday/early Sunday.
Margot is just messin' about mid Atlantic. Invest 97 is likely to become a tropical depression this weekend (the next storm name on tap is Nigel). The initial longer term models for Invest 97/ future Nigel have it trending north… staying away from our town.
• Hurricane Center
• Hurricane Lee Tracking Chart
• Hurricane Lee Forecaster's Discussion & Computer Models
• Hurricane Lee Public Advisory
9:01a If you see Julia Tingle today – out riding her bike or down by Lou Mac Park – wish her a Happy Birthday. She's completed another rotation around the sun.
Julia Tingle
FYI, Julia raised $2,445 this past weekend in the Bike MS ride.
Those 90+ degree days may be behind us. High today in the mid 80s with a chance of rain later this afternoon and evening.
• Oriental NC Forecast
• Neuse River Marine Forecast
• Pamlico Sound Marine Forecast
Tuesday September 12, 2023
12:34p Last Sunday, Dolphin Point residents came together to celebrate Julius Sheppard for his work, and his kindness.
Julius, however, isn't a resident… he's the area FedEx delivery driver.
Dave Roletter wrote in:
We have a FedEx driver who serves Dolphin Point (and the area) who is uniquely kind and outgoing. His name is Julius Sheppard. He has touched our selves and our neighbors in such a positive way that my wife Becky and I decided to organize a gathering to celebrate him.
The event grew so big, they had to move it to the Sea Harbour Yacht Club. "Response rate has been very high," said Dave, "likely because we each have our own 'Julius' story to share."
Julius with the residents of Dolphin Point on Sunday. (Hiram Lupton/Pamlico News photo)
John Rahm, who sent in the photo, said, "Julius does exceptional delivery work in Oriental, and the neighborhoods were pleased to picnic in his honor."
11:55a Hurricane Lee is staying offshore (from us), but the storm is having Atlantic coast effects. The National Hurricane Center has a video update:
Monday September 11, 2023
5:33p There's a new hurricane on the Atlantic. Storm Margot is now Hurricane Margot… mid Atlantic and wandering north. No worries there.
Hurricane Lee's forecast track continues safely offshore. Safely for us, that is. Folks in Nova Scotia/New Brunswick/Maine are having reason to think otherwise:
• Hurricane Lee Tracking Chart
• Hurricane Lee Forecaster's Discussion & Computer Models
• Hurricane Lee Public Advisory
• Hurricane Center
3:55p It's coming this Saturday Sept 16… the 32nd annual Greens Creek Challenge Regatta.
This is the race just for boats 20 ft and under.
Part of the challenge is winning the race. And there's something else… you get extra points if you discover and rescue a rubber chicken.
More about the Greens Creek Challenge here.
3:12p Saturday night Oriental had an additional music venue – the town dock. David Johanns was visiting from Toronto, aboard his Piver trimaran named The Sailing Piano.
It almost was a rainout, but then the sky cleared and David got out that piano. Here's how it started:
10:02a South Pamlico Volunteer Fire Department staged two of their trucks along the harbor on Hodges Street this morning.
A crowd gathered. A flag was raised. And the fire bell was rung in four series of five bells to signal the passing of the firefighters lost in the 9/11 attacks. And for those that have since died from exposure to the toxic conditions after the attacks.
At 8:46a, all stood quietly to observe the national moment of silence.
Click for the bigger view.
Members of SPVFD Station 19 observed the raising of the flag – flown over the crash site of Flight 93 in Shanksville, PA. Safety Officer Fred Edel rang the bell for the fallen, while Chris Mele played Taps.
Saturday September 9, 2023
11:09a Hurricane Lee's forecast path north continues even moreso obviously north (and away from us). Lee is currently a Category 3 storm, 115 mph.
If you check out HarborCam today you'll see a trimaran is visiting. The boat's name is The Sailing Piano. That name is a not subtle hint of what is aboard. Skipper David Johanns hails from Toronto (originally from Holland). He's known in the Bahamas for piano concerts from his boat (there you attend by dinghy).
Tonight at 7p David will be playing at Oriental's town dock. Just come by and enjoy.
Here is David Johanns playing from his trimaran:
6:36a NOAA's Hurricane Hunter aircraft have found Hurricane Lee's winds somewhat reduced: now 115 mph / Category 3. The key news is the official NHC forecast now showing a clear turn north, keeping Lee offshore from our fair village.
• Hurricane Lee Tracking Chart
• Hurricane Lee Forecaster's Discussion & Computer Models
• Hurricane Lee Public Advisory
• Hurricane Center
Looking at calmer weather, on the Neuse today 5-10 knots, Sunday southeast and just 5 knots. Partly sunny today, mid 80s, Sunday mostly sunny, mid 80s again.
• Oriental NC Forecast
• Neuse River Marine Forecast
• Pamlico Sound Marine Forecast
New Classifieds:
Grady-White Gulfstream 232
Free Samples
Found: Inflatable Kayak
Table and chairs - SOLD
Champion Generators
Pelican Sentinel 100X Exo Sit-On-Top Kayak
Paddle board
New to Market 2002 Beneteau 361 Shoal Draft
Pamlico Partners for Democracy
Endless River Views
Historical Charmer For Sale in Downtown Oriental
Cleaning Person Needed
Recent cover photos:
See
more cover photos...