It's Friday September 22, 2023

Dock Quote: "There is no...
Hurricane Nigel Forecaster's Discussion & Computer Models
Hurricane Nigel Forecaster's Discussion #
A graphic showing several computer modeled projected tracks is at the bottom of this page.
Hurricane Nigel Discussion Number  27
NWS National Hurricane Center Miami FL       AL152023
300 AM GMT Fri Sep 22 2023

Nigel has not quite completed its transition to a post-tropical 
cyclone.  A burst of deep convection formed near the center a few 
hours ago, and it is therefore still considered a tropical system.  
Based on a partial ASCAT pass and the latest satellite intensity 
estimates, the initial intensity is lowered to 65 kt for this 
advisory.

Cold ocean waters and significant vertical wind shear should cause 
Nigel to weaken further.  The hurricane should become a powerful 
extratropical cyclone within about 12 hours.  As noted previously, 
Nigel continues to grow in size and an expansion of the 34-kt wind
field is expected during the next couple of days.

The hurricane is moving east-northeastward at 32 kt.  An east- 
northeastward to northeastward motion along the southeastern side of 
a deep-layer mid-latitude trough is expected during the next day or 
so.  Beyond a day, Nigel should rotate around the eastern side of a 
large extratropical cyclone over the North Atlantic.  The two 
features should merge in about 60 h and the official forecast now 
shows dissipation at the time.  The model guidance remains tightly 
clustered, and the NHC forecast lies near the center of the 
envelope.

FORECAST POSITIONS AND MAX WINDS

INIT  22/0300Z 45.1N  36.7W   65 KT  75 MPH
 12H  22/1200Z 47.5N  30.7W   55 KT  65 MPH...POST-TROP/EXTRATROP
 24H  23/0000Z 51.3N  25.1W   50 KT  60 MPH...POST-TROP/EXTRATROP
 36H  23/1200Z 55.0N  23.2W   50 KT  60 MPH...POST-TROP/EXTRATROP
 48H  24/0000Z 56.9N  25.2W   50 KT  60 MPH...POST-TROP/EXTRATROP
 60H  24/1200Z...DISSIPATED

$$
Forecaster Bucci
The Forecaster's Discussion above often refers to several computer models. The graphic below includes multiple projected paths, showing what the different computer models indicate. The black line is the NHC (National Hurricane Center) path. This graphic is not an official NHC product. For the
official NHC projected path of Hurricane Nigel click here.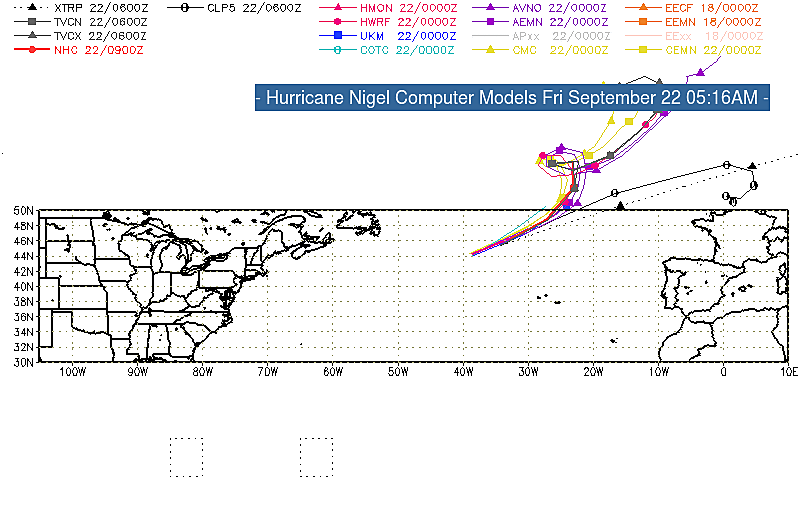 click image for a larger view and more models
For more information about
tropical storm computer models click here.
email this page
|
back to top
Dock Quote:
There is no such thing as...
Recent Stories:
• Greens Creek Challenge 2023
• September 2023 Town Board Meeting
• Mr. September 2023: Arrow
• Holt's Chapel on The National Register