It's Sunday October 25, 2020

Dock Quote: "If you're playing...
News From The Village Updated Almost Daily
Hurricane Epsilon Forecaster's Discussion & Computer Models
Hurricane Epsilon Forecaster's Discussion #
A graphic showing several computer modeled projected tracks is at the bottom of this page.
Hurricane Epsilon Discussion Number  25
NWS National Hurricane Center Miami FL       AL272020
1100 PM AST Sat Oct 24 2020

Epsilon has become a little less organized during the past couple
of hours. The hurricane is still producing inner-core convection,
but cloud tops have gradually warmed, and the overall cloud pattern
has become asymmetric once again. ASCAT-A data from just after 00Z 
showed maximum winds of 55-60 kt southeast of Epsilon's center. The 
intensity of the hurricane is therefore set at 65 kt, assuming a 
little undersampling from the ASCAT instrument. The wind radii 
analysis was also updated based on the ASCAT data.

The hurricane is currently located over relatively warm waters 
associated with the Gulf Stream. Epsilon is forecast to remain over 
the Gulf Stream for at least another 12 hours, and should maintain 
its tropical structure during that time. The cyclone is forecast to 
move over much cooler water by Sunday afternoon and this should 
cause it to quickly become post-tropical. Gradual weakening is 
expected through this period, but the global models indicate that 
Epsilon will continue to produce a very large area of gale-force 
winds and maximum winds near hurricane strength even after it 
becomes post-tropical. Epsilon is then expected to merge with 
another large non-tropical low early next week.

The hurricane is accelerating northeastward and should continue to
gain forward speed in that general direction for the next day or
so. Little change was made to the NHC track forecast, which is based
on a blend of TVCA and HCCA. All of the typically reliable track
models show the same evolution, so confidence in the track forecast
remains high.

FORECAST POSITIONS AND MAX WINDS

INIT  25/0300Z 41.3N  56.1W   65 KT  75 MPH
 12H  25/1200Z 43.6N  51.4W   60 KT  70 MPH
 24H  26/0000Z 47.3N  42.0W   60 KT  70 MPH...POST-TROP/EXTRATROP
 36H  26/1200Z 51.6N  30.7W   60 KT  70 MPH...POST-TROP/EXTRATROP
 48H  27/0000Z 56.5N  23.0W   55 KT  65 MPH...POST-TROP/EXTRATROP
 60H  27/1200Z...DISSIPATED

$$
Forecaster Zelinsky
The Forecaster's Discussion above often refers to several computer models. The graphic below is produced by the state of Florida - the multiple projected paths show what the different computer models indicate. The red line is the NHC (National Hurricane Center) path. This graphic is not an official NHC product. For the
official NHC projected path of Hurricane Epsilon click here.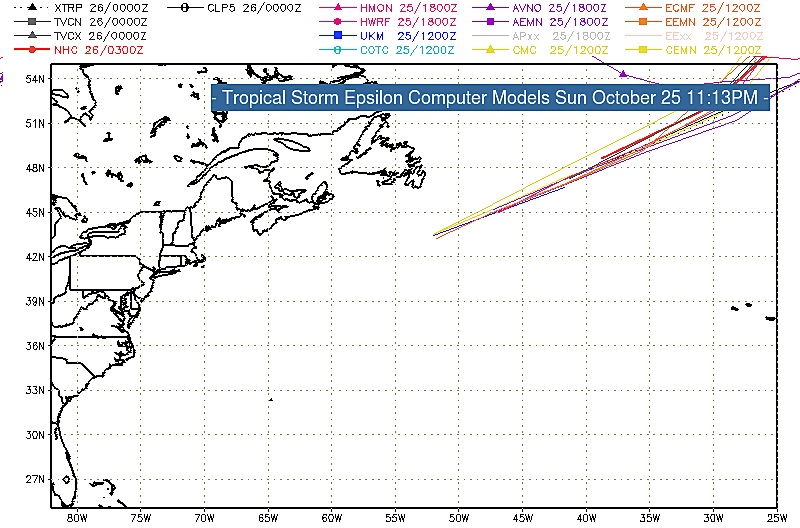 click image for a larger view
For more information about
tropical storm computer models click here.
email this page
|
back to top
Dock Quote:
If you're playing a...
Recent Stories:
• Housing Ordinance on Hold, Fines for Illegal Dumping
• Pamlico Arts Accepting Applications for Arts Grants
• A Trike Made for Fishing
• Music in the Creeks