It's Friday December 4, 2020

Dock Quote: "To his dog,...
GALE WARNING IN EFFECT FROM LATE TONIGHT THROUGH SATURDAY MORNING ...LOW WATER ADVISORY IN EFFECT FROM 4 AM TO 4 PM EST SATURDAY...
Remnants Of Iota Forecaster's Discussion
Remnants Of Iota Forecaster's Discussion #
A graphic showing several computer modeled projected tracks is at the bottom of this page.
Remnants Of Iota Discussion Number  21
NWS National Hurricane Center Miami FL       AL312020
900 AM CST Wed Nov 18 2020

Although the system still has broad mid-level rotation, synoptic 
observations from Central America show that the surface circulation 
of Iota has dissipated.  Its remnants are located somewhere near El 
Salvador.

Although the remnants of Iota are likely to move into the eastern 
North Pacific during the next day or so, the global models do not 
show regeneration of the system over that basin.

Iota is still expected to produce very serious flash flooding and
mudslides, with potentially catastrophic effects, over 
portions of Central America.

This is the last advisory issued by the National Hurricane Center 
on Iota.

Key Messages:

1.  Life-threatening flash flooding and river flooding is expected
through Thursday across portions of Central America due to heavy
rainfall from the remnants of Iota.  Flooding and mudslides across 
portions of Honduras, Nicaragua and Guatemala could be exacerbated 
by saturated soils in place, resulting in significant to 
potentially catastrophic impacts.

FORECAST POSITIONS AND MAX WINDS

INIT  18/1500Z 13.8N  89.5W   25 KT  30 MPH...REMNANTS OF IOTA
 12H  19/0000Z...DISSIPATED

$$
Forecaster Pasch
The Forecaster's Discussion above often refers to several computer models. The graphic below is produced by the state of Florida - the multiple projected paths show what the different computer models indicate. The red line is the NHC (National Hurricane Center) path. This graphic is not an official NHC product. For the
official NHC projected path of Remnants Of Iota click here.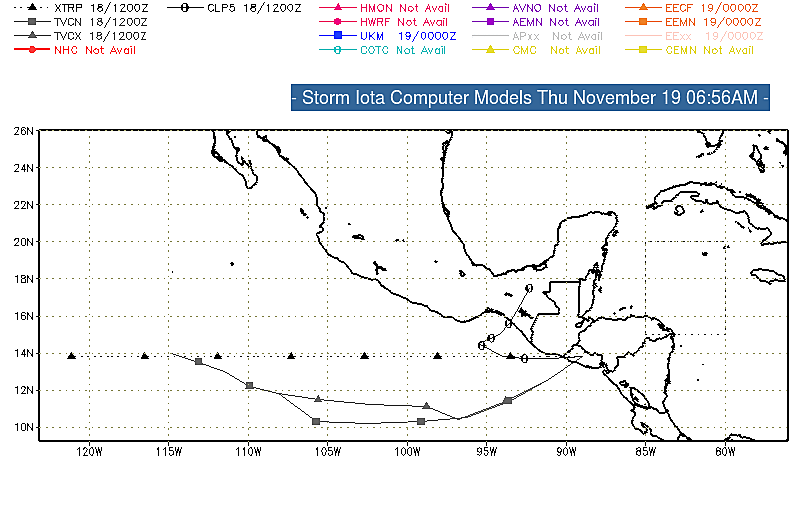 click image for a larger view
For more information about
tropical storm computer models click here.
email this page
|
back to top
Dock Quote:
To his dog, every...
Recent Stories:
• Giving Tuesday 2020
• Two Rides, One Event: 2020 Thanksgiving Day Bike Ride
• New Mask Mandate in NC
• Ferry Returns to Full Schedule Dec 1