It's Tuesday August 20, 2019

Dock Quote: "Pizza makes me...
News From The Village Updated Almost Daily
Atlantic Tropical Storm Outlook
Invest 97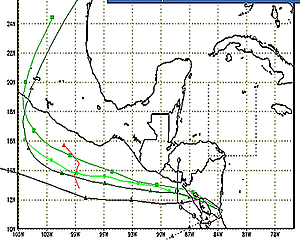 Tropical Weather Outlook
NWS National Hurricane Center Miami FL
800 AM EDT Tuesday August 20 2019

For the North Atlantic...Caribbean Sea and the Gulf of Mexico:

A low pressure system located more than 300 miles south of Halifax, Nova Scotia, continues to produce an area of thunderstorms east of the center. Significant development of this low is unlikely as it moves eastward at 15 to 20 mph, away from the United States and Canada. .

* Formation chance through 48 hours...low...10 percent.

* Formation chance through 5 days...low...10 percent.

Forecaster: Jack Beven, National Hurricane Center

For the 5 Day graphical forecast plus detailed analysis see The Atlantic Tropical Weather Discussion.

Share this page:
Email
-
back to top
-