It's Saturday June 10, 2023

Dock Quote: "On Earth, it...
News From The Village Updated Almost Daily
Upcoming Events
Budget passes without funding roads. The Story
Marines seeking room to maneuver. The Story
A once-a-year appearance. The Story
Salute to a friendship. Letters To The Editor
At 80 years old. The Story
One Commissioner's View. Letters To The Editor
Litzenbergers swallow the anchor in Oriental. The Story
Two nights and over $200k raised for the Hope Clinic. The Story
A Sneaky Second Attempt at Partisan School Board Elections. The Story
The 2023 Town Wide Yard Sale. The Story
Sailcraft rezoning, dog bites, Airbnbs. The Story
1,300 cyclists come and go. The Story
High wind chaos Saturday; Sunday smooth sailing. The Story
Sail, power, paddle - even painted fish-on-a-stick. The Story
4 humans aboard 82 salvaged feet. The Shipping News
Mother, Grandmother, Caregiver, Companion. The Story
Injuries sustained. The Story
Pick 'em up. Letters To The Editor
SailPack Coach Dana Magliola needs some help. Guest Columnist
'Unanimous vote' shuts out School Board & parents. The Story
19 bands playing bluegrass, folk, gospel and more. The Story
Rezoning public hearing set. The Story
Mr Cunningham's contribution to sailing. Captain's Blog
Supporting Commissioners remain silent. The Story
2nd Annual Shine a Light Fundraiser. The Story
Burning a mythical creature supports the arts. The Story
212 paws step out. The Story
Mentor, loving husband, gentle soul. The Story
A nomad's life aboard. The Shipping News
Sailor, Instructor, Volunteer. The Story
Opposing County Commissioners' Recommendation. Letters To The Editor
Boat lifts approved, Audit accepted. The Story
92 sinkable pounds. Pet Of The Month
For better navigation. Letters To The Editor
Wooden charter with a motley history. The Shipping News
Chris Fulcher's Seafood operation receives $21.5k penalty. The Story
Don't send money. Letters To The Editor
Hull Grafitti?. Captain's Blog
Concerns for Brown Creek. Letters To The Editor
Five roads to get repairs, Officers awarded. The Story
Young brothers begin an adventure. The Shipping News
Dragons parade by the harbor. The Story
Old Theater Hosts Small Town Filmakers. The Story
Over $5,000 raised for Special Olympics. The Story
Opened gate leads to attack. The Story
A shift in perspective. Pet Of The Month
Unexpected Cuban roots. The Story
Good lookin' sterns… trawlers Lillie Jane & Miss Kayden rafted up at the Garland Fulcher Seafood docks.
Saturday June 10, 2023
11:17a On May 22 Graham Byrnes visited Oriental onboard his 17 ft sailboat. It was the first stop on a 500 miles voyage… Graham would be circumnavigating Pamlico Sound, for a cause. The goal is to raise $10,000 for The BikeBox Project in New Bern, which provides exercise programs for those with Parkinsons.
Good news: Graham's voyage is going well… last night he was near Wanchese (just south of Manteo). He started in Vandemere on the Bay River May 21st, sailing down to Oriental. Since then, here is his track:
And more good news: The Sailing For Parkinson's GoFundMe has surpassed $10,000. Now at $10,300, and still growing.
Here's a link to the story TownDock did about Graham's mission… it also includes a route map.
Friday June 9, 2023
1:21p Tonight, catch live music at the Brewery from Seth Smith's Funky Folk, 6-8p. A Taste of Philly food truck is there from noon to 8p.
Down the road at 7p, catch George Bailey playing live at the Red Rooster.
Saturday morning is the Farmers' Market on Hodges near the harbor, 8a-11a. Saturday at 10:30a, join friends and family for a memorial service for Bob Parker, who passed away in March. A celebration of life will follow.
Also this weekend, explore the work of the Village Gallery's June artist of the month, Debanjana Bhattacharjee Saturday and Sunday. Stop in at the History Museum Saturday to see their wildlife collection and submit your entry for their Name the Alligator contest.
It's all in What's Happening.
Lou Mac pier at sunrise.
The pier at Lou Mac Park is a popular place to fish or just watch the sunrise, but it will be temporarily unavailable on Saturday. From Town Hall:
Our Fishing Pier will be closed briefly on Saturday, June 10, 2023 for maintenance. Please stay
OFF
the pier until work is complete. We know this is an inconvenience, but we are working with contractor availability to strengthen the pier prior to any hurricanes approaching. Thanks for your patience.
Contractors said they will be there first thing in the morning.
10:51a Tuesday's monthly Board meeting was also the public hearing for the annual budget.
It passed 3-2, with Commissioners Roe and Price against. Not in the budget – funding for roads. Commissioners were against raising taxes to come up with the funds.
Instead, they're going to hold a public meeting to get input from Oriental residents. Read the full report here.
8:35a No, that morning fog isn't smoke from away. That just be fog.
The fires in Canada continue. NOAA satellites show the fires (as well as the smoke). Take a look:
Thursday June 8, 2023
1:03p Schedule back to normal on the ferry.
5:31a. The Cherry Branch / Minnesott Beach ferry is on a normal schedule early this morning, then switching to one boat starting at 7:45a:
We are switching to an amended schedule after our 7:45am departures, we will be on a one boat schedule.
Cherry Branch departures: 9a, 10a, 11a, 12 noon, 1:30p, 2:30p, 3:30p, 4:30p, 5:30p, 6:30p, 7:30p, 8:30p, 10p
Minnesott departures: 8:30a, 9:30a, 10:30a, 11:30a, 12:30a, 2p, 3p, 4p, 5p, 6p, 7p, 8p, 9p, 11p.
Wednesday June 7, 2023
4:10p Notice the haze out there today? You can see it in Oriental, but it's even more obvious on the way to New Bern.
That haze is smoke, visiting all the way from Canada. Lightning strikes, low snowfall, a dry spring season and higher than normal temperatures created an ideal scenario for fires to run rampant in the eastern provinces of Canada.
There's around 160 fires in Quebec, about the same number in Ontario, and still more burning in Nova Scotia. It's really smoky in the northeast, and even down yonder here in river city.
This can all be best summarized as follows:
8:52a
Pamlico County Fishes and Loaves Outreach (PCFLO) is looking ahead to summer, and helping feed the county's children in need.
Ray Ruppert writes in:
Summer is here and school is almost over. Kids will be home, playing outdoors and working up appetites. Feeding young children is expensive. Help Pamlico County Fishes and Loaves Outreach (
PCFLO
), your local food pantry, by donating Peanut Better, Canned Chicken or Mac & Cheese.
Drop boxes are located at First Citizens Bank, Brantley's Restaurant, and the
PCFLO
Building on 108 Straight Rd. Thank you.
PCFLO was once housed at St. Peter the Fisherman Catholic Church. In 2021, they moved to their own building on Straight Rd.
Slight chance of rain this afternoon. Winds from the west at 5-10 mph. Sunny and mid-80s today.
Tuesday June 6, 2023
3:44p It's back after about a month & a half of downtime. Just in time for hurricane season fun… the much valued Oriental water level gauge: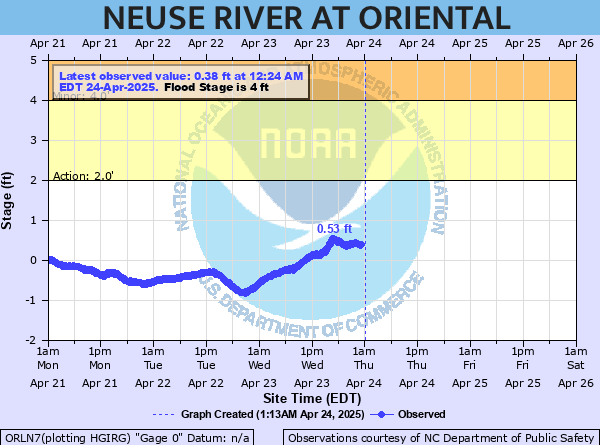 11:47a At this morning's meeting the Special Use Permit for SailCraft – to use their newly rezoned lot as part of the boatyard – was passed.
The Budget was also passed, 3-2 with Commissioners Frank Roe and Allen Price dissenting. A recommendation was made by Commissioner David White and seconded by Roe, that a future meeting be held to gather public input on how to fund roads going forward.
Story coming.
8:30a Commissioners are now meeting at Town Hall for two public hearings – one for a Special Use Permit (SUP) for SailCraft Services (who recently received approval for their rezoning request of a residential lot to industrial) and one for the budget for the upcoming fiscal year.
Over twenty residents are in attendance, and are now hearing public input for the SUP. Next, Commissioners will discuss the SailCraft SUP, choosing to either pass or decline the permit.
After that, Commissioners hear public comments on the upcoming budget.
Monday June 5, 2023
2:32p Thursday June 8, Public Works begins spraying the town for mosquitos. Spraying is twice a week, Tuesday and Thursday, from 4a – 6a.
If you're outside walking your dog – or yourself – during those hours, you may want to delay until after 6a to avoid the spray trucks.
To get your residence on the No-Spray list, call or email town hall: 252-249-0555 or admin@townoforiental.com
Beth Obenshain was on the water this weekend in the Dragon's Breath Regatta, an annual race sponsored by the Oriental Dinghy Club.
Beth and her crew sailed her Pearson 26 Sugar, taking second place in her division. She wrote in to share some photos:
In the basketball-obsessed Triangle region of NC, "DBR" means "Duke Basketball Report." I hate Duke but when I lived in Chapel Hill, I used to gather intel from the
DBR
. It was like Will Blythe's book title: To Hate Like This Is To Be Happy Forever.
In Oriental, there's a different obsession and
DBR
means "Dragon's Breath Regatta." I like the Oriental version so much better!
I took my photos early in the day, when the sky was
CAROLINA
blue.
Click any pic for the bigger view
Winners of the 2023 Dragon's Breath Regatta:
Jam Division
1st Bodacious, J34C, skipper Steve Peters
2nd Sugar, Pearson 26, skipper Beth Obenshain
3rd Duende, Catalina 30, skippery Don Munn
Spinnaker Division
1st HeartBeat, Etchells, skipper Bob Slook
2nd Oriental Express, Etchells, skipper Henry Frazer
3rd Badfish, J29, skipper Ed Doughty


9:27a The Red Cross is at St. Thomas Episcopal this morning, taking blood donations. This isn't just any donation – it's in honor of Cheryl Thompson. Cheryl (who is alive and well) spent many years as coordinator of the annual Croaker Festival. Sign up online by clicking here and entering zip code 28571.
Have kids or grandkids in need of something to do this summer? Registration for the Children's Theater Summer Workshop is open. Students who have completed first through twelfth grades may participate. Classes taught by age.
Children work with a drama coach for two weeks learning the fundamentals of acting and storytelling. At the end, they put on a show demonstrating what they've learned. Find out more here or contact Children's Theater Director Yolanda Cristiani at 1996ctw@gmail.com to register.
Tonight at 7p is the first of two monthly Pamlico County Commissioner meetings. They meet at the County Courthouse Annex in Bayboro. Tomorrow morning, Oriental's Board of Commissioners have their monthly meeting at 8a at Oriental Town Hall. Oriental's Commissioners will also have a public hearing for the annual budget.
Documents for both meetings are available in What's Happening.
Sunday June 4, 2023
3:41p Water levels are up about 6 inches since morning. Monday's calmer winds will see levels recede, then Monday night & Tuesday's SW winds will further bring it all back to "normal".
Meanwhile, water levels up to the cleats at the Hodges St seawall:
7:09a A Small Craft Advisory in effect until 4p today. It's from 15 To 20 knot northeast winds (gusts to 25) on the Neuse.
Those brisk northeast winds have pushed water levels up a couple feet, now about level with the sidewalk by the harbor.
The thermometer says 64, but it feels cooler this morning. Temps just up to about 70 today, warming up to 80 Monday.
• Oriental NC Forecast
• Neuse River Marine Forecast
• Pamlico Sound Marine Forecast
• Weather Radar
• HarborCam
• TownDock streams NOAA Weather Radio Online
Saturday June 3, 2023
5:25p Storm Arlene has gone Post-Tropical. That's meteorology speak for washed up. Right on schedule.
Florida will still get some rain.
Friday June 2, 2023
1:52p This weekend, you have choices to make. Go to Prom, pick up trash, check out the wildlife, or get out on the water. Or do it all.
The Cheesesteak Hustle (it's a food truck, not a band) is at the Brewery today from 3-8p. Packhouse plays in the beer garden starting at 5:30p. Down the road at the Red Rooster, hear Ken Belangia at 7p.
Saturday, the Oriental Dinghy Club hosts the Dragon's Breath Regatta – for sailing boats 20' and over. In Whortonsville, join the Clean Sweep Extravaganza and win prizes for picking up the most trash. Event begins at 9a.
The Oriental History Museum opens their new exhibit: Oriental Wildlife. Check out their newest wildlife member and enter the contest to give it a name. Open 1-4p. Meet Village Gallery Artist of the Month Debanjana Battacharjee at the artist reception from 2-5p.
Saturday night, it's the Children's Theater Fundraiser: The Prom Do-Over at the Brewery from 6-9p. Tickets are $20. Dress in your prom best from any era. Drinks, dancing, and the DJ might play your favorite prom song. Tanja's Hella Fat Food Truck serves outside the Brewery from 4-8p.
Sunday, swap plants and seeds at the Brewery's Plant Swap, from 1-6p.
It's all in What's Happening.
1:30p It was forecast to stay wimpy. NOAA sent aircraft to investigate the storm, and found higher winds than expected.
Tropical Depression Two is now Tropical Storm Arlene.
While packing 40 mph winds, Arlene still doesn't have much of a future. The storm is forecast to go post-tropical this weekend. Still, we do have a named storm, on day two of the six month long hurricane season.
• Tropical Storm Arlene Tracking Chart
• Tropical Storm Arlene Forecaster's Discussion & Computer Models
• Tropical Storm Arlene Public Advisory
11:05a The Marines want more MOAs. What's a MOA? It's a Military Operational Area… where they get to fly. To find out what it all means, we talked with former Marine pilot John Rahm.
9:49a Historically day one of a new hurricane season kicks off with news blah-blah about the coming season, but not an actual tropical system. 2023 did it a bit different. Tropical Depression Two formed in the Gulf.
Tropical Depression Two isn't forecast to strengthen enough to become a tropical storm and get a name. Ooops forecast. "Two" is expected to head south to Havana, have a cigar, then weakly maneuver east by Florida (raining) and then dissipate at sea.
• Hurricane Center
• Tropical Depression Two
Meanwhile, here in river city, the sun will show up this afternoon with highs near 80. The weekend looks like a weather charmer, Saturday sunny and low 80s, Sunday sunny with low 70s.
• Oriental NC Forecast
• Neuse River Marine Forecast
• Pamlico Sound Marine Forecast
Thursday June 1, 2023
Welcome to June. Today is the first day of the Atlantic hurricane season, which will be with us until November 30. TownDock will track the storms of 2023, and report during a storm should one visit our town.
NOAA/NHC has predicted a "near-normal" hurricane season.
Normally (normally may have become an obsolete word re hurricane season) this is just the first official day. Nothing would be out there on the Atlantic.
However, there is a disturbance out there:
The disturbance marked in orange is likely to rain on the Gulf & maybe Florida this weekend.
The TownDock Hurricane Center keeps track of what is brewing in the Atlantic.
Here are the 2023 storm names and their pro-NUNC-eee-ayyy-SHUNS:
Arlene ar-LEEN, Lee lee, Bret bret, Margot MAR-go, Cindy SIN-dee, Don dahn, Emily EH-mih-lee, Franklin FRANK-lin, Gert gert, Harold HAIR-uld, Idalia ee-DAL-ya, Jose ho-Zay, Katia KAH-tya, Lee lee, Margo mar-goh, Nigel NY-juhl, Ophelia o-FEEL-ya, Philippe fee-LEEP, Rina REE-nuh, Sean shawn, Tammy TAM-ee, Vince vinss and Whitney WHIT-nee.
Oriental was fortunate not to get a significant storm visit in 2022 (or 2021 or 2020). The last hurricane to visit our town was Dorian in 2019. Here's a high water view from Hurricane Dorian, Sept 6 at 7a:
Dorian delivered a 6ft 2 inch surge to Oriental. That's a lot of water, but still 3 feet less than the waters from Hurricanes Florence (2018) and Irene (2011).
Wednesday May 31, 2023
11:01a Every Memorial Day, Mildred hangs out by the tennis and Pickleball courts. She's made it a yearly tradition.
8:47a Pamlico County Arts Council's Taming of the Shrew event, slated for this Saturday, has been postponed.
Saturday still has a few things going for it: Sailing vessels over 20' compete in The Dragon's Breath Regatta. The Clean Sweep Extravaganza – with cash prizes for most trash collected – is all day Saturday. Saturday night, The Children's Theater hosts the Prom Do-Over at the Brewery (tickets required).
Find out more in What's Happening.
Clouds are a little stormy looking this morning – but there's only a slight chance of rain today. High today mid 70s, near 80 by the weekend.
Windy with north winds at 10-15 mph, and gusts up to 25 mph.
On the Neuse, north winds at 15-20 knots and gusts up to 25 knots.
• Oriental NC Forecast
• Neuse River Marine Forecast
• Pamlico Sound Marine Forecast
• Weather Radar
• HarborCam
Tuesday May 30, 2023
1:12p Many sailors know firsthand what it's like to weather stormy waters. Passengers on a cruise ship? Not so much.
Last weekend, several hundred Carnival Cruise passengers got to experience a key part of the sailing life. Take a look:
8:58a The national news has daily blah-blah-blah about the 2024 elections. Meanwhile, back in Otown, a key post has been filled.
Running on a platform of Make Oriental Parade Again (MOPA), Paul Fairbank has been unanimously elected (re-installed may be the better word) as the Croaker Festival Parade Master.
With decades of experience in this key role, TownDock is able to bring back a Paul classic:
The 2023 Croaker Festival is set for June 30 & July 1. You might look good in that parade.
Monday May 29, 2023
11:38a If you're by Oriental Harbor Marina around noon, look up at Oriental Bridge.
Chris Mele will be there with her trumpet. She (sometimes with others, sometimes on her own) plays Taps from the center span in honor of Memorial Day.
If you miss the noon event, you have a second chance: Echo Taps will be played from the bridge & the marina at 3p.
9:01a Partly sunny and a high near 80… and rain unlikely. It's a civilized day.
On the water, easy winds today and for the next few days. South winds 5-10 knots today, northeast 5-10 Tuesday.
5:05a It's Memorial Day – a federal holiday. Many of you may have the day off.
If you're one of the lucky ones heading to work this morning – and you take waterway commute – you may need to adjust your routine; they're on a one-boat schedule. From the Minnesott Beach – Cherry Branch ferry:
Good morning from Cherry Branch/Minnesott ferry operations! We are on a one boat schedule today.
From MB:
5:25a, 6:15, 7:15, 8:30, 9:30, 10:30, 11:30, 12:30, 2p, 3, 4, 5, 6, 7, 8, 9, 11
From CB:
5a, 54:5, 64:5, 74:5, 9, 10, 11, noon, 1:30p, 2:30, 3:30, 4:30, 5:30, 6:30, 7:30, 8:30, 10
Sunday May 28, 2023
1:05p There's no food truck at the Brewery tonight, but there might be music. Lili Bacon writes in:
No food truck today, but Songs from the Road band is in town and they are planning to come at 4pm and hang out. If it clears up, they will play- maybe on Front Porch? If not, they'll hang out and have some beers. Playing it by ear …
In January, Tim Sussmann visited Oriental aboard SV Pepita. He was in town making repairs and readying his boat to travel to across the Atlantic, while doing handyman work for residents. He and his 1985 Reinke Taranga 33 were featured in the March Shipping News.
This morning, Pepita and crew arrived safely in Bermuda.
Revisit Tim and Pepita's story – and goal to travel to Africa – here.
7:07a The Bean is open. The ferry is running.
Be brave… it's safe to come outside.
6:34a Water levels are still high, but much lower than Saturday evening. Water is now just below the sidewalk by the harbor.
Winds are forecast to switch to southeast at or just before noon, which will further bring levels back to normal.
Saturday May 27, 2023
6:55p Winds reached 37mph earlier this afternoon in Oriental.. It's likely that was the peak from this weather event's visit.
4:18p High wind so far today 34mph at 2:46p. A Gale Warning is in effect until 10p tonight.
Water levels are up… with waters almost reaching the seafood shack on Hodges St. Tonight more 25 To 30 knot northeast winds forecast (water levels could rise a bit more), becoming east 15-20 late. Sunday water levels should head down, with southeast winds 10-15.
7:32a High waters have The Bean closed today. With a wind shift (and waters expected lower), The Bean should be back Sunday.
High waters & winds have the Cherry Branch ferry suspended this morning.
6:50a It's breezy, but so far not quite as windy as forecast. From the Oriental Weather Station:
We've received 0.3 inches of rain since midnight. The rain forecast has lowered – now expected just to see 2-3 inches.
• Oriental NC Forecast
• Oriental Weather Station
• Neuse River Marine Forecast
• Pamlico Sound Marine Forecast
• Weather Radar
• HarborCam
The system almost looks tropical – Southeast Weather Radar shows we are the place to get wet:


click the radar image for the big animated view
New Classifieds:
Old Town Topwater 106 PDL Kayak
Crowd source for developmental edit for my memoir
Fluff and Scruff up for Adoption
Library Fund Raiser/Book Launch Party June 22
The Links Waterfront Townhome
Greek Mediterranean Food Truck
Generator 13,000K & Craftsman 12" Radial Saw
Island Packet 26-27 cruising sloop
Beneteau 423 rare 3/3 with improved pricing $169k
Beautiful Down East Boat
2018 Forest River Surveyor RV
Oriental Dive Service
Recent cover photos:
See
more cover photos...