It's Monday July 22, 2019

Dock Quote: "If I could...
News From The Village Updated Almost Daily
Dredging $Funds
Upcoming Events
A new name & a new life. Pet Of The Month
8 crew aboard, 2 masts go down, no one gets hurt. The Story
Marines, Firemen, Tractors, & a Funnel Cake. The Story
FJs and Sunfish at Croaker Fest. The Story
Paving update, audits completed. The Story
From pound dog to yachtsman. Pet Of The Month
Elvis has left the building. The Story
Over $140k raised to help those in need. The Story
A nest is inadvertently launched. The Story
Emergency power by crane. The Story
Mysterious quilt up for bid. The Story
A new budget, curbing & gutter, Cycle NC. The Story
Around the globe in 2 1/2 years. The Shipping News
7 years of pizza, live music, and dancing. The Story
Video Aboard the Prinses Mia with Martijn. The Story
Marine Corps responds. The Story
Vehicle awarded, public hearings set. The Story
Shark suits and sewing machines. The Story
A life filled with art. The Story
Pushing the limits. The Shipping News
An Oriental icon restored. The Story
Power boats, coastal cruisers, and an electric boat. The Story
Hosts NC State win first place. The Story
Dedicated to Oriental & The Old Theater. The Story
Coach Dana Magliola on the 2019 SailPack Regatta . Guest Columnist
They chose each other. Pet Of The Month
Waterline work begins, CycleNC returns, Board responds to NCDOT. The Story
Over 200 paws hit the pavement for the pet parade. The Story
"It's the best kind of idiocy.". The Shipping News
21 Performers Invade The Porches Of Oriental. The Story
Board asks Cycle NC for cooperation, repair contracts to be awarded. The Story
Toucan's Clam Chowder Takes 1st Place. The Story
Town, County officials meet with NCDOT. The Story
Help Pamlico High Math Teacher win $10,000 for her school. The Story
Adventurers marry on the town dock. The Story
Captain John Rahm Tells The Story. Guest Columnist
Childhood Story Returns as a Children's Book. The Story
A pig and a dragon meet on Hodges St.. The Story
There are a lot of hand built Adirondack style chairs in Oriental, like these ones at Lou Mac Park. Bob Werner built these chairs for many years. His workshop was the small building on Hodges St now used as the Garland Fulcher retail fish shop. After Bob built them, his wife Susan painted them on the lawn at Hodges & South Water St. TownDock has learned that Robert "Bob" Werner died recently in Bridgeton, NC. Bob was 59.
Monday July 22, 2019
5:37p OK Bunky. We've got good news, and bad news.
A new tropical system has been declared. It is pointed more or less at us. It is Tropical Depression Three, in the Bahamas.

Well, that was the bad news. What's the good news?
Trop Depression Three ain't got no gas.
In 36 to 48 hours, the models indicate that this system will be absorbed by a frontal trough. The center of the depression is expected to remain offshore – dissipating within 48 hours, probably off the South Carolina coast. Any leftover rain would be welcome.
• Tropical Depression Three Tracking Chart
• Tropical Depression Three Forecaster's Discussion & Computer Models
• Tropical Depression Three Public Advisory
Go ahead. Have a glass. This one will be OK.
5:28p A strong breeze has helped this hot day feel better. Winds in the mid 20s were common this afternoon… winds peak of 30 mph at 3:25p.
Cooler stuff is coming. Tuesday has a forecast high of near 90, and Wednesday should just reach about 80 degrees.
1:21p Grilled brats and live music. It's happening this weekend courtesy of the Ol' Front Porch Music Festival and New Village Brewery. Ol' Front Porch Music Festival is holding a fundraiser to support Oriental's annual three day music festival in October.
Brats and other Oktoberfest foods are served at 6p. Live music begins at 7p. New Village Brewery will donate $1 for every pint sold.
In October, musicians will play the porches of Oriental while visitors walk, bike, or ride from set to set. Read about this year's performers, plus headliners The Way Down Wanderers.
8:38a Over $1,300 was raised Saturday for the dredging fund, during Deaton's 40th Party. From Laurie Sampson:
I'm pleased to report that at the Deaton Yacht Service 40th Anniversary Party we raised $1,301 for the dredging fund. Raffle ticket sales will continue until noon on September 3rd. The drawing will be after lunch that day. We encourage anyone who would like to win a $1,000 gift certificate from Deaton Yacht Service for parts and service to stop in the
DYS
office and a purchase ticket for $5.
FYI
, all the $ raised by this raffle go to the Whittaker Creek dredging project. The raffle winner gets $1,000 of service and or parts at Deaton Yacht Service.
7:49a Another hot July day.Highs mid 90s, heat index values up to 108.
On the Neuse, SW winds 10 to 15 knots increasing to S 15 to 20 this afternoon.
Sunday July 21, 2019
1:02p Welcome in to your Emu spotting headquarters. Yesterday morning an Emu was reported at Dolphin Point (scroll down for more – there's a photo.) Now more walking bird news – TownDock reader Dorothy Lupton writes in:
About a week or so my son and I were at the recycling station outside Oriental. Saw an Emu behind one of the houses that face White Farm road. It stepped out into the recreation field for moment so we had good look. We thought it belonged to someone over there.
Word is there is a house out that way that keeps Emus, and sometimes they like to explore the world.
This writer feels somehow left out, having not spotted an Emu. However, there were chickens at the Farmers' Market yesterday.
So you too can go forth and become an Emu Spotter, TownDock.net brings you this educational tool:


(click Emu for the Big Bird view)
10:55a It's hot. Also hot – the Atlantic. That unfortunately makes tropical storms more likely.
There is a new potential storm out there today – a tropical wave, Invest 94, located east of the Central Bahamas. No biggie at the moment, just a tropical mess of thunderstorms. Some development is possible over the next few days while the disturbance moves westward.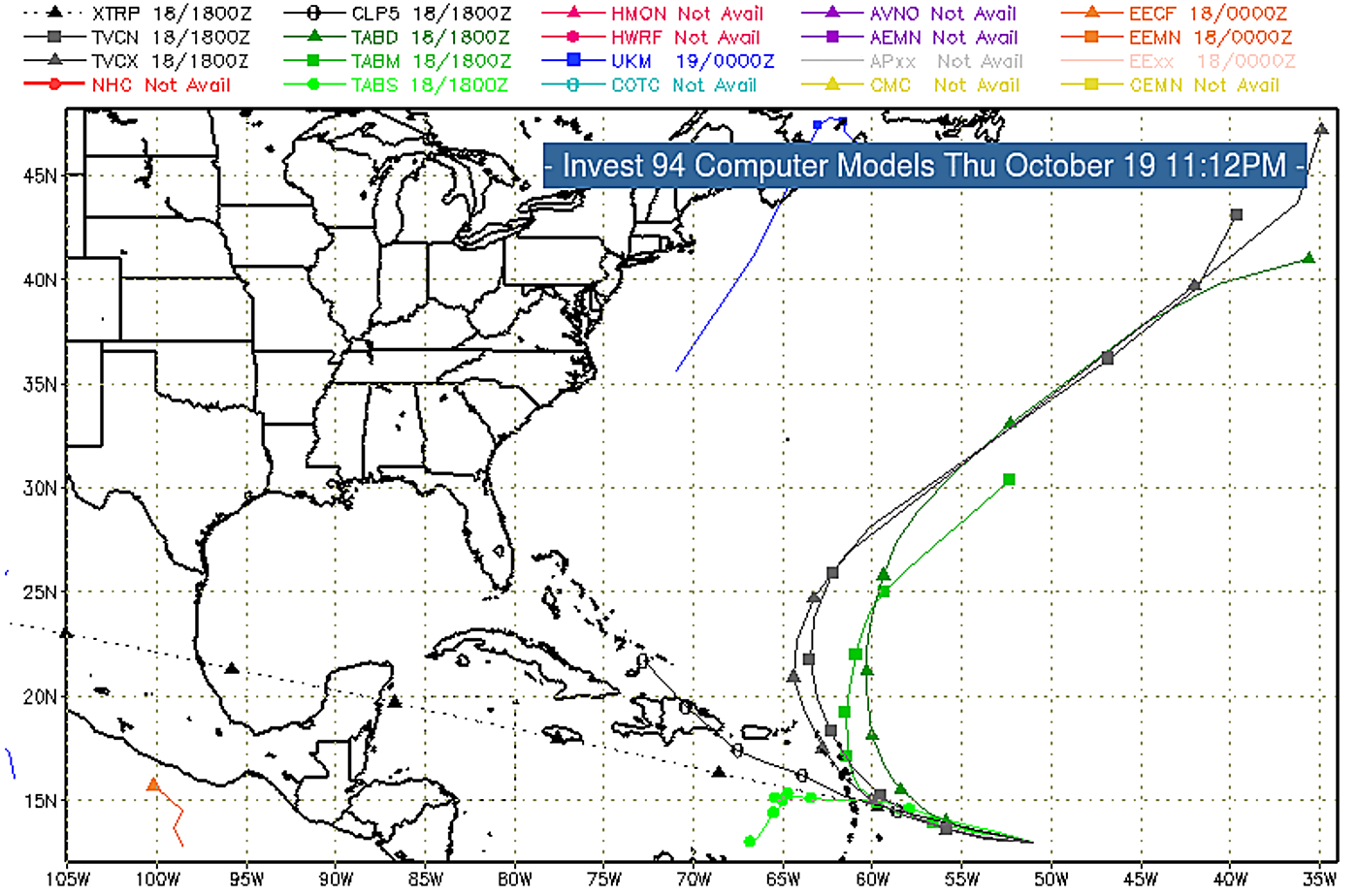 click image for the big stormy computer model view
Storm names we've used up so far this season: Andrea and Barry. Coming up for the 2019 season are Chantal, Dorian, Erin, Fernand, Gabrielle, Humberto, Imelda and Jerry.
7:01a Today (and Monday) are forecast to be likely Saturday. Hot. Tropical humidity. Mid 90s.
But help is on the way. A front will approach the area Tuesday before crossing early Wednesday, bringing much needed relief from the heat for the second half of the week. Wednesday and Thursday have forecast highs just into the mid 80s.
Wednesday will see winds coming from the north.
6:54a We reached an overnight low of 80. It's 80 right now. After yesterday, you almost need mittens.


click image for the big view
Saturday July 20, 2019
2:55p The actual temperature (not the heat index) peaked at 98 less than an hour ago. But it's going down – we're now down to a chill 94.
Oh, and that heat index. It hit 114. It's just 110 now.
2:07p There is an AWOL Emu wandering Dolphin Point (at least there was this morning – scroll down to see.) It looks kinda scruffy, but we don't get sent many Emu photos. Several TownDock readers have pointed out there is a NY Times story about an AWOL Emu in Orange County – the story is titled Elusive Emu Remains at Large in North Carolina After More Than Three Weeks.
It's most unlikely to be the same walking bird, although an Emu can run at 30mph. If it lays an egg, you can make a serious omelet. An Emu egg weighs two pounds.
12:42p Our small town has happenings today. Over 400 folks have signed up to attend Deaton Yacht Service's 40th Anniversary Celebration today… it's from 4 til 8p. With all those folks coming in, please consider leaving the car at home (if you can) and come by foot or bicycle.
At New Village Brewery tonight blues guitarist Mojo Collins plays 6 til 8p.
11:10a As part of Deaton Yacht Service's 40th Anniversary, they've started a raffle. It's a special raffle to help fund the Whittaker Creek dredging project. Tickets $5 – and the winner gets $1,000 of service and or parts at Deaton Yacht Service. Ticket sales will run thru August 30st of 2019 – drawing September 3. All proceeds go to the dredging fund.

If you want to buy a ticket at this afternoon's celebration/party – bring a $5 bill so they don't have to make change. That's the one with Abe on it.
8:24a The Farmers' Market has more vendors than usual this morning. Fresh vegetables, honey, eggs… plus some woodwork and a wreath purveyor. It's all on Hodges Street a few steps from the harbor:

7:21a Lost dogs & cats are frequent. But here's a new one. From reader Jean Jerger:
Anyone missing an emu? This one was in our driveway this morning over in Dolphin Point!
Friday July 19, 2019
6:14p It reached 97 this afternoon, and that heat index was near 110. The afternoon breeze (over 20 mph at times) helped make it feel not so bad.
Saturday brings more heat in the forecast – but there will again be that southwest breeze.
12:04p You look warm. A cool drink will help… like fresh lemonade. This team can help:


It's the Hawkins children's Lemonade stand and bake sale – right now at 1214 Lupton Dr (near Sailcraft Service.) Your lemonade entrepreneurs are CJ, Sofie and Avery Hawkins. Lemonade is $1 – it includes a fresh lemon slice.
11:01a It's hot out. Turns out it's hot in too – at Town Hall. From Town Manager Diane Miller:
Our A/C is out- we're staying open as long as we can- repairman inbound, at 90(inside), we're closing down.
Outside, it's 92 now…
heat index at 104.
9:53a Mari's Hella Fat Food Truck is running a tad late – but they'll be serving starting at 1:30p today at the brewery.
9:42a Have you done your RSVP for the Deaton Yacht Service 40th anniversary party party Saturday? Word is there are already 400 folks who have. You're invited too.
Check out the photos above for some Deaton's history.
High today near 90, but more of those brutal heat index numbers forecast. Might feel like a clammy 107.
Thursday July 18, 2019
10:28a The words Low Country Boil can get your hungry attention. There's one coming up… and it's for a cause.
Pamlico Partnership for Children holds a Low Country Boil, September 13 @ 6p at Whittaker Pointe Marina. A Boiling Good Time is a fundraiser for Pamlico Partnership, a non-profit that provides hurricane relief, family intervention and outreach programs, and early childhood education in Pamlico County. Your dinner will be accompanied by live tunes from Bryan Mayer.
Tickets for the dinner are $30. Pamlico Partnership for Children is also seeking Sponsorships & donors. Click here to purchase tickets. For more info call 252-745-7850
8:33a Registration to run for elected office in Oriental ends tomorrow. All 5 commissioner seats and the mayoral seat come up for election every 2 years.
The following have submitted their Notice of Candidacy for commissioner: Charlie Overcash, David White, Allen Price, Dianne Simmons, J. Martin Barrow, and Sheri Rettew.
Overcash, White, Price, and Simmons are current commissioners. J. Martin Barrow is a member of the Oriental Planning Board. Sheri Rettew is the executive director of Hope Clinic.
Mayor Sally Belangia is currently running unopposed.
Overcast and windy out there. 50% chance of rain today and highs in the mid 90s. Heat index values up to 107.
Wednesday July 17, 2019
8:41a Deaton's 40th Anniversary is this weekend.
It's not every day a business reaches the four decade mark. They're having a party to celebrate and you're invited. Just RSVP.
You may want to walk, ride your bike, or take a golf cart; there's not a lot of parking available.
Tuesday July 16, 2019
10:53a There's a new Pet of Month. Mr. July got a new name, a new home, and a new adventure when he met Alex Hall. Read Baloo's story here.
8:22a Drone Amelia caught the sunrise this morning while checking out Whittaker Pointe Marina.
7:57a Years ago someone thought August needed a sailboat race all its own…. and the Dragon's Breath Regatta was born.
The 2019 Dragon's Breath Regatta is August 2-4. This is Oriental's Dinghy Club's premier event of the year. Race headquarters at Oriental Marina and Inn. Three classes: Spinnaker, JAM and Cruising. The weekend kicks off Friday night with Captain's Registration from 5:30 – 7:30p at the Tiki Bar. Racing on the Neuse off Oriental both Saturday and Sunday. Saturday night is an Island Themed dinner.
Dragon's Breath T-shirts available with the option of having your boat name on the front. Contact Nelda Coats at 252-639-1616 or neldacoats@gmail.com. The registration form is at this link.
Monday July 15, 2019
3:09p The heat index is down from the predicted 106; it's only 103 (actual temp is 92) right now. A brief rain around 1:45 brought the humidity down slightly. The Oriental Weather Station shows the actual temperature (left) vs the Heat Index (right), and humidity:
8:39a That heat advisory is back in effect today. High in the mid 90s, but heat values up to 106.
This coming Thursday, the Oriental Tourism Board meets at Brantley's to talk all things Cycle NC 2020. Business owners and non-profits are welcome to attend.
Tourism Board breakfasts are usually quarterly, but with Cycle NC on the way (it comes in April 2020,) Tourism Board Chairman Marsha Paplham is making sure everything is ready for their arrival.
Cycle NC was last in town in 2017 and brought 1,400 cyclists to Oriental for the 3 day event.
Sunday July 14, 2019
5:07p Twas less brutal today. The Heat Index peaked at 106 this afternoon (actual temp 93.) Saturday that Heat Index reached 114.
Monday looks cued up to be about the same as today. For the middle of July, it ain't that bad.
7:54a Today is forecast to see heat like yesterday. High mid 90s, heat index again 100+.
7:39a The disturbance on the Atlantic, Invest 93, no longer is a potential storm system. Barry is inland in Louisiana, and remains a tropical storm. Barry is forecast to weaken to tropical depression today.
All else on the Atlantic is calm.
7:28a The Oriental Dragon Boat Festival is next month, Aug 9&10 at River Dunes. Oriental's Dragon Boat Club has been practicing… they are on the water again this morning paddling local creeks.
tropical d
Saturday July 13, 2019
2:02p That was quick. Barry weakened as the storm landed in Louisiana – back to Tropical Storm Barry. Winds now 70mph, just below hurricane strength.
Closer to home, it's just 5-10 knots on the Neuse this afternoon. Same forecast Sunday.
12:01p We're getting island heat today. How 'bout some island eats? Mi bredren, you can eat Jamaican. SaYum Jamaican food truck is at the brewery, now til 7:30p turns out Jamaican food trucks run on island time. The truck starts serving at 4p. Music (Bell & The Gang reggae) starts at 6.
It it feels cruel outside… it is. Heat Index – at this moment – is 109.
11:51a The first hurricane of the 2019 season has been declared… Tropical Storm Barry is now Hurricane Barry, Category 1, now at the Louisiana coast. The National Hurricane Center says Barry has reached maximum sustained winds of 75 mph, with higher gusts.
There is a disturbance on the Atlantic, Invest 93, however it is unlikely to form into a storm (and if it should, appears likely to stay way south of us.)
Here are the links to follow Hurricane Barry:
10:32a The sun has returned, and with it… HEAT. Temps in the mid 90s today, head index values may get to near 110.
Friday July 12, 2019
11:20a The folks at Nautical Wheelers will be drinking Saturday. Reds. Whites. Chairs (and wine) provided. Wine tastings at 3 and 4p, tomorrow.
The food truck today at the brewery is Jasmine Tasty Thai, serving noon til 7:30p. The menu is right here.
7:48a It was blowin' in the low/mid 20s overnight. Now is calm… west winds at 2mph.
That's now. Thunderstorms and gusty winds may be back this afternoon.
6:58a Ya know how you were going to mow the lawn this morning?
Not gonna happen.
Overnight 1.5 inches of rain. So far. Radar is showing more may be coming.

New Classifieds:
Ribs & Rifles
2014 Ford Econoline E-150 Cargo Van
2006 Hydra Sports 22cc Vector
Arlington Place Beauty
Owner Financing Possible
New Window Air Conditioners
Bay River Pottery's Final 'Crack Pot' Moving Sale July 18-20
Estate Sale weekends of July 20th & 27th
Waterfront 4BR/3.5BA with Dock on Neuse River
Boat Lift Wanted To Rent: to keep 19 ft Center Console
Recent cover photos:
See
more cover photos...
Web Cams: