It's Thursday March 30, 2023

Dock Quote: "Everybody wants to...
News From The Village Updated Almost Daily
Upcoming Events
212 paws step out. The Story
Mentor, loving husband, gentle soul. The Story
A nomad's life aboard. The Shipping News
Sailor, Instructor, Volunteer. The Story
Opposing County Commissioners' Recommendation. Letters To The Editor
Boat lifts approved, Audit accepted. The Story
92 sinkable pounds. Pet Of The Month
For better navigation. Letters To The Editor
Wooden charter with a motley history. The Shipping News
Chris Fulcher's Seafood operation receives $21.5k penalty. The Story
Don't send money. Letters To The Editor
Hull Grafitti?. Captain's Blog
Concerns for Brown Creek. Letters To The Editor
Five roads to get repairs, Officers awarded. The Story
Young brothers begin an adventure. The Shipping News
Dragons parade by the harbor. The Story
Old Theater Hosts Small Town Filmakers. The Story
Over $5,000 raised for Special Olympics. The Story
A shift in perspective. Pet Of The Month
Unexpected Cuban roots. The Story
Better sail control, in light or heavy air. Captain's Blog
Ben Chapin takes over. The Story
Mississippi style eats. The Story
Collecting the lost and forgotten. The Story
Who can oppose a permit and where to charge an EV. The Story
From the Tree of Names and Lights. The Story
Warm weather brings out the boats. The Story
Dragons in the fog and a star-caught Croaker. The Story
Grace, Dottie, & Teresa. Letters To The Editor
It takes a village to house a dragon. The Story
Young Québecers on a voyage south. The Shipping News
Will Santa pay my electric bill?. The Story
Spirit of Christmas 2022. The Story
Sometimes, not much happens. The Story
What's happening, where and when. The Story
Pamlico County-opoly. The Story
150 plus cyclists on a holiday ride. The Story
You've got one... maybe you should use it. Captain's Blog
The List of Area Non-Profits That Could Use Your Donations. The Story
A handbuilt dream. The Shipping News
Lights, a parade, gingerbread houses and more. The Story
Cycle share may be coming, Hodges Street flooding reviewed. The Story
Father, Husband, Sailor. The Story
Celebrating Halloween. Drawing The Town
For a few hundred dollars.... The Story
397 tasters cast their ballots. The Story
Motorsailer
Newfie Rover
. It hung out at the Oriental Marina Inn & docks for a bit earlier in March. (
Click for the big pic and more
)
Thursday March 30, 2023
9:29a Singer songwriter duo The Rough and Tumble perform at the Red Rooster tonight from 7-9:30p. The music's free, and you can order from The Silos. Don't know The Rough and Tumble?
Have a listen & get acquainted:

If you're looking to perfect your own musical sound, join the open jam session at Pamlico Community College at 6p.
Wednesday March 29, 2023
7:38a Another night of rain… we got over a half inch from the downfall (about 1/4" between 11p and midnight, 4/10ths between midnight and dawn).
After a cloudy morning, a sunny day is ahead. Highs near 60 today & Thursday, warming up to 70 Friday, maybe 80 Saturday.
It was breezy last night… wind peaks of 31mph at 10:30p, 28mph at 1:58a. It's calming down some, 10-15 NE winds on the Neuse this afternoon. Thursday will be the kinder boating day, 5-10 knots.
The high winds overnight were north… and pushed water levels up to 1.7 ft above normal. Hodges Street needs wading boots near the harbor.
• Oriental NC Forecast
• Oriental Weather Station
• Neuse River Marine Forecast
• Pamlico Sound Marine Forecast
• Neuse River at Oriental Water Level Gauge
• Weather Radar
Tuesday March 28, 2023
Officially, Oriental is North Carolina's Sailing Capital.
It gets a few other nicknames. Sometimes Otown. Even Dogtown.
But once a year, town totally goes to the dogs. This year it was Saturday – the annual pet parade.
Monday March 27, 2023
9:33a A little over an inch of rain fell this morning. There's a slight chance of more this afternoon.
High in the mid 70s. Winds out of the southwest at 10-15mph.
On the Neuse, winds are also out of the southwest at 5 – 10 knots, increasing to 10-15 knots this afternoon.
• Oriental NC Forecast
• Oriental Weather Station
• Neuse River Marine Forecast
• Weather Radar
• TownDock streams NOAA Weather Radio Online
Friday March 24, 2023
4:54p Pets and wine, music and shrimp … and a twenty foot tall burning dragon. It's the weekend in Oriental.
Tanja's Hella Fat Food Truck is at the Brewery now through 8p.
Saturday begins with the Coast Guard Auxiliary class Suddenly in Command at 8a. The PAWS Pet Parade registration starts at 10a, with a strut around the village happening about 11a.
At 2p it's your pick of live music from the Jake Jolliff band at Holt's Chapel Community Center, a wine tasting at Nautical Wheelers at 2 & 3p, or the NSA Shrimparoo at the Oriental Marina & Inn. (Or you can try for all of them.)
Meraki Mediterranean Kafe serves at the Brewery from 2-8p. The Dragon Burn starts at 5p with the dragon going up in flames after sunset.
The Hallowed Ground Lantern Tour is from 6-9p (but will also be there Sunday, if your Saturday is packed).
Find it all in What's Happening.
11:22a You may have noticed a small white building near town dock #2 and the public restrooms.
In the last year, that small structure has been taken apart, salvaged, repaired, raised, and reconstructed.

For a long time it had no purpose other than housing absorbent booms in case of oil spills in the harbor.
Today, it will open as a space to connect to the internet, and find a place to relax out of the sun. All with an eye to making it a welcome center for cruisers and transient boaters.
With no known history, it had no name other than The Net House. That has also changed.
Members of the Oriental Harbor Waterfronts Committee dug into its history. The new name reflects the building's original use and owner: The J.D. Sargent Boat House.
There's a small opening / dedication celebration for Oriental's new welcome center at 3:30p 4p to about 6p. You're invited to stop by.
The newly named J.D. Sargent Boat House.
Thursday March 23, 2023
3:52p Into the Fog plays tonight at the Brewery tonight, from 5-7p.
In New Bern, the Hallowed Grounds Lantern Tour begins its three day run this evening, from 6-9p at the New Bern Battlefield Park.
The tour has a local connection – Oriental resident Nelda Coats plays the part of Elizabeth Carraway Howland, a Civil War spy.
Saturday, the Pamlico Animal Welfare Society (PAWS) struts through the village streets in the annual Pet Parade. But they are in need a foster – or a forever – home today.
You might remember Otis – a black and white dog found at the post office (twice). He spent a day at the Town Dock offices while the call went out for his owners to come get him (they never did). He was really well behaved.
PAWS stepped up and took him in. Otis is maybe 8-12 months old, good with humans, house trained, and great at cuddling on the couch or sleeping by your feet. He's excited about the world and is an all around Good Boy.
PAWS is taking care of getting his shots updated and getting him fixed. All he needs now is a home. Contact PAWS at mail@pamlicopaws.net.
9:55a Sad news to share. Oriental resident Bob Parker passed away on March 19. He was 64.
It's gonna be 80 today, or at least upper 70s. High near 80 Friday and Saturday too, Sunday mid 70s.
On the Neuse, southwest winds 10-15 knots, today, Friday & Saturday.
Wednesday March 22, 2023
4:57p The dignity of flushing has returned to the village – running water is back in Oriental.
1:56p There's a broken water main in town. From Town Manager Diane Miller at Town Hall:
Good Afternoon,
A contractor hit our water main and it will necessitate closing off water to the Town to make the repair.  Water is being turned off now.  We
DO

NOT
have an estimated time of repair.
Thank you for your patience.
10:55a Tim and SV Pepita. They sailed to Oriental from Guatemala. In a few months, they'll head out across the Atlantic.
Meet the nomadic duo in The Shipping News.
8:22a What was that? Around 5p last night, "aviator donuts" appeared in the sky over Oriental. We didn't see the plane in action – but did see the results:
7:47a
Oriental's Piggly Wiggly store's weekly specials begin every Wednesday.
Here are the Piglet deals for March 22-28. The Pig hours: 7a-8p, 7 days a week.
Tuesday March 21, 2023
10:39a You may need to get an early start on those weekend preparations.
Three once-a-year events are happening Saturday.
Oriental's four-legged residents gather at Lou Mac Park starting at 10a. Their purpose?
Get all dolled up in their finest costumes and promenade around the block in the 16th annual PAWS Pet parade.
It's the key fundraiser for the Pamlico Animal Welfare Society and helps fund their New Leash on Life Program and their Spay / Neuter Program. Register your pet for $5.
At 2p, join the Neuse Sailing Association (NSA) at the Tiki Bar and Oriental Marina & Inn for the annual NSA Shrimperoo. Get two drink tickets, all the shrimp and sides you can eat, and enjoy live music by Alisa Mike. Find out what the NSA sailing club has to offer, or just come and enjoy the event. $10 for non-members.
Saturday evening at 5p, head to the Red Rooster behind the Silos for the Pamlico County Arts Council's annual Dragon Burn. Enjoy live music, food, and drinks.
At sunset, the two-story tall dragon burns (the fire department will be standing by). Pamlico County Arts Council members get in free.
To get in, you join the Arts Council for one year – $25 for individuals, families get in for $50. Buy online or at the gate.
Weekend events – and everything else going on this week – are in What's Happening.
Monday March 20, 2023
9:37a Tomorrow evening at 6p, the Pamlico Chapter of the NAACP hosts a meeting with County Commissioner Carl Ollison.
Ollison was one of three Commissioners (Carl Ollison, Pat Prescott, and Edward Riggs Jr) who voted against a measure to make Pamlico County School Board elections partisan. It was approved 4-3 with Commissioners Doug Brinson, Karri Forrest, Candy Bohmert, and Missy Baskervill voting in favor of the measure.
As a result of that vote, bill SB286 making Pamlico School Board elections partisan has passed through the NC House and waits in the NC Senate for a vote.
NC General Statute mandates school board members are not elected by party, but that mandate can be overridden by local acts. As of 2015, 17 of 115 NC school districts held partisan school board elections. In 2023, the number of partisan districts is now closer to 40.
Diane Lemieux of Arapahoe wrote in last week expressing her concerns. You can read her Letter to the Editor here.
In Oriental, the Planning Board wants to know what the public thinks about the direction and future of the town. Give them your input by taking a brief survey on the Comprehensive Plan.
8:01a Bunky, you've survived winter.
Today is the first day of spring, 2023. Today marks the spring equinox in the Northern Hemisphere (south of the equator, today is the first day of autumn).
Technically, the 1st moment of spring is today at 5:24p. It marks the point in time when the sun sits directly over the Earth's equator as it heads northward. Both hemispheres share the sun's rays equally at the equinox, and night and day are roughly the same length.
But you can be a radical. Celebrate spring a few hours early.
Today may not feel spring~ish. But warm days are coming this week:
• Oriental NC Forecast
• Oriental Weather Station
• Neuse River Marine Forecast
• Weather Radar
Sunday March 19, 2023
Despite a rainy Saturday morning, nine chowder chefs served up their best chowders for the Oriental Woman's Club Chowder cookoff.
Taste-testers lined up to taste the chowders and vote for their favorite in two categories: Best Restaurant Chowder and Best Home Cooked Chowder.
Best Restaurant Chowder:
1. Gary's DownEast Seafood
2. The Toucan Bar & Grill
3. Yawl's Cafe
Best Home Cooked Chowder:
1. Youth Navigating Towards Opportunity (YNTO)
2. Zan's Taekwondo
3. Bob Sager for "Salty Bob's Famous Clam Chowder"
Yawl's Cafe took home the Panache Award for Best Decorated Table. The event raised about $2,500 for scholarships in Pamlico County.
The Next Oriental Woman's Club event is the 'Shine a Light Luminary Launch' at dusk on April 1 at Lou Mac Park.
If you're missing the dog above, he followed a couple on their walk from the Free Will Baptist Church on Ragan Rd, past the water plant and down to Windward Drive.
He didn't have tags or a collar, and he didn't get close enough for them to keep hold of him. He was last seen in the area of 618 Windward Drive.
Saturday March 18, 2023
9:52 Boats can get re-purposed into alternative uses. This morning Brady Tubb proved that point – Brady is selling native plants at the Saturday morning Farmers' Market on Hodges Street.
Serving as both a display case and transportation unit – is an aluminum Oregon Drift Boat.
6:30a The Minnesott Beach/Cherry Branch ferry shut down at 8p last night due to low water levels. This morning they are back on normal schedule… water levels have come back up about a foot overnight.
The low water levels were due to Friday's brisk south/southwest winds. Friday's high wind was 38mph at 3:38p.
The Oriental Water Level Gauge shows current and recent water levels: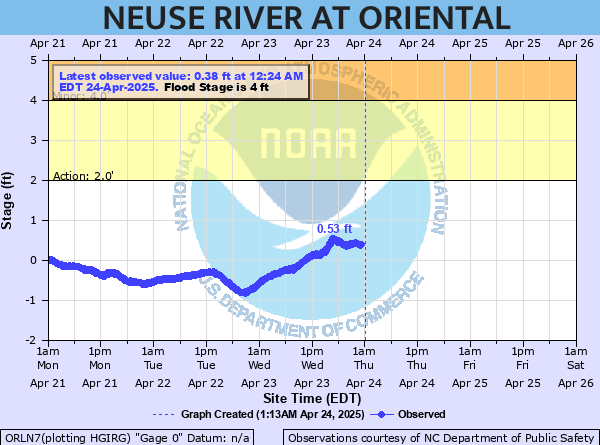 We're gettin' wet today… a 90% chance of rain. But it all comes with relatively mild temps, staying near 60 today.
• Oriental NC Forecast
• Oriental Weather Station
• Weather Radar
• Neuse River Marine Forecast
• Pamlico Sound Marine Forecast
• Neuse River at Oriental Water Level Gauge
Friday March 17, 2023
4:02p TownDock.net caught up with Dana Magliola, head coach of the NC State SailPack. He and about 20 college kids have been visiting this week for Spring Break … and for training.
It's St. Patrick's Day. There's corned beef with all the fixin's at M&M's all day. Hear traditional Irish tunes today at the Brewery from 5:30 – 7:30p and at the Red Rooster starting 7p. Jasmine Tasty Thai Food Truck is also at the Brewery tonight, until 8p.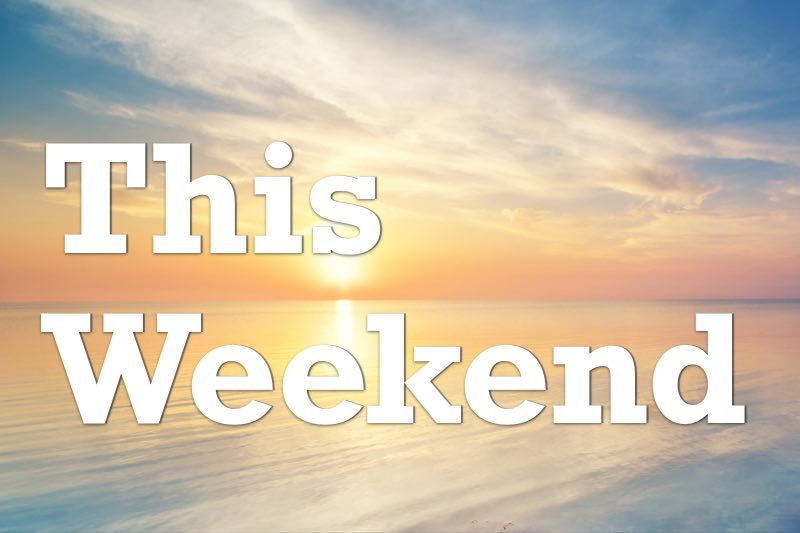 Tomorrow, the Chowder chefs of Oriental converge on the lawn of the Oriental Marina & Inn to compete for the best chowder. $10 gets you in to taste and vote for your favorite. You can even buy a pint or two of your fave chowder. The Oriental Chowder Cookoff starts at 11:30p.
Learn how to get more for your business by using your smartphone. The Small Business Center offers a free hands-on seminar covering the basics of video production, lighting, sound, and composition, from 9a – noon.
Saturday night, the Brewery hosts a new food truck: La Cocina del Coqui. Get an authentic Cuban sandwich or a few empanadas.
It's all in What's Happening.
Thursday March 16, 2023
John Radtke was a sailor, an EMT, and firefighter. He volunteered with the Florence – Whortonsville Volunteer Fire Department and the Coast Guard Auxiliary. He passed away Monday, March 13 at 84 years old.
Tonight is the Open Jam Session at Pamlico Community College. Bring your instrument, your voice, or a chair to sit back and listen. It happens at the PCC Delamar Center Auditorium at 6p.
Wednesday March 15, 2023
11:11a Your chance to win $10k in May… may soon disappear. Of the 200 Golden Raffle Tickets for the Hope Regala Fundraiser in May, only 50 are left.
Every ticket provides a 1 in 200 chance of winning $10K. If you buy the limit of 3 tickets, that's a 1 in 67 chance. You can get yours here.
The Oriental Dinghy Club is looking for some help on their Race Committee. Commodore Bob Slook writes in:
The racing season starts on April 1st and we desperately need help on Race Committee. We need both
PRO
s and Helpers. It is a great place to see the races and a great way to get involved and see what racing is all about.
Please sign up on our Race Committee sign-up sheet which can be found on the right side of our website
or at this link.
We will be offering an on water training session in mid April for those that want to learn more about what's involved.
Contact Bob Slook if you'd like to know a bit more about the Oriental Dinghy Club or about helping out: ODCCommodore@gmail.com
Tuesday March 14, 2023
9:29a A Norwegian band playing Bluegrass music. It's Hayde Bluegrass Orchestra.
You may have heard them play the Ol' Front Porch Music Festival in 2022 and the Dottie Osmun Tribute Concert the day after. Days before those events, lead singer Rebekka Nilsson was named the International Bluegrass Music Association (IBMA) 2022 Vocalist of the Year.
They've just released their live album The Broken Circle Sessions. Fifteen musicians. Bluegrass with a hint (and more) of New Orleans Jazz.
Have a listen:

Rebekka isn't the only one on lead vocals:

New Classifieds:
2017 36' Class A Bounder 35K RV for Sale $79,000
Misc Home Supplies
Moving sale
We Clean Your Boat
50 Amp Cord, 125/250V
Medium Dog Rattan Dog Cage
Torqeedo 1103 Outboard Motor
Calling all Wood Boats
Ever Popular and Comfortable 2003 Catalina 350
Beneteau 423 and many others in brokerage for sale
Organic Heirloom Garden Plants
Couch/Loveseat set - SOLD
Recent cover photos:
See
more cover photos...