It's Friday January 21, 2022

Dock Quote: "To be poor...
Upcoming Events
The famous speech, take one. Guest Columnist
From the Tree of Names and Lights. The Story
No plan can turn out to be a bad plan. Captain's Blog
January 2022 Town Board Meeting. The Story
New Year's Eve 2021 - 2022. The Story
Coast Guard investigating spill source. The Story
It takes a village to house a dragon. The Story
Mother and Artist. The Story
Town Board Meeting December 2021. The Story
Appreciation for the helpful. Letters To The Editor
Father, friend, and inquisitive soul. The Story
Antlers, dogs & dinghies on wheels. The Story
The village tradition returns. The Story
27 Years Helping Pets and their Humans. The Story
What's happening, where and when. The Story
Village Gallery's December Artist of the Month. The Story
The List of Area Non-Profits That Could Use Your Donations. The Story
1,000 miles for a chat. The Shipping News
96 cyclists, 5.25 miles. The Story
Flag knowledge on display. Captain's Blog
ArtWorks Oriental transforms into a German Christmas Market. The Story
Questions about Premium Pay. Letters To The Editor
The Christmas Parade returns. The Story
Confusing report leads to questions about write-in votes. The Story
Town Board Meeting November 2021. The Story
Village Gallery's November Artist of the Month. The Story
Two galleries, 11 businesses, one event. The Story
Dancing for Hope Clinic. The Story
Price, Roe, White, Winfrey, Overcash, Belangia Elected. The Story
Election info for Oriental & Minnesott Beach. The Story
Students' art brings attention to public spaces. The Story
14 chefs, 300 plus patrons, and 70 gallons of chili. The Story
It's about the boat, not you. Captain's Blog
100. A New record.. The Story
Dedicated teacher, passionate sailor, loving father. The Story
Three sailing clubs, one race. The Story
The 2021 Ol' Front Porch Music Festival. The Story
Rain Didn't Dampen The Music Festival. Letters To The Editor
Village Gallery's October Artist of the Month. The Story
October 2021 Town Board Meeting. The Story
Running for Oriental Town Commissioner . Letters To The Editor
Nautical self-help. Captain's Blog
Meet the man and his boats. The Story
The 20th Anniversary. The Story
Scheduled to begin Summer 2022. The Story
Marine weather all in one place. The Story
Artists' Reception, Sept 4, 2-5p. The Story
Local knowledge required. The Story
Friday January 21, 2022
1:37p It's cold. Icy. Let's take a moment to ponder autumn (and walking outdoors). From the folks at the Ol' Front Porch Music Festival:
The board of directors of the Ol' Front Porch Music Festival is planning to expand the event in 2022 to add evening performances on the Riverfront Stage and provide food and arts vendors on both Friday and Saturday.
The proposed changes are in response to comments we received in our recent satisfaction survey. Asked what improvements could be made to enhance their experience, many festival goers said they would like to see evening performances and have food and other vendors available on Friday. Since its inception, the festival has provided food and arts vendors only on Saturday.
In addition, the board is discussing making Friday a full day of music, closing roads and providing shuttle service, similar to Saturday. Lighting would be added for the Riverfront stage to provide evening performances on both nights. Other changes to the festival schedule are being planned as well, including discontinuing performances on Sunday morning.
The festival is set for Sept 30 – Oct 1 this year.
12:36p From Billy Flockhart @ The Piglet:
We are open, but changing hours to deal with the weather. We will close at 6pm tonight, and open Saturday morning at 8am. Stay safe.
9:46a From Bill at Nautical Wheelers:
Camilla and I are at Nautical Wheelers in Oriental this morning and catching up on some office work. We will be open until Hank with
UPS
comes by to pickup packages this afternoon. We are open if folks need to pickup anything or drop off a
UPS
package. The New Bern store is closed all day.
9:00a Roads are wet, not yet icy. BUT, it has dipped to 31 degrees. Ice on roads is imminent. Ice has formed on steps, docks, etc.
Today just modest precipitation. The most significant part of this winter storm is forecast to be tonight & overnight, with ice and snow expected. That cold precip will end by Saturday morning… but it will be on the ground then and likely slippery/treacherous.
The ice won't have much chance to thaw Saturday. Low tonight near 27, high Saturday mid 30s, then Saturday night's low dipping to low 20s.
Be a careful human.
• Oriental NC Forecast
• Oriental Weather Station
• Weather Radar
• Neuse River Marine Forecast
• Pamlico Sound Marine Forecast
8:30a Today The Bean, Oriental Deli, Piggly Wiggly, Provision Company, Garland Fulcher Seafood, Dollar General and Village Hardware are open. The Silos & M&Ms plan to be open. Brantleys, Barcos, Ricks BBQ, New Village Brewery, Artworks, Nautical Wheelers – all closed.
8:27a From County Manager Tim Buck:
Pamlico County Goveniment Offices will be closed Friday, January 21, 2022 due to expected winter weather conditions.
712a Temperature in Oriental now right at freezing, 32.
5:46a So far the precipitation is just rain. It is 33 degrees… the hour-by-hour forecast has temps dipping to 31 around 10a this morning. That's when the ice danger really begins. Temperatures are expected to stay below freezing for the rest of the day & evening, not creeping above freezing until Saturday afternoon.
Hazardous travel today due to ice, sleet, and snow. It's a good day to leave the car/truck parked. Road conditions will be hazardous due to temperatures below freezing starting mid-morning today through mid-day Saturday.
Thursday January 20, 2022
4:04p If you need groceries, the Piglet is open tonight til 8p. Roads are forecast to be iced / dangerous / unusable Friday. Plan accordingly.
The latest ice & snow forecasts (the ice will be the problem). Little change, but it does have clarity, we are where ice/sleet will fall. It's comin', arriving after midnight / overnight:
• Oriental NC Forecast
• Oriental Weather Station
• Weather Radar
• Neuse River Marine Forecast
• Pamlico Sound Marine Forecast
11:31a When will the icy/snowy/stormy stuff begin? Not until after midnight/overnight tonight.
10:35a The coming weather system is causing closings. From PCC:
Because of the threat of icy weather, Pamlico Community College will close at 4:30pm Thursday, Jan. 20, 2022. The college will be closed all day on Friday, Jan. 21, 2022.
From Pamlico County Schools:
Due to anticipated inclement weather, Pamlico County Schools will be closed to both students and staff on Friday, January 21.
Arapahoe Charter School is also closed Friday.
From Diane at Oriental Town Hall:
We'll be closed Friday to walk-in traffic.  We will have emergency people available for water emergencies (burst pipes).  9AM-1PM those folks can be reached through the Town Hall number 249-0555. After 1PM, for water emergencies only, call 252-876-2826.
All other emergencies call 911.  Power outages call Duke or Tideland.
7:35a Snow. Ice. Multiple warnings. All are in the forecast.
ICE STORM WARNING IN EFFECT FROM 4 AM FRIDAY TO 7 AM EST SATURDAY.
GALE WARNING IN EFFECT FROM 10 PM THIS EVENING TO 6 AM EST SATURDAY.
The mayhem isn't forecast to begin until after midnight tonight. Tonight north winds 20 To 30 knots. Sleet possible after midnight. Friday the same winds, sleet and possible snow.
What should you do Friday? Stay home. Don't drive. Summary: Don't be a dumb &%$.
Monday January 17, 2022
2:31p I have a dream. Martin Luther King's famous speech, was a rewrite of a speech he had made earlier. On Martin Luther King Day, John Rahm writes in.
9:12a Every year in December, a tree goes up in Lou Mac Park. It is a tradition called "The Tree Of Names and Lights."
Here's the story – and the names honored and remembered.
Sunday January 16, 2022
5:03p Almost 2 inches of rain have fallen… the storm total may reach 3 inches. Today's high wind (so far) 33mph at 3:26p. That could be surpassed later tonight… the forecast for the Neuse 25-30 knots, with gusts to 40.
Water levels peaked earlier this afternoon at about 2 ft above normal…. they are now trending down as winds become more southerly: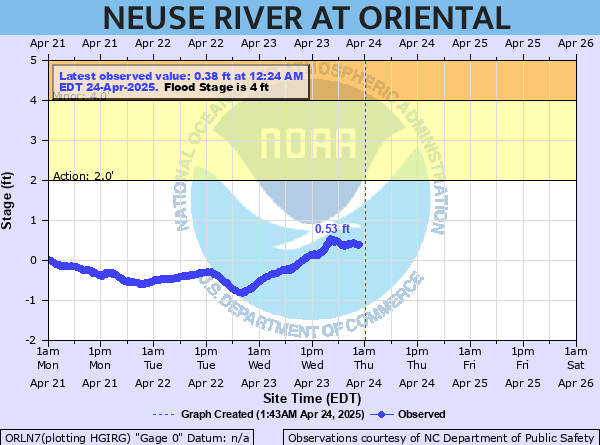 • Oriental NC Forecast
• Oriental Weather Station
• Weather Radar
• Neuse River Marine Forecast
• Pamlico Sound Marine Forecast
9:21a Be brave TownDock reader – Flash Gordon is at the Old Theater today for a Sunday matinee. Four seat-grabbing episodes.
Impress your date with your unbounding largess: Tickets six bucks, includes popcorn. Doors open 2:30p, showtime 3p.
Today may not be the ideal day to pursue some offshore fishing:
A bit breezy out there:
As you can see, it's Atlantic coastal locations (and offshore) that will get the worst if it. Life on the Neuse will be relatively calmer.
High waters are causing slight flooding on Hodges at this writing. Later this afternoon winds are forecast to turn from northeast (as they are now) to southwest. Those southwest winds will pull water levels back down. The rain forecast is for up to 3 inches.
Saturday January 15, 2022
11:18a Award winning bluegrass band "Circus No. 9" is in town today, with two performances.
There is a free "informance" at Holts Community Chapel, 2p this afternoon. Then tonight Pamlico Music Society presents Circus No. 9, 7:30p at the Old Theater. Some tickets still available, at this link.
Here's the band:
Today Meraki Mediterranean Kafe food truck is at New Village Brewery, 3 – 8p.
9:20a The local forecast has this warning: COASTAL FLOOD ADVISORY IN EFFECT FROM 1 PM SUNDAY TO 1 AM EST MONDAY …WIND ADVISORY IN EFFECT FROM 4 PM SUNDAY TO 1 AM EST MONDAY…
Any high waters in and near Oriental will not happen Sunday night during that advisory – it's a wind direction thing.
Sunday is forecast to see 20-25 knot northeast winds on the Neuse and Pamlico Sound. Northeast winds do push water levels higher locally. But Sunday evening has 25-25 knot south winds forecast. Those south winds will bring water levels down locally. This is followed by a Monday forecast for west winds 15 To 20 knots, gusts to 30. That will push water levels even farther down.
Sunday will bring rain – up to 2 inches. Winds here are not expected to be above 30… but at the coast there are forecasts up to 40s, 50s and even 60 mph.
Wednesday January 12, 2022
1:01p Omicron is making its way through Pamlico County. In the last 7 days, there have been 98 COVID cases reported. The real number is likely higher, as it does not include those that may self test (over the counter tests are now common & inexpensive) and then not report a positive result.
Here's the latest on COVID in Pamlico County and across the state.
12:07p It's cold. While some do use their boats in the colder months, there is less boating going on now.
It's a time when many sailors make plans. What's your plan? That's the question Captain John Rahm asks in this month's Captain's Blog.
8:12a There is dredging in the harbor this week. A barge with a crane is digging out spoils on the Point Pride Seafood side of the harbor. When the hold is full it is moved over the Garland Fulcher side, where the spoils are transferred to waiting dump trucks.
Drone Orville takes a look:
Tuesday January 11, 2022
1:10p Last night's predicted low, 29. The overnight low measured at the Oriental Weather Station, 25.
Tonight's forecast low is 21. Prepare accordingly.
Monday January 10, 2022
1:20p It's going to get cold Tuesday night. Here are expected lows across eastern North Carolina.
But if you think we're cold – here are wind chill numbers around the country:
8:02a At midnight, it was 65 degrees. It's been plunging since then… 48 now – and mid 40s this afternoon.
…tonight may dip below 30. Tuesday night is the cold one – forecast low 21 degrees.
• Oriental NC Forecast
• Oriental Weather Station
• Weather Radar
• Neuse River Marine Forecast
• Pamlico Sound Marine Forecast
Saturday January 8, 2022
7:30a Overnight temps dipped to 27 degrees. The sun will only warm us up to low 40s today, but Sunday brings a warm break – high near 65.
• Oriental NC Forecast
• Oriental Weather Station
• Weather Radar
• Neuse River Marine Forecast
• Pamlico Sound Marine Forecast
Thursday January 6, 2022
2:20p Hodges Street needs significant repair, and the Net House will be harder to restore than initially thought. These were among the subjects at the January Oriental Town Board meeting.
11:38a The winter months are a slower time for events in Oriental… but February is bringing some entries for your calendar.
Saturday February 5 the Chinese Dragon will dance on Hodges at 2:30p – celebrating the Chinese New Year (it is the year of the tiger). That evening, Pamlico Arts hosts the 4th annual Dragon Burn at The Silos.
Coming later in February, the Old Theater plans to have a Mardi Gras parade Saturday February 26.
10:10a The ferry is operating on a reduced schedule. The culprit – COVID. From NCDOT:
​The Cherry Branch-Minnesott Beach ferry route will be running an alternate schedule this week due to
COVID
cases and exposures. Currently, three employees have tested positive for the virus and five are under quarantine due to exposure.
As a result, the Cherry Branch-Minnesott Beach route will be running the following schedule between Jan. 6-10:
From Cherry Branch:
5a, 5:45a, 6:45a, 7:45a, 9a, 10a, 11a, noon, 1:30p, 2:30p, 3:30p, 4:30p, 5:30p, 6:30p, 7:30p, 8:30p and 10p.
From Minnesott Beach:
5:25a, 6:15a, 7:15a, 8:30a, 9:30a, 10:30a, 11:30a, 12:30p, 2p, 3p, 4p, 5p, 6p, 7p, 8p, 9p and 11p.
Wednesday January 5, 2022
11:30a Rick's BBQ has new hours for the new year: now open Wednesday – Saturday 11a-7:30p (Wednesday is the new addition). Eat in or take out, 252-249-6400.
New Classifieds:
Part-time person for general cleaning
2013 Ford Focus SE
Corner Desk
Carry-On Boat Air Conditioner - SOLD
Bathroom Cleaner Wanted
Neuse River Waterfront Lot in Dolphin Point
Custom Daysailer as Seen in Wooden Boat Magazine
Moving sale. Excess items
28 ft Irwin Sailboat
Maritime Helper Wanted
Recent cover photos:
See
more cover photos...