It's Sunday February 23, 2020

Dock Quote: "Life is slippery....
News From The Village Updated Almost Daily
Upcoming Events
A Squirrel-Seeking Man. Pet Of The Month
New events, GMO addition, Whittaker Creek projects updated. The Story
Year-end donations made a difference. Letters To The Editor
Answer: a lot. Guest Columnist
Systems Analyst, Commodore, Volunteer, Wife. The Story
Century 21 Awards Sail/Loft Realty Tickets To The Big Game. The Story
Making life work on a 30 ft space. The Shipping News
Gone in 2018, back in 2020. The Story
Wayfarer's Cove offers to purchase golf course. The Story
Dragons run and burn. The Story
Pilot, Sailor, and Husband. The Story
To the Beaufort docks. Captain's Blog
Celebrating an Oriental institution. The Story
An Award To The Person Who Enhances Sailing In Oriental. The Story
Golf course purchase back in play. The Story
Effective February 1, 2020. The Story
Whittaker Creek updates, Brewery SUP, Mobile Licensing cut. The Story
Hope Clinic co-founder, Hospice chaplain. The Story
EV America. The Shipping News
2020 Instead of Football Regatta. The Story
A tradition rekindled. The Story
Drums, Dragons, and a lucky new year. The Story
Oriental's Dragon Needs A Present. The Story
...when we were docking our boat. Captain's Blog
Brand ambassadors, exemplary employees. Pet Of The Month
Channel Now At 8 Feet. The Story
Rain delay doesn't stop Spirit of Christmas. The Story
What's happening, where and when. The Story
Commissioners sworn in, public hearing set. The Story
The List of Area Non-Profits That Could Use Your Donation. The Story
85 cyclists, 173 wheels, total gears unknown. The Story
A closer drive than the mountains. The Story
Dog on the run. Pet Of The Month
Add Some Spring To Your Life. Captain's Blog
Helping seniors age in place. The Story
A canceled hearing and lower rates. The Story
Price, Barrow, White, Simmons, Overcash, Belangia Elected. The Story
Election day is Nov 5. Letters To The Editor
George Midyette (and canine companion) paddling Sunday morning on the Neuse off Lou Mac Park. George uses the local "Midyette Brothers" style of stand up canoe paddling. Here he uses two paddles – it looks rather like cross country skiing.
(click photo for the big view and more paddle pics)
Sunday February 23, 2020
8:08a Clouds & rain are on the way starting Monday and staying through mid-week. But today, enjoy. Sunny & mid 60s.
Saturday February 22, 2020
11:52a No food truck at the brewery today. Lili writes in:
Gorhams Food Truck had to cancel today because their truck broke down last night. Folks are always welcome to pick up something from the deli or any of the other food establishments in town and bring it over to have with a beer.
7:50a Navigating Local Waters is the subject of a Sailing Seminar, 9:30a today at Town Hall.
The seminars are a collaborative effort of Oriental's three sailing clubs, SCOO (Sailing Club of Oriental), ODC (Oriental Dinghy Club) and NSA (Neuse Sailing Association).
Upcoming seminars for the next few weeks include AC/Refrigeration, NOAA (discussion on weather), First Aid Onboard and "The science behind the art of varnishing." More details here.
7:37a The north wind eased and became northwest last night. While north & northeast winds push water levels up… northwest begins to let water subside. And it did overnight, water levels back to almost normal. Those lower water levels got the Cherry Branch Ferry back in operation this morning – ferry runs are back to the regular schedule.
Overnight it dipped to 25. It's not much warmer than that at this writing, but Mr. Sun is forecast to bring a warmish 50 to us this afternoon. Look for low 60s Sunday.
If you brave the chill and get out on the water, just light 5-10 knot winds on the Neuse today, an even calmer 5 knots Sunday.
Friday February 21, 2020
3:39p It's Mardi Gras, tonight at New Village Brewery. Live music, Kaci Creole food truck, beer, masks & beads on tap. More info here.
Saturday features dueling oysters. NSA (Neuse Sailing Association) has their annual Oyster Roast, 2p at Oriental Marina Inn. Over at Pamlico Community College it's the 10th Annual Oyster Revival & Chili Cookoff, 3 til 5p.
3:32p Tonight at the Old Theater the Friday Night Flick is Green Book:

8:14a How are the roads? Be careful, but Dave of M&Ms reports clear roads on his drive from Dawsons Creek to Oriental, including the bridge.
The potential for bad road conditions has Pamlico Schools closed today. Pamlico Community College is also closed today due to weather (but PCC is back open Saturday for the Oyster Revival).
High water levels have the Cherry Branch Ferry stopped this morning. It cannot resume until levels drop… and right now they are still rising.
Oriental Town Hall is opening late today (10a ish). TownDock staff hours were also effected by weather – they had to work earlier.
7:35a Overnight the low didn't quite touch freezing – 33. While the snow fell overnight there was some breeze – high wind 38mph at 4:09a.
The sun is forecast to shine just after noon today. Then, we'll have a sunny clear day, high in the upper 40s / near 40. Those clear skies will make for a cold evening, low tonight 25.
Clear weather stays with us for the weekend, Saturday high near 50, Sunday 60.
• Oriental NC Forecast
• Neuse River Marine Forecast
• Pamlico Sound Marine Forecast
• Newport Morehead City NC Weather Radar
• Southeast Weather Radar
• National Weather Radar
7:30a The blades of grass almost covered… it's High Snow at Hodges & Broad:

7:12a The 2-4 inches forecast appears to have been high. TownDock snow meter measures 3/4". Maybe 1" in high snow banks.
6:50a Hodges Street is flooded, but The Bean will be open this morning… a few minutes late. Coffee will be served by 7:30a.


Pamlico Nikes may be advised.
5:43a Cherry Branch Ferry is out of service this morning. From Sue Kinner:
The Cherry Branch Ferries are not running this morning. The winds have pushed the River back up on top of us and the water level is too high for us to get our boats under the ramps.
Thursday February 20, 2020
4:40p Some media are covering our coming snowfall with almost hurricane like urgency. This seems excessive to TownDock Senior Management, but we will admit to looking for a pair of cross country skis hidden in the TownDock World Headquarters attic.
The latest forecast – 2 to 4 inches. You might be able to make a snow man in the morning, but not for long. That snow is forecast to change to rain. The end result will likely be ice on the roads. Tonight (early evening that is) you're fine. Make that run to the Pig for emergency vino. Friday morning, stay off the roads if you can. If you must drive, consider driving boringly slow.
High wind today (so far) 28mph, just a few minutes ago. Gusts to 40 knots forecast on the Neuse tonight, 45 knots on the Pamlico Sound.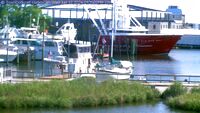 12:01p This cold air is being delivered by north & northeast winds. Those same winds are pushing up water levels. Hodges Street is now flooded by the harbor – check out HarborCam.
11:57a The NC Coastal Heritage Association meeting scheduled for Feb 22 has been rescheduled – now Saturday Feb 29.
10:58a The Pig is staying open tonight until 8 for all your winter hibernation needs. Wine might help. See the weekly Piglet specials here.
10:38a Impending snowy weather has Town Hall on a delay. From Town Manager Diane Miller:
Town Hall will be open by 10AM Friday, February 21, to allow staff to get to work safely in the morning.
Today's rain will be sleet tonight, and forecast to become snow after midnight. Snow will fall until Friday afternoon.
7:49a A winter storm is dropping temps throughout the day: today's high starts out near 50 and drops to near freezing tonight.
Rain is on the way with NW winds at 15 to 20 mph, gusts up to 30. A high wind of 25 mph was recorded at the Oriental Weather station this morning at 5:37a.
The snow accumulation estimate has changed again; tonight's forecast has snow and sleet accumulation of 2 – 3 inches.
Wet and cold is moving in from the west. Mid Atlantic radar has the multi-state view:


(click image for the big animated radar view)
Wednesday February 19, 2020
4:01p In the past week we've had 70 degree days. But not the next couple days. From NOAA:
WINTER
WEATHER
ADVISORY
IN
EFFECT
FROM
7 PM
THURSDAY
TO 7 AM
EST
FRIDAY
Thursday night look out. The previous forecasts indicted snow but no accumulation. That has changed to:
Snow accumulation around an inch. Breezy with lows in the lower 30s. North winds 15 to 20 mph with gusts up to 35 mph.
Thursday night gusts to 30 knots on the Neuse, up to 45 knots on the Pamlico Sound. Friday near the same.
• Oriental NC Forecast
• Neuse River Marine Forecast
• Pamlico Sound Marine Forecast
• Newport Morehead City NC Weather Radar
• Southeast Weather Radar
• National Weather Radar
9:27a Today's forecast calls for a 90% chance of rain. TownDock.net is confident it's a 100% chance.
Winds are out of the north at 15 to 20 mph, gusting up to 30 mph. Rain will taper off this afternoon and return tomorrow. High today near 60.

(click image for the big animated radar view)
Tuesday February 18, 2020
9:03a Snow. We might get some Thursday night. Probably no snowmen will be made however – little or no snow accumulation is forecast.
Meanwhile, today feels like spring. Sunny & 70.
Enjoy it while you can – Wednesday brings in high winds and rain.
Monday February 17, 2020
4:24p Commercial fisherman have enjoyed an unusually long winter shrimp season on the ocean, plus the speckled trout fishery has been outstanding in local waters. TownDock.net talked with fisherman Keith Bruno Sunday, and got his view of what is going on with fishing:
7:40a Winter's thermal yo-yo continues. Sunny & 60 today, clouds and 70 Tuesday. Later in the week (Friday) lows near 30 and highs just touching 40.
Saturday February 15, 2020
4:53p Nest Cafe food truck at the brewery til 7:30pm tonight.
A week from today the North Carolina Coastal Heritage Association (NCCHA) holds it's annual meeting. Last years was held in the town of Atlantic on Core Sound. This year will be closer (for most TownDock readers) – it's in Oriental at Brantley's next Saturday Feb 22.
7:27a Almost freezin'. Overnight low… 33. Clear cool and just high forties ~ maybe 50 today. The winter thermal yo-yo is back in action. Highs near 60 Sunday & Monday, 70 Tuesday.
Friday February 14, 2020
1:32p Tuesday night, town commissioners heard updates for the two Whittaker Creek projects: the creek dredging and the point restoration. The solar ordinance was approved after some clarification, and new public hearings were set for March. Read the meeting report here.
12:15p Jasmine Tasty Thai food truck is serving now til 7:30p at New Village Brewery (plus live tunes for the Valentine's dinner hour).
11:05a His introduction to Pamlico County was a stay at the prison. Now he is a sidekick on emergency missions, and seeker of frozen dairy products. Meet Max, February's Pet Of The Month.
9:16a Dear sweet reader: Happy Valentine's Day.
Tonight at the Old Theater Pamlico Music Society presents Barbra Lica, a Juno-nominated jazz vocalist and songwriter. Showtime is at 7:30p, with a Valentine's theme.
If you can't make tonight's show, Lica is doing an informance, free and open to the public, today at 1:30p at Oriental United Methodist Church, hosted by Prime Time.
Thursday February 13, 2020
9:28a Temps will be in the 70s today with a better than 50% chance of rain this afternoon. SW winds have already hit 31 mph today (at 7:47 this morning). The forecast predicts gusts up to 35 mph. Tonight, cool in the mid 40s.
Wednesday February 12, 2020
4:47p This Valentine's Day, the ladies of the Oriental Woman's Club want one thing: your blood.
Give them what they want this Friday at the Red Cross Blood Drive.
The Woman's Club is at 1007 Gilgo Rd. Show up between 11a-3p or demonstrate your commitment by making an appointment online.
8:22a At Tuesday night's town meeting: An adventure sailing/kayaking event is coming to town in June. The Solar ordinance passed. The brewery is rebuilding a utility building. The hardware store wants to build a new store building next to where they are now. A dental office looks to rise. More $ needed (and likely found) to rebuild Whittaker Point. Dredging was delayed but coming. This and more in the meeting report coming later today.
Clouds. We got 'em, today & Thursday. Near 60 today, a toasty mid 70s tomorrow. Clear and cool returns Friday.
Tuesday February 11, 2020
1:54p Read the agenda for this evening's Town Board meeting here.
11:41a There are two public hearings at tonight's Town Board meeting. The first is for a Special Use Permit (SUP) to demolish, reconstruct and raise the garage/shed on the property of the New Village Brewery.
The second public hearing is to add a 7 page Solar Energy System (SES) Ordinance to the town' s Growth Management Ordinance (GMO). The ordinance regulates height, setbacks, vegetation & fencing requirements for both ground and roof mounted SES, with the SES plans to be sent to civilian and military aviation authorities within 5 nautical miles.
The ordinance also covers the process for dealing with 'abandoned' SES, including removal. SES systems are defined in two ways: Level 1 – integrated, ground, or roof mounted systems, and Level 2 – ground mounted systems larger than 50% of the primary structure footprint and primary use SES such as solar farms.
Level 1 systems are allowed in all zones, though some require a Land Use Permit. Level 2 systems are not allowed in residential zones, and require permits in mixed use zones.
The Town Board meets tonight at Town Hall at 7p. Agenda will be posted when available. The Solar Ordinance is available right here.
8:10a Wet is to our west, and appears to be coming our way. Mid Atlantic radar has the view:


(click image for the big animated radar view)
Web Cams:
Columns:
Guides:
Etc:
New Classifieds:
Bar stools, new
Tide Tamer Boat Lift
Boat slips for rent on Oriental harbor
2019 Generac Generator 6500Watts -Like New $650
2019 John Deere 42" Lawn Tractor $1,500 (Oriental)
1989 Pearson 27 in Great Condition, Ready to Sail
Moving Sale Part 2 - Feb 22
Moving Sale
Power and Sail Boat Repair with Reasonable Rates
4 HP Mercury Outboard
Recent cover photos:
See
more cover photos...
Web Cams: