It's Tuesday September 17, 2019

Dock Quote: Either write something...
SMALL CRAFT ADVISORY IN EFFECT FROM 3 PM EDT THIS AFTERNOON THROUGH THURSDAY EVENING
Dredging $Funds
Upcoming Events
Hurricane Dorian, short term rental, renewable energy. The Story
Condo association rules against business. Letters To The Editor
Reader submitted photos. The Story
The Film Festival For The Hurricane Accosted. The Story
How high will Dorian's water's reach. The Story
Twenty-six years of Challenge in the Creek. The Story
Leave Your Slip Without Scaring The Marina. Captain's Blog
Husband, Father, Sailor, Engineer. The Story
Five classes, 50 plus sailors. The Story
When Lucky is more than a name. Pet Of The Month
A resident's view on a recent decision. Letters To The Editor
Tracking The Fundraising Progress. The Story
Three votes against, one abstaining. The Story
Service Dogs. Emotional Support Dogs. What does it all mean?. Guest Columnist
Former Owner Of Sailcraft Service Boatyard. The Story
Cleaning the street, seeking a way forward. The Story
A new name & a new life. Pet Of The Month
8 crew aboard, 2 masts go down, no one gets hurt. The Story
Marines, Firemen, Tractors, & a Funnel Cake. The Story
FJs and Sunfish at Croaker Fest. The Story
Paving update, audits completed. The Story
From pound dog to yachtsman. Pet Of The Month
Elvis has left the building. The Story
Over $140k raised to help those in need. The Story
A nest is inadvertently launched. The Story
Emergency power by crane. The Story
Mysterious quilt up for bid. The Story
A new budget, curbing & gutter, Cycle NC. The Story
Around the globe in 2 1/2 years. The Shipping News
7 years of pizza, live music, and dancing. The Story
Video Aboard the Prinses Mia with Martijn. The Story
Marine Corps responds. The Story
Vehicle awarded, public hearings set. The Story
Shark suits and sewing machines. The Story
A life filled with art. The Story
Pushing the limits. The Shipping News
An Oriental icon restored. The Story
Power boats, coastal cruisers, and an electric boat. The Story
Monday September 16, 2019
8:48a TownDock crew on maneuvers this morning.
Basically, Humberto is a hurricane and heading east and away. Sorry, Bermuda.
Invest 97 will likely become a real storm in a couple days, but conditions will steer it northerly – not getting near the US east coast. Again – sorry Bermuda.
Sunny & near 90 today. Mid week, autumn visits. Sunny & 75 Wednesday.
• Atlantic Tropical Storm Outlook
• Tropical Storm Humberto Tracking Chart
• Tropical Storm Humberto Forecaster's Discussion & Computer Models
• Tropical Storm Humberto Public Advisory
Sunday September 15, 2019
9:10a There is sad news this morning. Last night Carolyn Casey passed away. She was 72.
Carolyn was born in Dawson's Creek, May 27, 1947. Carolyn met her future spouse, Ben Casey, in 6th grade at Arapahoe Elementary School. Carolyn spent much of her life in Missouri, but moved back to the area in 2005. She and Ben married in 2007. Carolyn Casey retired from Pamlico Community College as an English & Humanities instructor. She had served as a Minnesott Beach Town Commissioner.
A memorial will be planned in the future.
7:27a From the TownDock archives… an alternative fog horn.
7:22a It's foggy out there.

TownDock Legal informs us this is not to be used for navigational purposes
Saturday September 14, 2019
3:22p Tonight's Low Country Boil is sold out. Now that's no reason to pout.
There's BBQ. Damn good 'Cue most would say. This is Jim, Bill & Bill – the pig smoking crew hard at work today:


That pig is getting served up tonight in a Sound Rivers benefit at New Village Brewery.
3:15p The forecast today was 10-15 knots from the northeast on the Neuse. Mom nature may have provided a bit more. The Oriental Cup Regatta had plenty of air, and a choppy Neuse. Word is a few boats dropped out due to seasick crews.
The boats that raced made speed in those brisk conditions. Tonight the regatta is celebrated at a Low Country Boil at O'Town – that dinner SOLD OUT – over 130 expected. The awards will be part of tonight's dinner.
2:58p Award winning artists Janet Jaworski & Stephen Moore are both part of an Artist's Reception today til 5p at Village Gallery. You're invited.
8:15a Hey sailor. It might (40%) rain today, but it isn't likely until after 3p.
Nice air forecast for the Oriental Cup. On the Neuse 10-15 knots from the northeast.
8:08a It's busy out there:


Storm 9 became Humberto late last night. Humberto is staying at sea – from out perspective.
If you're in Bermuda, that won't be the popular opinion.
Invest 96 has about given up. The future Invest 97 (that orange area above) will be the next one to keep an eye on.
• Tropical Storm Humberto Tracking Chart
• Tropical Storm Humberto Forecaster's Discussion & Computer Models
• Tropical Storm Humberto Public Advisory
• Atlantic Tropical Storm Outlook
Friday September 13, 2019
4:58p It is now officially Tropical Depression Nine. It is expected to strengthen to Tropical Storm Humberto Saturday.
The forecast track has moved more easterly and away from the US east coast.

• Tropical Depression Nine Tracking Chart
• Tropical Depression Nine Forecaster's Discussion & Computer Models
• Tropical Depression Nine Public Advisory
• Atlantic Tropical Storm Outlook
2:54p And now… Invest 96. It's the more westerly disturbance. Too early to tell much about ultimate track or power. For now, it's more or less pointed at Puerto Rico & the Dominican Republic, with a 50% chance of becoming a storm in the next 5 days.
You can help out Town Hall – and your town – by not driving on South Ave past Lou Mac Park
(where it is being worked on) or on Mildred St between 1st Ave and South Ave. The only folks that should be on Mildred are those that are staying at River Neuse Suites or that live in that block.
Be cool, and there will be a spiffy newly paved South Ave soon. South Ave was damaged by Hurricane Florence a year ago.
11:18a A bit more clarity on the track of future Storm Humberto. The track from the 11a update:


click image for the big track view
Potential Tropical Cyclone Nine is expected to get crowned as a tropical depression or storm later today. The above does show the storm may reach category 1 hurricane strength, but that would be mid-Atlantic as the storm travels east and away from our shores.
It is not such good news for Bermuda.
11:02a There are events a-plenty to carry you through the weekend.
The Oriental Cup Regatta begins tonight at 5p with check-in and registration conveniently located at the Tiki Bar. Sailing in the race and a low country boil dinner happen Saturday. Breakfast and a Bloody-Mary wake-up call Sunday.
Dank Burrito food truck, noon to 7 today at New Village Brewery. Check out the menu here.
Sample the wines and have a look around at Nautical Wheelers' Sip N' Shop today from 2-6p. There's live music tonight at the Red Rooster; Saltwater Gold acoustic start playing at 7p.
Saturday, is the rescheduled artists' reception at the Village Gallery for Janet Jaworski and Stephen Moore from 2-5p.
New Village Brewery hosts the 'Cue for the Neuse fundraiser – with whole-hog BBQ and live music – starting at 5:30p Saturday.
Sunday, Marsha's Cottage and the Oriental Women's Club team up to host a fashion show at the Women's Club. The models of Oreintal will show off the latest from Marsha's Cottage from 4:30 – 7p. Tickets are available at Nautical Wheelers and at the door.
For the first time in its history, The Silos is open on Sunday. Doors open at noon.
With 2 big screen TVs (just for the games) and a new Sunday-only menu full of football-watching-food, you can stay until the last team leaves the field.
More football Sunday? Football on the big screen from noon – 7p at New Village Brewery, plus a community potluck buffet.
9:15a Mid 80s for the weekend, a 30% chance of rain both days. Saturday's Oriental Cup Regatta has easy 5-10 knot winds forecast.
Re the Cup, you'll see registration buttons at the top of this page. Lots of folks will be at the Oriental Cup Low Country Boil Saturday night at O'Town. You can still register. Chris Daniels tells TownDock.net that he can make a lot of that boil.
9:01a Friday the 13th. What could go wrong?
OK, there's this stormy thing brewing. The Bahamas are getting tropical storm level winds & wet today and Saturday, something so not needed a week after Dorian.
The forecast track of Potential Tropical Cyclone Nine is rather Dorian~esque. But this system has two things more positive (from our location) about it.
Almost all the computer models show it touching or coming near Florida, and then heading northeast and offshore. The models are not suggesting an east North Carolina visit. The forecast also keeps this storm below hurricane strength.
Mister Potential Nine will likely be declared a Tropical Depression later today, and get named Tropical Storm Humberto Saturday.
There's more brewing on the Atlantic. Too early to speculate beyond keep an eye on it.


The disturbances marked in orange and yellow are not yet developed enough to have been named as an Invest.
Thursday September 12, 2019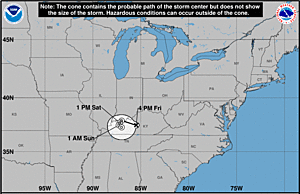 5:22p Another tropical system is with us. Invest 95 near the Bahamas has been declared Potential Tropical Cyclone Nine.
Rather tentative naming, but the forecast indicates this will become Tropical Storm Humberto. It will rain on Florida, then taking an odd hook east back out on the Atlantic.
We may well get wet from Nine/Humberto. A visit as a hurricane appears unlikely.
The links:
• Tropical Cyclone Nine Tracking Chart
• Tropical Cyclone Nine Forecaster's Discussion & Computer Models
• Tropical Cyclone Nine Public Advisory
3:47p Friday night is coming. You have a few options. Nautical Wheelers is hosting a Sip N' Shop from 2-6p at their Oriental location. Come in, sample their wine and take a look around.
Two Italian wines are on offer: Garganega Frizzante and Dolcetto D'Alba.
Then you can head over to the Pamlico Partnership for Children's Low Country Boil tomorrow at Whittaker Pointe Marina. There's live music and a silent auction – all to benefit early childhood education in Pamlico County. It starts at 6p. Buy your tickets right here.
1:56p Did Hurricane Dorian move your dock? Dawn Hines may have found it.
Behind 405 Midyette I have an extra dock that hurricane Dorian washed up against my dock. Does the owner of dock this want to retrieve missing dock? Dawn Hines 404-345-4739 at 405 Midyette.
10:32a George Beckwith, owner of Down East Guide Service, talks local fishing with TownDock.net.
Listen to find out how many fishing guides come to Oriental, and what's happening with Red Drum & Speckled Trout in area waters.
7:55a A Hurricane Dorian damage assessment,
concerns about wind and solar energy prohibitions, and a short term rental on Vandemere. September's Town Board Meeting report covers the meetings before and after Hurricane Dorian. Read it here.
Temps in high 80s again today.
5:55a Invest 94 isn't going to be a storm… the disturbance has dissipated. But Invest 95, in the southeastern Bahamas, looks like it will. A 70% chance of forming in the next 5 days. From NHC:
A tropical depression is likely to form as the system moves northwestward at 5 to 10 mph across the Florida Straits and southern Florida, and into the eastern Gulf of Mexico. This disturbance will likely produce periods of locally heavy rainfall and gusty winds across the Bahamas through Friday, and across Florida during the weekend.
Invest 95 doesn't appear destined to become a "big" storm. Where is it headed? Probably (this is an official probably semi~maybe) Florida and then the Gulf, but… Invest 95's future track is yet uncertain. The computer models are all over the place: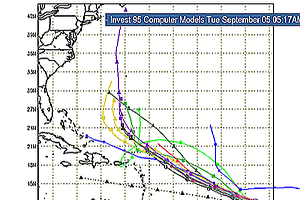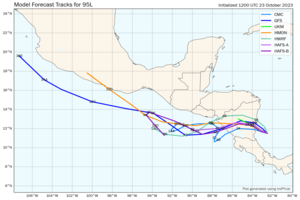 click track images for larger view
Names coming up next this season: Humberto, Imelda and Jerry.
Wednesday September 11, 2019
3:44p Deaton Yacht Services will close at noon on Friday. Matt Deaton and Jolina Houston are getting married and everyone needs a little time to get ready.
The parts department will be open on Saturday from 8 'til noon.
1:58p Amy Tankersley, an award winning massage therapist, and her husband Dan moved to Oriental and, in June, opened a one-person massage therapy practice on the first floor of their home at the Schoolhouse Condominiums.
Her clients have all given 5 star ratings for her work. In the fourth month of her practice in Oriental, she is closing the doors on her business. Read Amy & Dan's letter here.
12:09p This weekend, it's the Oriental Cup Regatta.
Sailors gather to sail and race, enjoy good food and good music, and celebrate one of the oldest sailing events in Oriental.
The three Oriental sailing clubs – ODC, NSA, & SCOO – are organizing the event.
You can participate by registering to sail – at this link.
Or you can just go to dinner on Saturday night. It's a Low Country Boil on the deck at O'Town. Just click here.
More about the event at orientalcup.org.
Just another subtle hint from TownDock Senior Management: it's The Oriental Cup. It should have a cup.
11:04a For many the news about Hurricane Dorian was that it didn't cause the damage we feared. Unfortunately, more serious news came from Dorian's visit.
Paul Friedman, age 63, passed away Wednesday before Hurricane Dorian. Paul lived in Mississippi and traveled to Sea Harbour Yacht club to visit his Pacific Seacraft 44 sailboat, Waterdog.
Friedman had stepped out of the companionway into the cockpit and was preparing to hand off ropes to another boat when he collapsed on deck. Two fellow Sea Harbour sailors began initial life saving measures, continuing until EMTs arrived.
Paul was transported to the hospital, where he was pronounced dead. Friedman did not have children and was visiting Oriental with his significant other, Kara.
9:15a There are other – free – options for that big tree removal big tree cut down and cut up. From Town Manager Diane Miller:

We received this from Pamlico emergency Management, another option for those with
BIG
stuff:
Individuals who need trees or debris removed, tarps and/or mucking and cleaning of homes should FIRST take pictures of what they need and then call the toll free number for FREE assistance. Volunteer organizations are standing by to provide cleanup assistance.
Requests for cleanup assistance – Call 844-965-1386.
Update: Trees will not be removed after they are taken down and cut up.
8:14a Mid 80s today with light winds. High 60s tonight.
Neuse River marine forecast is E winds 5 – 10 knots.
New Classifieds:
4'x8' Overhead Garage Storage Rack
Outboard and Spinnaker for Sale, Slip For Rent
Life fitness X9i Elliptical Trainer Like New.
Woman's Terry Symmetry Bicycle for Sale.
DR Field and Brush Mower
Workbench
Found - Coleman Cooler
Outboard and Dinghy
Very clean Beneteau 50. Major refit.
Brass Bed Set/Queen
Recent cover photos:
See
more cover photos...
Web Cams: