It's Tuesday August 20, 2019

Dock Quote: "Pizza makes me...
News From The Village Updated Almost Daily
Dredging $Funds
Upcoming Events
Three votes against, one abstaining. The Story
Service Dogs. Emotional Support Dogs. What does it all mean?. Guest Columnist
Former Owner Of Sailcraft Service Boatyard. The Story
Cleaning the street, seeking a way forward. The Story
A new name & a new life. Pet Of The Month
8 crew aboard, 2 masts go down, no one gets hurt. The Story
Marines, Firemen, Tractors, & a Funnel Cake. The Story
FJs and Sunfish at Croaker Fest. The Story
Paving update, audits completed. The Story
From pound dog to yachtsman. Pet Of The Month
Elvis has left the building. The Story
Over $140k raised to help those in need. The Story
A nest is inadvertently launched. The Story
Emergency power by crane. The Story
Mysterious quilt up for bid. The Story
A new budget, curbing & gutter, Cycle NC. The Story
Around the globe in 2 1/2 years. The Shipping News
7 years of pizza, live music, and dancing. The Story
Video Aboard the Prinses Mia with Martijn. The Story
Marine Corps responds. The Story
Vehicle awarded, public hearings set. The Story
Shark suits and sewing machines. The Story
A life filled with art. The Story
Pushing the limits. The Shipping News
An Oriental icon restored. The Story
Power boats, coastal cruisers, and an electric boat. The Story
Hosts NC State win first place. The Story
Dedicated to Oriental & The Old Theater. The Story
Coach Dana Magliola on the 2019 SailPack Regatta . Guest Columnist
They chose each other. Pet Of The Month
Waterline work begins, CycleNC returns, Board responds to NCDOT. The Story
Over 200 paws hit the pavement for the pet parade. The Story
"It's the best kind of idiocy.". The Shipping News
21 Performers Invade The Porches Of Oriental. The Story
Board asks Cycle NC for cooperation, repair contracts to be awarded. The Story
Toucan's Clam Chowder Takes 1st Place. The Story
Town, County officials meet with NCDOT. The Story
Help Pamlico High Math Teacher win $10,000 for her school. The Story
Monday on TownDock we pondered when the 1st Oriental Cup was. This morning comes visual confirmation from reader (and Cup winner) Leslie Cameron:
Chuck Lee and I won the first Oriental Cup in 1989 on Spellbinder. The nautical clock was 1st prize. We still have it hanging in our living room as our only clock. The picture/plaque awarded to us for the racing season shows Spellbinder had an excellent year.
Crew top row: Diana Lee, Chuck Lee, Leslie Cameron, Dave Kramer.
Bottom row: Robin Lee, G.E. Lee
The Cup is back for 2019… more details later today. Click that pic above for the big clock view.
Tuesday August 20, 2019
10:11 From Diane at Town Hall:
Church St is closed from Broad to 3rd for replacement of culvert. May be more than one day.
9:14a There's a 40% chance of rain today. TownDock's Dept Of Meteorology Math Studies reminds us – that's a 60% chance of dry.
Today, Wednesday and Thursday might give town a chance to evaporate. Highs near 90 each day.
A cold front will approach the area late this week, turning the winds around. North winds expected Saturday and Sunday, with a high Sunday just around 80.
Monday August 19, 2019
2:50p The Oriental Cup Regatta (OCR) returns for 2019. It began 30 years ago (that's Henry Frazer's best memory guess.) It was a huge deal for many years, often drawing near 100 boats.
In recent years the event has been, kindly, more modest.
This year it returns, with what appears to be a healthy restart (Hurricane Florence caused the event to skip 2018.) The Nautical Coop, which is a cooperative between Oriental's three sailing clubs (ODC, NSA & SCOO) is making the regatta happen. As a cooperative of three organizations, it has more energy and human resources to deploy. Between the three clubs, there are over 300 members. This OCR restart looks like it could really work.
It's coming soon for 2019: Sept 13-15. The racing is Saturday Sept 14. The race headquarters will be at Oriental Marina Inn / Tiki Bar. Saturday night's dinner will be a Low Country Boil over at O'Town.
Coming Tuesday, a link to where you can register online (it's not quite ready yet.)

Above is Water Phantom, looking fine in the downwind leg of the 2009 OCR. Click pic for the big view.
1:54p It's 93 out there. Heat index values over 100. It doesn't feel that bad.
6:21a Invest 97 is north and gone from our perspective, now off the Virginia coast. It has but a 10% chance of developing into a storm. If it did, it would shortly be in northern colder waters and lose power.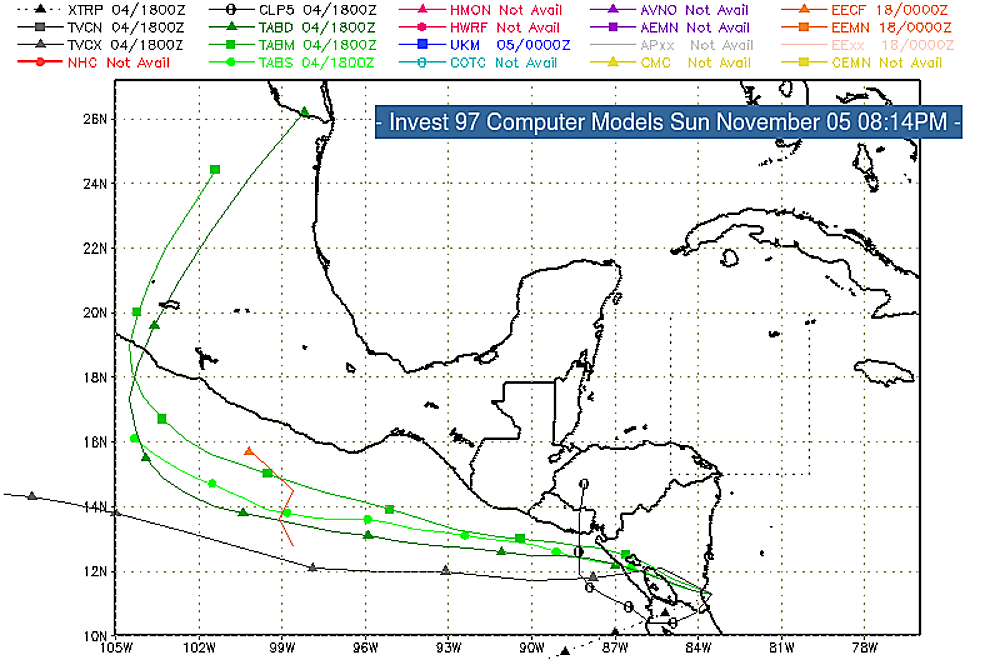 A reader asked for a description of an "Invest." An Invest (short for investigative area) is an area of disturbed weather that is being monitored by NOAA/NHC for potential tropical cyclone development.
Invests get a number – simply 90 through 99 and then repeat (if needed during the season.)
If an Invest does develop, typically a tropical depression is what is first declared. A tropical depression has maximum sustained winds below 35 knots / 39 mph. An upgrade to a tropical storm occurs when maximum sustained winds gust between 35 knots / 39 mph and 73 mph. Once a system is declared a tropical storm – then it gets a name. A hurricane has maximum sustained winds of 74 mph or greater (64 knots or greater). Once sustained winds get to 96 mph it is a Category 2 hurricane. At 111 mph sustained winds it is Category 3, a major hurricane. Category 4, 130mph. Category 5, 157 mph or higher.
At Category 4, even Scotch drinking TownDock staff might leave town.
Invest. Tropical Depression. Storm. Hurricane.
Bunky, now you know it all.
Sunday August 18, 2019
1:42p The center of that tropical disturbance / low pressure system is already north of us.
You have survived non-tropical wet thing.
1:03p The Oriental Cup Regatta. It may be the Granddaddy of serious sailing regattas in Oriental. But it has struggled in the last decade (missing some years) – never seeming to quite find a way to mix three decade old magic with the contemporary sailing scene.
It is back for 2019, with a larger support group and a new mission. Details coming Monday.
11:20a Rainfall total since midnight – 1.8 inches.
Add 'em up – Friday, Saturday and so far today. It totals 8.94 inches of rain.
7:41a You may get a trace dose of Vitamin D today…. there should be some blue sky showing this afternoon in the mix. But more rain is coming from the tropical disturbance. Mid Atlantic radar has the view:


(click image for the big animated radar view)
6:07a One wishes the statistic was just slightly different. But here it is:
Friday, the Oriental Weather Station recorded 3.57 inches of rain. However improbable, Saturday… we got 3.57 inches of rain.
And over an inch since midnight. That's 8 inches of rain, with most of Sunday ahead.
Today we also get rain from the tropical disturbance moving up the coast. From NOAA/NHC:
A small low pressure system (Invest 97), located along the North Carolina coast near Wilmington is producing a compact area of showers and thunderstorms. Any tropical development today is expected to be limited due to the system's proximity to land. By Sunday night, the low is expected to move northeastward over the warmer Atlantic waters offshore of the Outer Banks, where some further organization could occur before the system encounters cooler waters on Tuesday. The low is forecast to produce heavy rainfall along with a threat of flash flooding in coastal portions of South and North Carolina through this evening.
Saturday August 17, 2019
5:17p Oy, rainrumba. So far – 3.3 inches of rain today. Add that to the over 3/12 yesterday, and almost 7 inches of rain have dumped in two days. We've seen less from some hurricanes.
More slow rain tonight. And a 70% chance again Sunday.
On the bright side, that tropical disturbance is looking less likely to form. But.
There is a but.
It's mess will head northeast. By us. With more… rain. Sunday.
8:18a Saturday in Oriental. The Farmers' Market is on Hodges this morning. Salty Sistas food truck is at the Brewery today noon til 7:30p. Wine tastings @ Nautical Wheelers at 3 & 4p. Zoe & Cloyd at the Old Theater tonight. That's all in What's Happening.
On the Neuse southwest winds 5-10 knots today, on the Pamlico Sound 10-15 knots.
7:55a There is a tropical disturbance over north Florida. It might turn into a storm.


From NHC:
Disorganized cloudiness and showers over the northeastern Gulf of Mexico and northeastern Florida are associated with a weak surface trough. Tropical development of this system, if any, is expected to be slow to occur while it moves northeastward at 5 to 10 mph near the coasts of Georgia, South Carolina, and North Carolina during the next few days. Regardless of development, the disturbance is forecast to produce heavy rainfall along with a threat of flash flooding in that region.
• Formation chance through 48 hours…low…10 percent.
• Formation chance through 5 days…low…20 percent.
The next storm name on tap for the season is
Chantal.
But this probably isn't storm Chantal… but more likely just some rain and wind that will visit next week. With the small 10% chance of forming in the next 2 days, there are no computer models yet beyond the image above.
6:27a There still may be clouds around, but this morning some blue sky is poking through. Honest.
That said, we are blessed with a 70% chance of rain today.
A week ago folks were saying we needed rain. After yesterday's 3.57 inch rain dump (and the start peak hurricane season just days away)… maybe we don't "need" rain so much now.
But the chance of precipitation… it's 70% today – and Sunday.
Friday August 16, 2019
4:54p It's finally stopped raining – for the moment. 3 1/2 inches dumped on Oriental today. A bit more could come tonight.
There's music tonight in town. Barry & Bob at the Brewery 6-8p. At The Red Rooster Ken Belangia and Chris on Bass, starting up about 7p.
3:01p Now up to 3.2 inches of rain today. It's wet out there.
2:22p Two inches of rain so far today. And it keeps on comin.
10:29a Blood Drive today in town. From Jean Jerger:
Please come out and support the Oriental Blood Drive today, August 16th, from 1 PM – 6PM at the Oriental Woman's Club facility on Gilgo Rd. There are a lot of open slots and we need to get the calendar full. Nice thing to do on a rainy day.
8:53a Zoe & Cloyd. There's a fiddle. Appalachian spirit. Their label, Organic Records, released this music video earlier this year. Take a listen:

Zoe & Cloyd play Saturday night at the Old Theater. It's also a fundraiser for the Ol Front Porch Music Festival, and the Old Theater. Tickets at Nautical Wheelers, or you can just click here.
7:44a Radar shows the wet around us, but a satellite view shows why you might be glad you are not offshore today:


(click image for the big wet view)
No hurricanes though. Who's complaining?
Thursday August 15, 2019
5:50p It's the 50th anniversary of Woodstock. Peace and love, baby.

9:48a It would be fair to say there is some frustration in Minnesott Beach right now. Citizens came out in numbers to support something, and their town board voted the other way.
Minnesott Beach Mayor Tim Fowler says some citizens have asked if there could be a referendum on the matter. Fowler looked into it, and it appears under North Carolina law, that isn't possible.
Robert Joyce, an attorney with the UNC School Of Goverment, wrote this:
Under North Carolina law, only those elections specifically authorized by the state's constitution or by statute may be held. In the absence of such authorization, any particular kind of referendum simply may not be held.
Really? Important matters cannot be left to a vote of the people? That's right. In North Carolina, we are deeply committed to a republican form of government—little "R". In a republic, we voters elect our representatives—to the state legislature, the county commissions, the city councils, and the school boards—and empower them to make laws on our behalf. If we are unhappy with the laws that they make, the remedy is to vote them out at the next election and put in representatives who will do things differently.
The complete article on referendums is on the NC School Of Government web site.
9:25a Coming in just over two weeks is the PCC Foundation Fundraiser at New Village Brewery. There's gonna be a whole hog barbecue by Jim Kellenberger and bluegrass-infused Americana music from Brant Island Strings. PCC's Michelle Noevere writes in:
We are seeking items for the event's silent auction. Artwork, pottery, decorative items, event tickets, vacation getaways, business services, gift certificates, and gift baskets would make excellent additions to the silent auction. Unwanted Christmas gifts sitting in the closet? Gently used items are acceptable. Sponsorships also available.
Contact Michelle Noevere, Foundation Executive Director at 252-249-1851, ext 3084 or mnoevere@pamlicocc.edu for sponsorship information or to donate a silent auction item. This fundraiser supports
PCC
student scholarships.
Click here to see the fundraiser flyer.
8:24a Cloudy and a 50% chance of rain today through Saturday. Rain is more likely later this afternoon after 3p. If we get it, we may get a downpour.
Dry weather returns Sunday. High every day for the next week a predictable upper 80s/near 90.
7:50a It's August 15… still quiet on the Atlantic.
The Tropical Weather Outlook simply says: Tropical cyclone formation is not expected during the next 5 days.
• Atlantic Tropical Weather Outlook
• Atlantic Tropical Weather Discussion
This morning is the monthly NC Cycle breakfast meeting at Brantleys, 8:30a.
Wednesday August 14, 2019
Every now and then small towns have an issue that brings out a crowd. Minnesott Beach had such an issue last night, as the town board took up a proposal to acquire the property of Minnesott Golf & Country Club. Here's the report.
Service dogs. Emotional support dogs. The concept of an "emotional support dog" was not a known thing not too many years ago. Now it isn't uncommon to see folks bring pets into restaurants under the premise that they are an "emotional support dog." Some are OK with it, but not everyone is onboard.
TownDock reader McKenna Williams lives in Raleigh, but she has been coming to Oriental for most of her life, participating in the youth sailing program and after that NC State's collegiate sailing program. Service dogs have become a big part of her life. McKenna has written a guest column about what a service dog is, and isn't.
Tuesday August 13, 2019
8:07p Minnesott Beach will NOT be purchasing the Minnesott Golf & Country Club property.
Over 100 people packed into the Minnesott Beach Town Hall garage (the meeting was moved to the garage to accommodate the crowd.) At the public hearing 21 people spoke. Seventeen people spoke in favor of the purchase, four against it.
The vote was taken: 3 – 0, not to purchase the property. Or, more accurately, the question put to the board was to raise your hand if you are in favor of purchasing the golf club. None of the 4 commissioners raised their hand. One of the commissioners abstained, due to a perceived conflict of interest.
The scene at the meeting:


There were people inside & outside, in front of and in behind the table with the Minnesott Beach commissioners and mayor.
7:02p TownDock is at the Minnesott town meeting. It's standing room only.
9:01a Is it a bad idea for a town to purchase property? Or is Minnesott Beach's proposed property acquisition making the best of a bad situation?
That is tonight's subject at the Minnesott Beach town meeting, 7p at Minnesott Beach Town Hall. More specifically, should the town purchase the troubled Minnesott Beach Country Club property for $270 thousand, then lease it back for a $1 per year? The proposed maneuver is to maintain property values in the town – something that could be in jeopardy if the golf club & course failed.
At this link the town's description of the proposed property aquisition.
8:14a Philosophy from the Provision Company sign on Hodges St:

Monday August 12, 2019
3:35p The Ol' Front Porch Music Festival comes every October. This year it is Oct 4-6. But the festival crew is having a concert this weekend.
That may require an explanation.
See, October's Ol Front Porch music is a free festival. To make that happen, some $ has to be raised along the way. This weekend is a concert that is a dual fundraiser for both the Ol' Front Porch Music Festival and Oriental's Old Theater.
This Saturday August 17 Zoe & Cloyd play at the Old Theater. Zoe & Cloyd is fiddler & vocalist Natalya Zoe Weinstein and award-winning songwriter, multi-instrumentalist & vocalist John Cloyd Miller.
Tickets $22 in advance, $25 at the door. On sale online at this link, and at Nautical Wheelers.
Zoe & Cloyd:

9:01a Last week the National Hurricane Center updated their Hurricane Season forecast for 2019. They are now calling for a Above Normal hurricane season. That translates to 10-17 named storms, 5-9 of which will become hurricanes. Of those hurricanes, 2-4 will become major storms. It's about the same hurricane season forecast as last year.
We follow the Hurricane Season here at TownDock. Regular readers know that if a storm threatens eastern North Carolina TownDock.net will cover its forecast track – and if it lands – what happens. We do this relentlessly. We rely on NOAA/NHC forecast tracks & data for the storms. Once those storms have formed NOAA's data is outstanding.
But forecasting a season? Beyond creating a news story cycle every year, we're not sure it has much value.
One thing it does do however is remind us that the season is upon us. It is almost the middle of August, and it is quiet on the Atlantic this morning. But the waters of the Atlantic are warm. Storms will be forming.


It seems fair that this is not our year for a stormy visit (many are still rebuilding from Florence) – but whatever happens TownDock.net will be covering it.
Sunday August 11, 2019
7:01a Over 40 sailors were out on the Neuse Saturday for the Bow To Stern One Design Regatta. Most sailed FJs, but also out there were 420s, Lasers and a 5 boat PHRF class of larger sailboats. The winds were a bit higher than forecast, providing 10 knots and sometimes higher. It was about perfect.
The regatta continues for another race today, with awards this afternoon.
Sunny and near 90 today, with that ever present chance of rain. 40% chance today.
Saturday afternoon's brief rains delivered almost an inch (.83 measured.)
Watermelon Sunday is a long time Oriental tradition – for 2019 it is today – 4p at The Bonds. Not to be missed.
Yackity Yack Shak is catering this afternoon at The Brewery, serving 2-5p.
Friday August 9, 2019
8:04a Sunny. 90. Rinse & repeat. Soak it up.
About 3/4" of rain yesterday – on top of the 2" the day before. No rain in the forecast today – a small chance (30%) both weekend days.
New Classifieds:
Part-Time Bookkeeper Position Available
1984 Jeep CJ7 $7950
Gorgeous Waterfront Home
Two kerosene heaters-$200
Almost new generator $200
Owner Financing Possible
Great Car - Great Deal - Reduced Price
Build Your Dream Home at 161 Sunshine Dr. Arapahoe
sold, thanks town dock 10 ft centerboard sailing dinghy by ODay $300
Caribe Dinghy - Price Reduced Must Sell
Recent cover photos:
See
more cover photos...
Web Cams: