It's Sunday May 31, 2020

Dock Quote: "To be seventy...
News From The Village Updated Almost Daily
Upcoming Events
Online from OUMC. The Story
Over 100 Boats and Hundreds Of Humans Off Teachs Cove. The Story
Tracking The Cases. The Story
Online from OUMC. The Story
Celebrate but remain vigilant. Guest Columnist
Cherry Branch / Minnesott Beach Ferry On Increased Schedule. The Story
Virtual Hope Regala Raised $125,000. Letters To The Editor
Planting at home. The Story
The Stay-At-Home Order is lifted. The Story
Tonight's performance is dedicated to Marlene Miller. The Story
Listen on the water. The Story
Online from OUMC. The Story
Military asset lights up the sky. Captain's Blog
Songs about chewin' tobacco and love. The Story
Athlete, ambassador & rigging apprentice. Pet Of The Month
Online from OUMC. The Story
...and when in Eastern NC?. Guest Columnist
Budget amendments and Flood Insurance. The Story
Tunes That Can't Stay At Home. The Story
May 4 County Board of Commissioners. The Story
Too soon?. Letters To The Editor
Online from OUMC. The Story
COVID-19. The Story
Music Escapes From Galvinized Silos. The Story
Online From OUMC. The Story
Books to get you through. The Story
Music From Galvinized Silos. The Story
Pamlico Arts delivers Stay-At-Home Art. The Story
Online From OUMC. The Story
Show off your masks. The Story
The Music Comes To Your Screen. The Story
After all, this is Oriental. Letters To The Editor
Online From OUMC. The Story
A visiting cruiser, taking the pandemic seriously. Letters To The Editor
A need for virtual community outreach. The Story
The Red Rooster Comes To You. The Story
COVID-19 and the Caribbean. Letters To The Editor
Mark had just retired to embrace the crusing life. The Story
Hope Clinic Fundraiser Set For May 6-15. The Story
Appreciation for the people making our town work. Letters To The Editor
Live Music For A Stay At Home World. The Story
The April Pamlico County Commissioners Meeting. The Story
Show your colors. The Story
A reader writes in about unemployment assistance. Letters To The Editor
Online From OUMC. The Story
Separated by COVID-19, a daughter sends Happy Birthday wishes. Guest Columnist
Take out, delivery, and pick-up in Oriental. The Story
Live Music For A New World. The Story
Lady Deborah, berthed at the commercial dock next to town dock #2. Lady Deb is a big girl – 91 ft long, with a beam of 27 ft.
Sunday May 31, 2020
2:38p Water levels are up about 2.5 feet today. Hodges Street is flooded, although vehicles that would like to have an undercarriage salt water bath are still passing through. Water levels are just over the sidewalk on Hodges.
Today would be a nice day to have the water gauge back in service.
The Oriental water level gauge is broken – it has been since Hurricane Florence in 2018. TownDock spoke with David Herlong two weeks ago. David is with the Flood Warning Program at the NC Department of Safety.
David then told TownDock that Oriental was one of several locations going out for bid for installation. The estimate is that Oriental's water level gauge will likely be back some time in June, with July as a possible outside date.
As well as Oriental being repaired, so is the gauge at Cedar Island. Three new gauges are being installed, including one in Pamlico County. It will be at Hobucken, installed at Mayo's Seafood. The other gauges will be in Englehard and Mathews Island Wildlife Refuge.
With Monday being the first official day of hurricane season, we'll touch base with David again this week for an update.
Here's the January 2020 story – Water Gauge To Return.
10:36a Not a rain cloud in sight, either on radar or looking skyward. Sunny & upper 70s today, then sunny and no rain through at least Thursday.
10:30a Today's service from Oriental United Methodist Church is now online.
Pastor Anne tells TownDock that next Sunday the services will move outdoors, to be held at 8:30a by the Labyrinth across from Lou Mac Park.
A separate service from the sanctuary still will be available online, Sundays at 10:30a.
Saturday May 30, 2020
6:12p Here's welcome news. Sunday – mostly sunny. No chance of rain in the forecast.
May town evaporate.
6:08p
It's looking like Invest 92
probably
will not become a tropical storm. From
NHC
:
Shower activity has decreased today in association with a broad area of low pressure located about 400 miles east-southeast of Bermuda. Some development of this system is still possible through tonight, and it could become a short-lived subtropical depression while it moves northwestward over the central Atlantic.
Formation chance through 48 hours…medium…40 percent.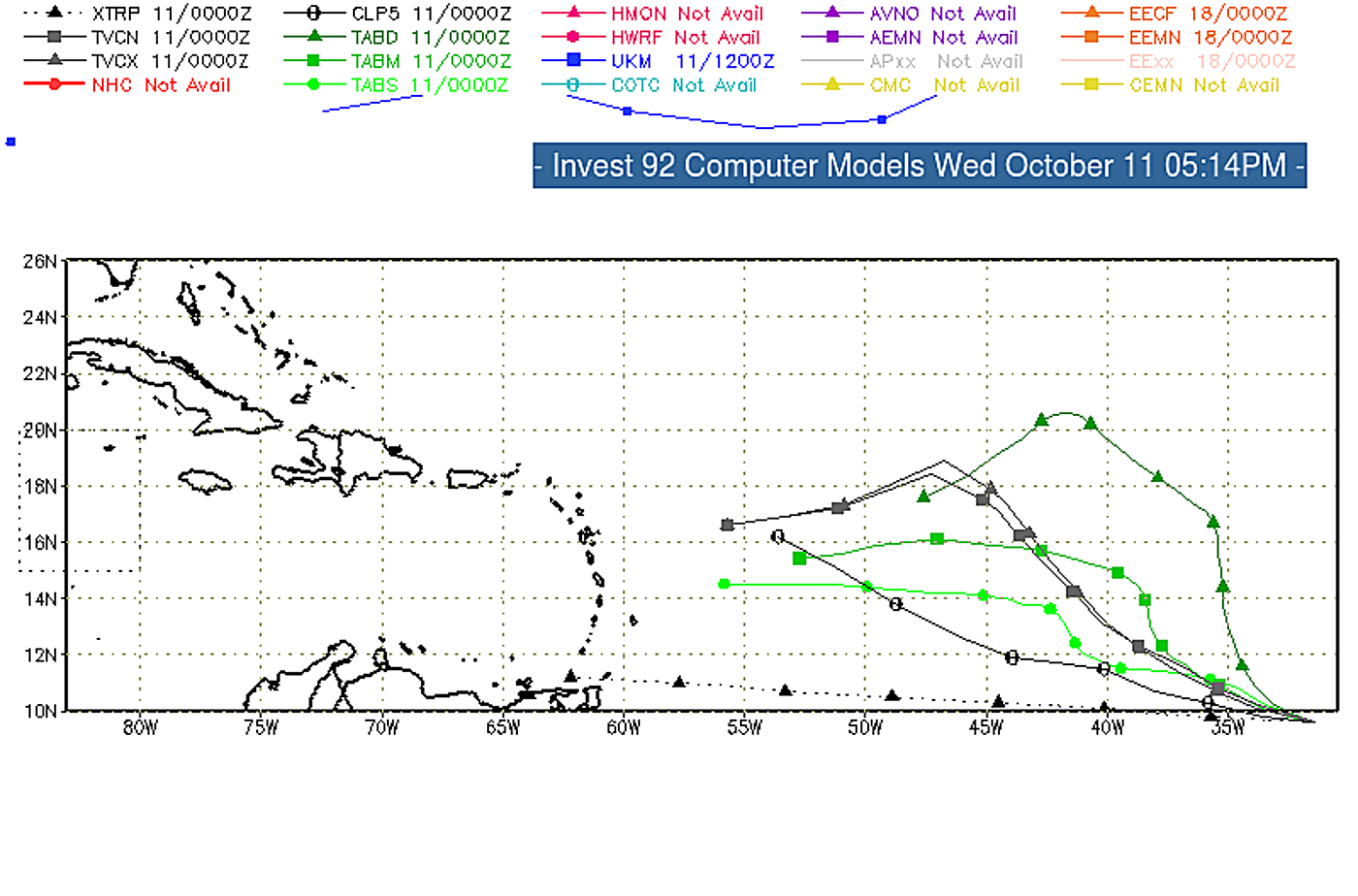 The latest is in the Hurricane Center.
12:44p Apologies to readers – there were technical challenges this morning regarding weather data on TownDock. TownDock engineering crew spent the last 5 hours fixing that, and now all is well. Thank you to The Bean for providing the needed caffeine while we stared at screens.
In a few minutes – Oriental's first virtual wine tasting. Italy & Florida will be connecting to Nautical Wheelers in Oriental. Details here.
We still may see a new tropical storm declared this weekend, but no worries – it is wayyy out at sea.
Friday May 29, 2020
6:10p TownDock reader Daniel Allen writes in with a reptilian spotting. "Heavy rain brings out some hidden inhabitants. These were taken today at the mouth of Whittaker Creek."


click pic for the big grainy gator view
Alligators have been spotted on Whittaker Creek for many years. Henry Frazer tells TownDock that he spotted an alligator this evening near the Lou Mac Pier, estimated 6 to 7 feet.
If you have any Neuse swimming plans, consider you may not be swimming alone.
5:12p Hurricane season – officially – starts Monday. June 1. It's still May, and there is another potential storm on the Atlantic. The computer models don't threaten us – the storm system is far offshore and forecast tracks suggest it may visit Newfoundland: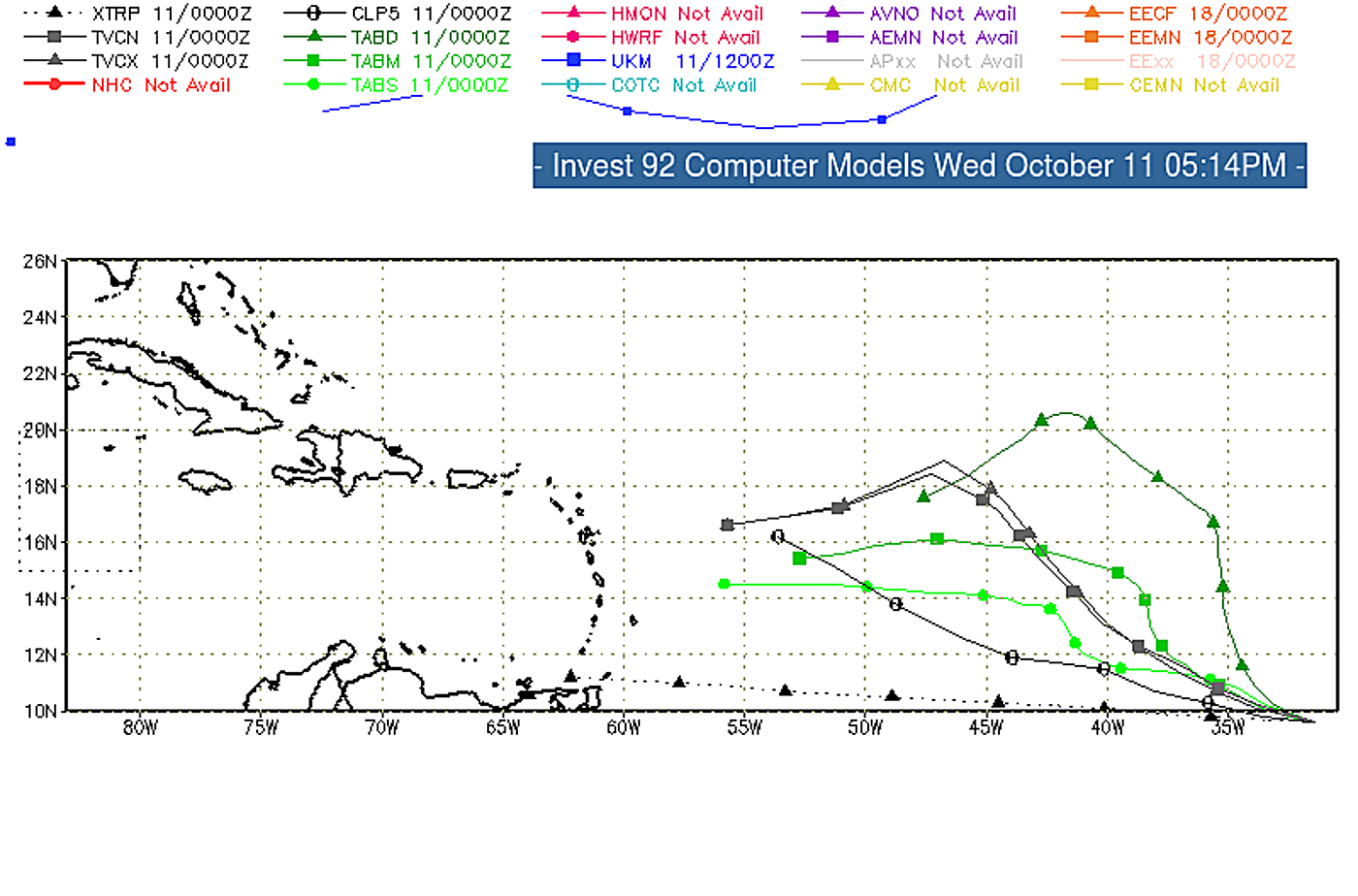 click image for the big view
NOAA says this has a 50 percent chance of developing into a tropical storm system in the next 48 hours. This thing could actually become a named storm. Before the season even starts, we've already burned through names Arthur & Bertha. The remaining 2020 storm names are: Cristobal, Dolly, Edouard, Fay, Gonzalo, Hanna, Isaias, Josephine, Kyle, Laura, Marco, Nana, Omar, Paulette, Rene, Sally, Teddy, Vicky and Wilfred.
4:51p The forecast is sunny and dry for Monday. And all next week. Really. Honest.
Today? Another 2.37 inches so far, over 16 inches of rain this month. TownDock Weather Geek staff hasn't dug through the data yet, but sometime this weekend the question "is May 2020 a record rain month" will get answered.
8:04a For the past several minutes, something odd has happened. It hasn't been raining. Unfortunately, rain is likely on and off today. And again Saturday.

Stand by patient reader – next week is forecast to be dry.
6:01a The May monsoons continue. Over an inch of rain in the past hour. Now over 15 inches of rain in the month of May.
Is this the wettest May ever? Maybe. NOAA says the average May in our area has about 4 1/2 inches of rain.
Checking Oriental Weather Station data: May 2019 had 3.4 inches. May 2018, 11.2 inches. May 2017, 8.0 inches. May 2016, 7.5 inches. May 2015, just 2.3 inches.
We will be checking more weather station data today, and reporting back.
May 2020 ain't over til Sunday @ midnight.

• Oriental NC Forecast
• Oriental Weather Station
• TownDock streams NOAA Weather Radio Online
• Neuse River Marine Forecast
• Newport Morehead City NC Weather Radar
On the dark & stormy subject… here's a video from the TownDock archives. A September 2017 downpour, for your dark & stormy eyes:

Thursday May 28, 2020
6:29p A 10th case of COVID-19 has been diagnosed in Pamlico County. The press release came minutes ago.
5:32p For the second day in a row, North Carolina coronavirus hospitalizations have reached an all-time high. Now 708 cases hospitalized, over 780 newly diagnosed cases today, with now over 25,000 statewide. Over 850 have died in our state. The virus does not appear to have peaked yet in NC. The numbers are here.
Pamlico County remains fortunate. Just 9 cases Now 10 cases diagnosed thus far, and all 9 have recovered.
1:42p Sunday was the first Pirate Jam. It won't be the last. Check out the scene from Pirate Jam 2020 here.
Who is Antonio Sanguinetti? Antonio is the guy from Bocelli Family Vinyards in Italy, that will be visiting Nautical Wheelers via Zoom this Saturday. Meet Antonio:

The online wine tasting is Saturday at 1p. Details here.
11:52a New Village Brewery opens for take-out at 3p today with a freshly brewed batch of Purdy's Pale Ale. Originally, breweries were not included in the Phase 2 reopening. But a revision order changed that – they're now subject to the same restrictions as restaurants.
Frank and Lili have made the decision to keep New Village Brewery take-out only at this time. To read the Brewery's decision, click here.
8:56a May has seen over 13.5 inches of rain this month; more than 2 inches of it fell this morning.
There's more on the way, too. It's forecast to rain through Saturday with highs near 80.
Bertha ceased to be a tropical system late last night. What remains of Bertha is now over West Virginia.
Wednesday May 27, 2020
3:24p Businesses are adapting to Phase 2. The folks at Deaton Yachts write in with the latest on how the yard is making life work, blending caution with customer support:
3:13p If you didn't win one of the items during the Hope Regala, you still have an opportunity to pick up a Boater's Dream Package at River Dunes. Sheri Rettew writes in:
There's a great deal at River Dunes available through Hope Clinic as part of their Virtual Hope Regala.
The Boaters' Dream Package includes 3 consecutive nights' dockage and all related amenities at River Dunes and is only $200. The deadline to purchase this deal is May 31st and only available through Hope Clinic. You won't find this deal available any other time of the year. Dockage must be taken by December 31, 2020 and excludes special events, holidays, and hurricanes. Help support Hope Clinic's Virtual Hope Regala and provide free medical care for someone in need.
Click here for the Boaters' Dream Package information and registration.
12:46p Every summer, the Children's Theater Workshop holds a 4 week workshop (2 workshops over 2 weeks) for kids at the Old Theater. It culminates with a performance showcasing the kids' talents and new skills.
This year, the summer workshop has been cancelled because of COVID-19 concerns. But the future holds some theater related possibilities. Yolanda Cristiani writes in:
It is with a heavy heart that the Board of Directors for the Children's Theater Workshop announce the decision to cancel the 2020 Summer Theater Workshop.
This decision was made because we are faced with risks and uncertainty that can't be eliminated, even with the best of preparations and intentions. This challenging decision has been extremely difficult and comes with disappointment of not being able to provide the full theater experience to the children in our area.
However, the board is now tossing around some fantastic plans to make sure we keep the theater arts active here for the children, despite the cancellation of the summer program this year. Ideas include guest artists, former drama coaches, and other theater based talent coming to Oriental later in the year, when it has been deemed safer to do so.
8:40a Didn't expect that. A couple hours ago NOAA had the "subtropical low" at a 30% chance of forming into a tropical storm system. Then, bingo, we have Tropical Storm Bertha. No cause for alarm… Bertha ain't coming to our town.

The area of disturbed weather that
NHC
has been tracking over the past day or so has quickly become better organized this morning. The circulation has become better defined and the center has reformed beneath the area of deep convection just offshore of the coast of South Carolina.
Recent NWS Doppler radar data from Charleston and buoy data indicates that the system is producing tropical-storm-force winds. Therefore, advisories are being initiated on Tropical Storm Bertha. The system will be moving inland very shortly and little, if any, additional strengthening is expected. Once inland, the small tropical cyclone should weaken rapidly and dissipated over central North Carolina on Thursday.
•
Tropical Storm Bertha Tracking Chart
•
Tropical Storm Bertha Forecaster's Discussion & Computer Models
•
Tropical Storm Bertha Public Advisory
6:44a The potential storm (a subtropical low) is now offshore about parallel to the Florida / Georgia border. It's heading north, however computer models show it going inland and west of us. The models show it coming ashore near Charleston, then north towards Charlotte.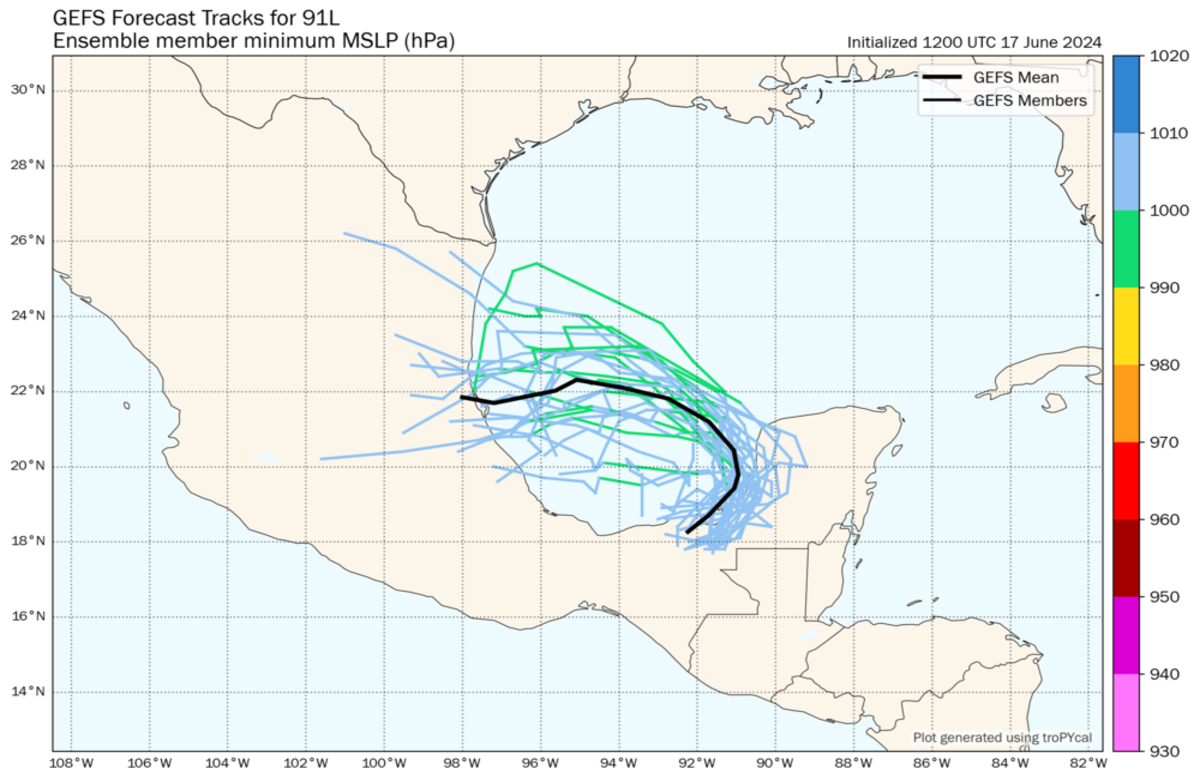 It's not a big weather event even in Charleston… they may get 1-2 inches of rain and 25-30 mph winds.
While the subtropical low isn't visiting, the forecast is wet anyway. Showers and thunderstorms likely today – and the same is forecast through Saturday.
Tuesday May 26, 2020
12:50p Pamlico County has just had nine diagnosed COVID-19 cases so far. Pamlico County Emergency Services reports case #9 has now recovered. The press release at this link.
Statewide, the information is not so positive. There are now over 24,000 cases. Friday saw a new North Carolina record for new cases in a single day – there were 1,107.
8:48a NHC has updated the Special Tropical Weather Outlook this morning, but it says about what it did last night. Which is, we might get some rain & wind Tuesday/Wednesday.
Here's a satellite view of the tropical disturbance:

Even without a tropical visitor, rain is in the forecast. Today, just cloudy. But Tuesday through Saturday has a 70% chance of rain, every day.
Monday May 25, 2020
6:50p It's still not hurricane season, but a "tropical disturbance" is over Florida. From the National Hurricane Center, a Special Tropical Weather Outlook:
Widespread showers and thunderstorms extending across Florida, the Bahamas, and the adjacent Atlantic and Gulf of Mexico waters are associated with an elongated surface trough interacting with an upper-level disturbance. Although a weak surface low could form along the surface trough just off the east coast of Florida and move northward toward Georgia and South Carolina on Tuesday and Wednesday, the low is not expected to become a tropical cyclone due to strong upper-level winds.
Regardless of development,
heavy rainfall could cause flash flooding over portions of southern and central Florida tonight, spreading northward to coastal sections of northeastern Florida, Georgia, and the Carolinas on Tuesday and Wednesday.
Gusty winds could also produce rough marine conditions and life-threatening surf and rip currents along the coasts of eastern Florida, Georgia, and the Carolinas through Wednesday.
• Formation chance through 48 hours…low…20 percent.
• Formation chance through 5 days…low…20 percent.
1:22p The day started out with solid clouds, but partly cloudy skies are emerging for the afternoon.
12:59p At noon, 10 or so boats gathered outside the harbor, in front of the Oriental Bridge. Traffic on the bridge briefly slowed to a crawl, avoiding pedestrians and cyclists who'd stopped to listen. Have a listen yourself as Gordon Kellogg and Christine Mele play Taps:
9:15a It's Memorial Day. A gravestone in the Oriental Cemetery illustrates why we have the day.
At noon, Gordon Kellogg and Christine Mele will play Taps from the Oriental Bridge.
Partly sunny today and tomorrow, and high in the mid to high 70s. But the rain will be back on Wednesday and hanging around until the weekend.
Sunday May 24, 2020
6:10p Pirate Jam continues til 7p, with about perfect weather. It was a little breezier than forecast (15-20 mph winds at times) but the boats and humans at Teachs Cove looked happy.
Salute to Pamlico Arts and Salt Water Gold for making it happen.
1:36 Shout-outs. You can get the band to do a highly amplified shout-out at today's Pirate Jam.
If could be congratulations. It could be lovey-dovey. The Pamlico Arts folks have decided you can request these shout-outs during the Pirate Jam. You just make your shout-out request with the online form. They are free for Pamlico Arts members, ten bucks (a donation to Pamlico Arts) otherwise. All on the honor system.
Make your shout-out happen by clicking here.
12:13p If you're in the SailLoft area today, keep an eye out for two food-motivated escapees. The Chapins are looking for their two dogs: a yellow hound and a black/brown fox hound mix. FOUND.
10:30a This morning's service from the Oriental United Methodist Church is now online.
8:51a Blackbeard is on the cover. There's music today off Teachs Cove. Eddie Teach has today's quote.
There might be a theme here.
6:30a Pirate Jam's perfect day is emerging. After the fog lifts, mixed sun and clouds and a high in the low 80s.
On the Neuse light 5-10 knot northeast winds.
If you were up early you would have seen deep fog over town.
Saturday May 23, 2020
2:26p A week from today Nautical Wheelers holds a wine tasting… different from any you've attended. The Wheelers have hosted wine experts from Italy before – they were right there visiting the store in Oriental. This time the wine expert (Antonio Sanguinetti ) will be in Italy, joined by another (Jody Allen) in Florida. The Wheelers will be at their stores in Oriental and New Bern. And you? You'll attend the wine tasting via Zoom. You might be in Oriental. Or Raleigh. Or anywhere on the third rock from the sun.
The Virtual Wine Tasting is Saturday May 30 at 1p. Four wines from Bocelli Family Vineyards. Your hosts in Italy and Florida will be pouring and describing the wines during the tasting. You'll get to comment and ask questions while imbibing from your own bottles.
Here's what ya do. Get a box of the 4 Bocelli Family Vineyard wines. Each box comes with Tasting Notes and Zoom instructions on how to join. Deadline to pre-order is 12p Wednesday, May 27. The 4 wines are offered at the VIP wine price of $60. Purchase at either Nautical Wheelers location or online at www.nauticalwheelersnc.com. Available for local curbside and in store pick-up.
9:07a Phase 2 is here. It will make life seem more "normal." Oriental resident Dr Mac Ernest writes about how to stay safe while enjoying Phase 2.
The Cherry Branch / Minnesott Beach ferry is back on an almost normal schedule as of today. There are now 17 runs each way daily – up from just 6.
8:19a On Monday, Memorial Day, at noon, Trumpeters Gordon Kellogg and Christine Mele will play Taps from the top of the Oriental Bridge.
If you're nearby pause to listen.
8:04a It's been days since one could state the following: It didn't rain last night. Finally, last night it was true.
Mixed clouds and sun today. The hour-by-hour 'cast shows an increasing chance of rain after 3p. That wet potential moved the Pirate Jam to Sunday, 3 til 7p.
Easy boating this weekend, 5-10 knot winds today & Sunday on the Neuse.
Friday May 22, 2020
5:12p Phase 2 has begun. Most restaurants in Oriental are now open with inside dining.
While restaurants are getting to re-open tonight, New Village Brewery still has to be take-out during North Carolina's Phase 2. They are open for take-out – visit the window in the beer garden or call 252-249-6132. Open today 3 til 7p, Saturday 1 to 7p.
The Silos restaurant has chosen not to open for inside dining right away. Chris Daniels states "I'm concerned for the safety of both my employees and customers, and I'm not comfortable opening our inside dining on one of the busiest weekends of the year." The Silos dining area may re-open next week, but no date has yet been stated. Meanwhile, they are open for take-out Tuesday – Saturday, 11a – 9p. Call 252-249-1050 or order online at www.silosnc.com.
M&Ms Cafe welcomes customers back for inside dining tonight, and also take-out. To see all M&Ms Menu and Special options – click here. Open 7 days a week, 11a-8p. Call M&Ms to order takeout, 252-249-2000.
3:08p The state COVID-19 site shows Pamlico County with 10 cases as of today. It turns out that there are still only 9. Pamlico County Director Of Emergency Management Chris Murray tells TownDock it appears to be a data error on the state site:
There is not a 10th case in Pamlico County at this time. Initially reported that there was however, it has been determined that the case belongs to another county that is not near us and seems to have been possibly a wrong address or zip code mistake.
2:50p The Pirate Jam is being moved to Sunday. Right now the forecast is close to a 50-50 chance of rain. Chris Daniels has to set up thousands of dollars of music equipment (out in the open) to make this happen. Sunday has a perfect sunny dry forecast. So – Pirate Jam 2020 has been moved to Sunday May 24, 3 til 7p.
1:50p Ferry service will increase its schedule starting Saturday:
From Cherry Branch: 5 a.m., 5:45 a.m., 6:45 a.m., 7:45 a.m., 9 a.m., 10 a.m., 11 a.m., noon, 1:30 p.m., 2:30 p.m., 3:30 p.m., 4:30 p.m., 5:30 p.m., 6:30 p.m., 7:30 p.m., 8:30 p.m. and 10 p.m.
From Minnesott Beach: 5:25 a.m., 6:15 a.m., 7:15 a.m., 8:30 a.m., 9:30 a.m., 10:30 a.m., 11:30 a.m., 12:30 p.m., 2 p.m., 3 p.m., 4 p.m., 5 p.m., 6 p.m., 7 p.m., 8 p.m., 9 p.m., 11 p.m.
All new NC Ferry Schedules at this link.
11:01a Hope Clinic's $10,000 Golden Raffle Ticket winner braved COVID-19 restrictions to pick up his $10,000 check from Hope Clinic headquarters Thursday. Pictured are the winner, Stanley Feigenbaum and Yolanda Cristiani, Annette Jenkins, April Worley, and Kim Stewart from Hope Clinic.

The 2020 Hope Clinic Virtual Regala was a fundraising success. Executive Director Yolanda Cristiani writes in with thanks to all who made it happen.
10:35a Pamlico County has 9 diagnosed cases of COVID-19. When you look at the state COVID site for cases via zip code, you will only see 8. That's because zip code 28560 is in both Craven and Pamlico counties. Zip code 28560 shows 39 cases.
TownDock has been able to determine that 38 of those cases are in Craven County – and 1 is in Pamlico County. So we created a zip code map for our county with current case numbers:


(click map for larger view)
The last case announced in Pamlico County was on May 18. Eight of the nine cases of Coronavirus have been deemed recovered. Pamlico County has had no deaths thus far.
Statewide, it is a different story. Over 21,000 cases diagnosed as of today, and over 740 deaths.
North Carolina's Phase 2, gradually re-opening the state, kicks in today at 5p.
7:24a Another 1 1/4 inches of rain dumped overnight. Yet, the morning brings a magical sight. While the sky at this writing is cloudy almost everywhere, there are some patches of blue. By 10a there should be more blue, although a clear day is not ahead. Mostly cloudy / mixed clouds and sun for mid morning through the afternoon.
Rain, that guest that won't leave, is forecast to return late tonight & overnight. Saturday may start wet, but right now the forecast indicates it should be dry and sunny in time for the Saturday now Sunday 3p start of the Pirate Jam.
Saturday morning, if the forecast looks wet, Pirate Jam organizers will announce the event gets moved to the rain date – Sunday May 24. However, right now Saturday is the day. The Pirate Jam has been moved to Sunday May 24.
Thursday May 21, 2020
3:14p A beer goes well when it's sunny & clear. But they drink a lot of beer in Seattle and London – word is a brew helps with dealing with the wet weather.
At New Village Brewery they just might have some beer. While restaurants are getting to re-open Friday night, the Brewery still has to be take-out during North Carolina's Phase 2.

This week on tap are these New Village Brews: Whitecap American White Ale, Chuck Will's Widow Black IPA and Red Beard's Brown Ale. Open today & Friday 3 til 7p, Saturday 1 to 7p. Just visit the take-out window in the beer garden or call 252-249-6132. Grab some beer for Saturday's Pirate Jam.
2:02p This morning trawler Lady Deborah left her berth, and tied lines on a larger trawler being worked on at Point Pride Seafood in the harbor. The Lady Deborah became a tow boat, towing the larger vessel away. It appeared to work OK, except just as entering the channel the vessel being towed went aground. A small push tug assisted. Visiting sailor Martijn Dijkstra got video of the scene:

1:27p Since midnight, another inch of rain has fallen. Homer Walden captured this view of the heavy rains earlier today, taken from The Bean porch:


click photo for the big wet view
1:02p Gardening is an art. Rachel Tipton of Harbourside Garden Company shows you how. Click here, gardening art enthusiast.
7:20a The gloomy monsoons continue. Thunderstorms could be heard in Oriental early this morning. Water levels are still high, although a few inches lower than at this time yesterday.
It's rained a lot lately. Over 8 inches this month, and almost all of it this week. Monday (Arthur) 3.71 inches, Tuesday 0.95 inches, Wednesday 1.68 inches. Today… TBD. Here's a review of climate numbers so far this month from the Oriental Weather Station:


click table for larger view
Today, more showers. Highs mid 70s. Southeast winds 15 to 20 mph, gusts up to 30. Tonight, more of the same, low in the upper 60s.
Friday is forecast to start off wet, then a partly sunny afternoon. Highs just over 80.
• Oriental NC Forecast
• Oriental Weather Station
• Neuse River Marine Forecast
• Newport Morehead City NC Weather Radar
• TownDock streams NOAA Weather Radio Online
Wednesday May 20, 2020
7:00p It's Open Mic Night at The Silos. Come on in and sit a spell.
5:37p Governor Cooper has announced Phase Two. Locally, it means most restaurants in Oriental will open for inside dining Friday at 5p. Here's the story…
4:30p Tonight at 7p, a very special Open Mic Night. It will be on TownDock at 7p.
NC Governor Roy Cooper is expected to announce Phase 2 of re-opening the state in a news conference today at 5p. We will have the UNC-TV feed live right here:

12:55p Since the COVID-19 crisis began, the Cherry Branch to Minnesott Beach Ferry has been on a limited 6 run schedule:
• From Cherry Branch: 6 am, 8am, 10am, noon, 2pm and 4pm.
• From Minnesott Beach: 7a.m, 9am, 11am, 1pm, 3pm and 5pm.
TownDock contacted Cherry Branch operations today to inquire if that would change for the coming holiday weekend. Right now, they are saying it will stay on the limited schedule above. Governor Cooper is expected to announce later today that Phase Two will begin as early as Friday. We will inquire with the ferry service again tomorrow if that will change anything.
9:27a At this morning's budget meeting, Commissioners agreed to keep the current property tax rate for the 20-21 town budget. Oriental has held the same rate, .22/100, since 2016.
Over an inch and a quarter of rain this morning, with more rain to come. Winds are ENE, 15-20 mph and gusts up to 30. You may have to leap up into your boat: sustained east winds bring higher waters.
This evening's Wednesday Night sail is for the exceedingly hardy: E winds 20-25k, gusts up to 30k. There's a small craft advisory in effect until tomorrow afternoon.
• Oriental NC Forecast
• Oriental Weather Station
• Neuse River Marine Forecast
• Pamlico Sound Marine Forecast
• Newport Morehead City NC Weather Radar
• Southeast Weather Radar
• TownDock streams NOAA Weather Radio Online
New Classifieds:
2005 Ford E150 Chateau Club Wagon
Huge Savings On Mercury Outboard Motors
1965 Columbia 24 Challenger
GPS and Antenna - Like New
Too Many Yachts Sold-Triton need listings urgently
ShelterLogic 10 x 15 x 8 Garage
Inverter/Charger Xantrex Freedom 1800 Brand New
Marine Industry Help Needed
Property for sale
Wall Clock, Kimono, Heaters & More
Recent cover photos:
See
more cover photos...
Web Cams: