It's Sunday June 26, 2016
Dock Quote: "Write about what...
News From The Village Updated Almost Daily
Upcoming Events
June Town Board Mtg: $848K Plan. The Story
Former Commissioner Weighs In. Letters To The Editor
4th Annual: Hours of Music, No Rain. The Story
Backyards As Feeding Grounds. The Story
Oriental Or..... Letters To The Editor
The word "Oriental" has been banned from use in federal law.. Online Poll
Scenes from 'Music & Memories'. The Story
Adventure From Land To ICW And Back. The Shipping News
Susan Werner's Debut of "Carolina" in Oriental. The Story
Four Finalists Vie To Succeed Late Cleve Cox. The Story
49 Dogs Hit The Streets. The Story
Gender Identity Assured Thanks To New State Funding. World Exclusive NewsExtra
A Quick Way For Visiting Boats To Spot Oriental's Public Docks. The Story
Apple Semi-Stealthily Visits Oriental. The Story
Oriental Welcomed 5 College Teams At Regatta. Letters To The Editor
Kenny Heath, Kari Forrest Hammond Victorious. The Story
Early Voting Now - Bring Photo ID. The Story
Pictorial of Performers. The Story
Avoid or Repeat Walmart Experience?. Letters To The Editor
A Crew's Eye View. The Shipping News
One Boat, One Pool, 48 Paddlers. The Story
Nipping In Bud, or Cutting Speech?. Letters To The Editor
Town Could Clamp Down On What Is Said. Guest Columnist
1929-2016. The Story
The Timeline: Two Weeks and... Gone. The Story
Spread of Rot A Safety Concern. The Story
Post-Walmart, Post-T&C Oriental. Letters To The Editor
Town-n-Country Manager Calls Move "Pitiful". The Story
Experiment Over, Now What?. Letters To The Editor
23rd Instead of Football Regatta. The Story
How To Get There . Letters To The Editor
January Board Meeting. The Story
One To Remember. Letters To The Editor
Half Century of No Rain on This Parade. The Story
Positive Flotation: Boat Easier Than Apartment. The Shipping News
Even A Dragon Needs A Home. The Story
100 Runners, Walkers Help Hope Clinic Raise $1700. The Story
Rabbit Ears For A Digital World. The Village Geek
Lighted Flotilla Takes A Village. Letters To The Editor
Merry Dinghy Christmas. The Story
Saturday June 25, 2016
It's a quiet weekend. The calm before the Croaker.
ODC's Sunfish fleet will be out sailing/racing this afternoon on the Neuse.
Small chance of rain (it ain't gonna) (TownDock weather guy gets a strike) and mid 80s today, Sunday mixed sun & clouds and about 80.
Friday June 24, 2016
8:21a About that Croaker Festival parade. Saturday July 2. The Parade Master needs your brilliance:

7:23a Hmmm. It's almost July. Happens every year. Croaker Festival is just a week away.
We've just learned that former resident Sylvan Friedman passed away earlier this month. Sylvan was the former owner of Croakertown (and the building), and a local developer (including The Cloisters on Kershaw Creek.) The simple obituary just reads He was married to Lynn. Condolences to Lynn & the Friedman family.
50% chance of rain today, 90, then clearing and cooling (a bit) to mid 80s for the weekend.
Thursday June 23, 2016
12:35p He's not in Kansas anymore.
Chuck Lee, who's competing in the TransAm Bike Race, crossed the border between Kansas and Missouri about 2 hours ago. He's since added about 28 miles, bringing him to 2733 of the 4,400 route.
The Arapahoe resident, who is 66, took off from Astoria, Oregon on June 4 with several dozen other cyclists. Destination is Yorktown, VA.
The good news – especially for a cyclist from the flatlands of Pamlico County – is that the most mountainous riding is done. Though those Appalachians await. And some humidity…
(Click here for some photos of Chuck before the TransAm started.)
9:50a Well, those cool mornings were nice while they lasted, but it seems summer has tracked us down here at ol' 35.02N, 76.7W.
We can state that with authority, based on the Wet Towel Gauge – stepping outside this morning, the air hung as heavy as a wet terry cloth towel. At 6a. Not soppin' wet as in August, but definitely saturated.
And with today's temps up in the 90's combined with the humidity we're looking at a heat index of 102. Plus a chance of afternoon thundrerstorms in your Oriental Weather Forecast. Yep, it's summer..
Croakerfest Garbologist Jayne Stasser now has all the forkift trash runs covered for Croakerfest next weekend. Thanks for coming thru.. The parademeister, Paul Fairbank could use more entries in the parade. 249-1211
Wednesday June 22, 2016
3:45p Chris Daniels at O'Town restaurant writes in:
It's been a great O'Town opening and a great first few weeks – thank you!
An apology to our customers…
this Friday night from 5pm until closed we are closed due to a private wedding party.
This was something scheduled before we took over. Please know going forward I would never close O'Town for a private booking.
This was out of our hands… and it will never happen again.
We will be open for Friday lunch 11 – 3. O'Town is normally open Thu- Sun 11am – 9pm. Closed early, just this once, for Friday night. Thank you.
12:14p We are 10 days away from the Croakerfest Parade – it's on Saturday, July 2 – and the Parademaster says he'd like more entries. It's easy. No charge. Just stop by the hardware store and ask for Paul.
Theme for this year's C-Fest is "Embrace Your Volunteer Spirit." The theme was determined by the organizers to tie in with the 100th anniversary of the Women's Club. As such, that is the theme to work with for the parade, too.
But don't be daunted. You can also just don a croaker hat, clothespin playing cards so your bike spokes make that thwappitta-thwappitta sound and toss out a bucket of candy and folks along Broad and Hodges will cheer you on…)
Up to 90 today says the Oriental Weather Forecast. Odd thing — and merciful at that — is that the first few hours of the days have been cooler than the steam-bath air that's usually laying in wait when you head out the door on a summer morn.
In What's Happening – today being Wednesday, there's the standing invite to join in the late afternoon sailboat race, and on land to take to the stage at the Silos Open Mic night.
Tomorrow night, the Oriental Food Initiative serves up Food For Thought – where folks who've read the chosen book and then get together to talk about it, as is the case tomorrow night. If you haven't read the book – it's Animal, Vegetable, Miracle you're still welcome to attend.
Tuesday June 21, 2016
10:50a How's your volunteer spirit, Bunky? Your chance to let it shine – and get a cool t-shirt— is here.
Croakerfest is coming up in 10 days – and this year, the Garbology team's taking a new approach – Adopt-a-Garbology Run. Teams of 2 or 3 are pulling shifts running the forklift thru the festival grounds and carrying away le trash. The teams are coming from families and from community groups.
The garbology chief, Jayne Stasser, says she has 2 more shifts to fill – at 5:30p & 8:30p on Saturday July 2.
In addition to the marketing opportunities and exposure for you and your peeps, you'd get a commemorative C-fest Garbology t-shirt. Not everyone gets to wear one, y'know. Call Jayne at 617-9219 to Adopt a Garbology Run.
6:27a Big Moon Wowza from last night. A dozen or more kayakers (and dinghies too) were in the harbor watching. Lou Mac Park was a favorite (and probably the best) place to take in that full moon. Shot from the park above.
Danielle is over (the tropical storm). Just some rain on Mexico. Earl is the next name in line. We had a Hurricane Earl in 2010) that threatened us but then kindly stayed offshore. Here's hoping 2016 Earl stays on his good behavior.
A bit warmer today… highs near 90.
Monday June 20, 2016
12:20p The Tropical Depression got a name… now Tropical Storm Danielle. Danielle is kindly staying in Mexico.
Next on the 2016 storm names list: Earl, Fiona, Gaston, Hermine. The dreaded "I" name (we tend to get visited by "I" storms… Isobel, Irene) this year is Ian.
Looking ahead on What's Happening, this Thursday night's a Food For Thought conversation about the book, Animal, Vegetable, Miracle. (The Oriental Food Initiative organizes these community reads. For more, click here.
And the Children's Theater Workshop starts next Monday. Still time to register.
11:48a The Summer Solstice is almost here, arriving at 6:34 tonight. A couple of ways to welcome summer in.. It being Monday, Bow to Stern offers Open Sailing so you can take out one of their boats. Set up is at 5p.
And, some area kayakers are paddling out to the harbor's breakwater tonight take in a rare production from Mom Nature – a full moon rising on the same night as the summer solstice. You take in a sunset and less than 10 minutes later a moon rise. More details, here…
Sunday June 19, 2016
5:36p We have a Tropical Depression, but nothing to worry about. Tropical Depression Four (might become Danielle) is in the Gulf and heading to Mexico.
The great wall will prevent domestic ingress.
12:40p Low 80's and no rain that's the outook, simplified. The fuller Oriental Weather Forecast is here.
The Greatest Show on Earth? Not precisely. But tomorrow night's full moon coincides with the summer solstice, with the moon rising right after sunset. Some kayakers are paddling out to the breakwater at Oriental's harbor to catch the great view of moonrise over town. You are welcome to join 'em.
8:58a The Minnesott-Cherry Branch ferry is back to its regular schedule this morn, with both boats running — one of them could not run yesterday as the high water was a challenge at the loading ramp.
Sue Kinner, Ops Mgr for the ferry, says that that's changed this morning.
Neuse River has dropped enough that the Kinnakeet is now able to slide under the ramps, so she is back in service. Both boats are now operating on time and on schedule.
8:11a Water levels still high, but on their way down: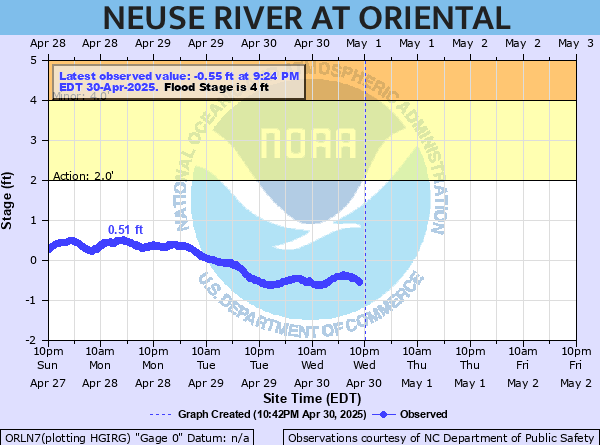 Hodges Street is now passable. It was yesterday for those that like an automobile salt water bath, which is oddly popular.
Saturday June 18, 2016
11:39a Some things to do as we try to dry out and wait for the terra to become firma.
In What's Happening this afternoon… Nautical Wheelers monthly wine tasting takes in several selections from one South African winery, and at Town Hall, PCC offers a look at a few alternative and integrative treatments. There's also an antique shop closing sale.
And just being organized — a paddle on Monday evening, to take in the first sunset and first moonrise — moonrise — of summer. Details in What's Happening.
10:50a The Minnesott Ferry route is on a reduced schedule today. Just one boat is crossing the Neuse because the other boat can't attach at a safe angle to the ramp. That's because of the rising water blown in by the north wind.
Operations Manager Sue Kinner says water continues to "creep up." If it creeps too much, that could mean not even a reduced schedule. (ie, zip nada)
We are still holding our breaths and watching the water… Fortunately it's coming in very slowly and we are able to keep the big boat, the Neuse, going. She has about a foot before she'll have problems. So, as long as we can get Neuse under the ramp, we will keep running on our one boat schedule.
From Minnesott Beach: 11:30a,12:30p, 2p, 3p, 4p, 5p, 6p, 7p, 8p, 9p, 11p, 12:30a
From Cherry Branch: 11a, 12noon, 1:30p,2;30p, 3:30p, 4:30p, 5:30p, 6:30p, 7:30p, 8:30p, 10p, 12midnight
8:04a More than a tad soggy in Oriental this morning. Rains late yesterday put 0.8 inch on already swampy ground. Add some winds out of the north, and the result: COASTAL FLOOD ADVISORY IN EFFECT UNTIL 8 PM EDT THIS EVENING
More locally speaking, down by the harbor, Hodges is under water. (Given how often this happens, H2odges is emerging as an alternative spelling ….)
Nonetheless, the Bean is open. So is the Farmers' Market.
Getting across the river may take longer. The high water is affecting the Minnesott Ferry: only one of the ferry boats can safely connect to the ramps. So, for the rest of the morning, here's the reduced sked:
From Cherry Branch: 9a, 11a am and 12noon. From Minnesott: 10a, 11:30a.
Friday June 17, 2016
4:14p While the Summer Solstice race is cancelled (see below), the "after" picnic isn't. Gerry Crowley writes in:
Yes, no race but our Pig-Pickin is still on for our participants. We will be presenting "awards" for best "Fascinator" (Ladies) and "Chapeau" (Gentlemen). We have also advised that there will be no "gender identity" test/testing required of participants.
FYI

:
Fascinator
and
Chapeau
is fancy foreign talk for "Hat."
2:35p Saturday's Summer Solstice race has been cancelled. The Pamlico Sound Marine Forecast explains why: Gale Warning. Winds to 35 knots Saturday.
The Summer Solstice race has been run for the past several years by SCOO & ODC. Prior to that, it was the annual event of the world famous Whortonsville Yacht & Tractor Club. You actually got to win "The Whortonsville Cup."
Lets go back in the Wayback machine and check out the 2006 Yacht & Tractor race.
12:45p Some money was found at Nautical Wheelers. Bill Wheeler wants to repatriate the cash with its rightful owner. If it's yours, he says, call the store:
To claim: Please contact Cathy at 252-249-0359 to identify the specific denominations and time/date lost.
8:20a For a day when temps are supposed to get into the a upper 80's, it is a remarkably cool morning.
If you're a fan of slinking in to summer, rather than getting hit with a 2×4 of exhausting temps, then you'll like the Oriental Weather Forecast for the weekend and Monday's summer solstice. Highs only around 80. And, nary a mention of rain. (We could get some late this afternoon/early evening.)
Now,to celebrate the summer solstice you don't have to dance to a Druid beat around big rocks in England.
A quarter century ago, Whortonsvllle started its own solstice tradition with a sailboat race (of sorts) – the W'ville Yacht and Tractor Clubs Sailebration.
It lives on as tomorrow's Summer Sailstice Regatta – racing on the Neuse, potluck & pigpickin' on upper Broad Creek. Still time to join in….. (There'll also be a hat contest…)
Mac McWilliams plays the Red Rooster tonight starting at 7p.
He brings a long playlist of bluesy-Texas-roadhouse-swamp-rock to the roadhouse behind the Silos.
Also, Nautical Wheelers' wine tasting on the porch tomorrow features wines from South Africa. Just show up at 3 or 4p. And elsewhere in What's Happening, Roaring 20's 'Mad Hatters Ball Sat night to benefit the Pamlico Partnership for Children.
Might want to get up early in these next few day and catch a sunrise (circa 5:45a).
Around this time of the Soltice, you'll find sunrises over the river are happening farther to the East than they do all year.
(A Dock Quote this week touched on getting up to see them.)
Thursday June 16, 2016
10:34a The new PCC President is… officially official. From The State Board Of Community Colleges:
RALEIGH

June 16
– The State Board of Community Colleges today approved the selection of Dr. Jim Ross as Pamlico Community College's fifth president.
Dr. Ross has 15 years of executive leadership experience in higher education and eight years in executive level positions in the non-profit sector. He is currently employed as Vice President for Institutional Advancement and Development at Piedmont Virginia Community College in Charlottesville. The Pamlico Board of Trustees voted to approve Dr. Ross on May 31 pending the State Board's concurrence. Dr. Ross will assume his duties on July 25.
Ross succeeds the late Cleve Cox who was PCC's president for 6 years.
9:19a There are two interesting boats at the Town Dock. Not interesting because they are the most $ or most bristol yachts, but because they have a story.
One is Novella, the solar boat that used to be a J-29 sailboat (see above).
The other is Exposition, whose crew we met in a 2010 Shipping News… Living The Dash.
9:14a OK. here's the water story. It IS BACK. The town has been replacing ancient water meters all over town. They have replaced 100 residential ones without incident. There are fourteen 2" pipes around town where water meters have to be replaced…. these are at businesses with large water needs. Like the Marina Inn & Toucan Grill.
Yesterday, prep work in meter replacement broke the old water pipe. That caused the outage, taking out water on South Ave, Wall & Hodges.
Town Manager Diane Miller says it was fixed last night at 7:15p. Aqua is back at the Inn & Toucan Grill.
Wednesday June 15, 2016
10:28a From Town Hall:
WATER
MAIN
BREAK
: Hodges, Wall St , South Ave will be out of water for a water main break on South Ave. We'll be working as quickly as possible to restore service.
9:37a
The third of three new eateries in Oriental opens today.
Oriental now has a Mexican restaurant. Buena Vida – a collaboration of M&Ms owner Dave Sargent and his daughter, Amelia, is on Broad Street across from the Post Office (formerly Nels.) Buena Vida opens today at 11a for lunch. Hours are Wed – Sat 11a-9p, Sun 11a-3p.
Earlier this month two other restaurants launched. O'Town at Oriental Harbor Marina and Oriental Subs & Deli next door to the Post Office.
In a way we will get one more eatery soon. The Piggly Wiggly is set to open July 20. While its main feature is the return of a full service grocery store to Oriental, they will also have some inside tables (even a couch) where you can sit and eat inside.
We got one downpour this morning and could see more rain, with stormy — and steamy — weather, this afternoon and tonight. Weekend's looking a bit cooler.
Tuesday June 14, 2016
Happy Flag Day.
Town Hall is asking for flagging of a different sort. It's about the potholes showing up on a number of streets. Significant potholes. The realign-your-car-worse-than-that-speed-bump-on-Midyette kind. The send-a-cyclist-o'er-the-handlebar size. Swallow-a-golf-cart-tire deep.
Step One is sorting out where they all are. Town Manager Diane Miller sent this a few minutes ago:
We're starting to collect the addresses of potholes in town to create the fix-it list. We're asking that the address nearest the pothole be sent to admin@townoforiental.com with the subject line "POTHOLE
LIST
".
Monday June 13, 2016
2:02p This weekend's the Summer Sailstice race out on the Neuse. You can still get in the regatta – and the potluck/pigpickin' afterward. This summer 'sailebration' is based out of upper Broad Creek – not oh-so-far from its 1990 roots in Whortonsville.
11:39a Another of those mercifully-not-overly-warm days. High in the low 80's. The Oriental Weather Forecast gives us a bit more warmth tomorrow and then a couple of days with chance o' rain.
You may want to get out and enjoy the air now…
More on bears – a reader wrote in to say he'd seen a bear apparently hit by a vehicle on Hwy 55 near 306 a few nights ago.
Just a word to the wise that those bears who've been traipsing across yards from Merritt to Oriental to Arapahoe in search of dinner and a mate may cross roads to get what they're after. Drive accordingly…
The Wildlife Chronicles have been busy lately what with alligators, foxes and wayward sea turtles (that last one on Whittaker Creek last week.)
Outside the Oriental PO late yesterday, a quartet of gulls were strutting on the sidewalk near the mailbox. Hmmm…gulls so many blocks from the water? Why's that?
Closer inspection found a pile of kitty kibble spread out on the concrete. The gulls partook of the stash, pausing for the occasional squawk. The scenario didn't make sense until one saw the small cat.. lurking several yards away in the thicket, watching the noisy gulls, but not daring to emerge.
The cat is one of several feral felines around town fed daily by a cat-loving resident who leaves the kibble out in a small plastic bowl. The bowl was no where in sight last night.
Sunday June 12, 2016
9:22a Floor jacks., craft vendors, musicians – a couple of call outs this morning.
The jacks are for the renovation project at the Holts Chapel Community Center. The 95-year old historic building on Janeiro Road – a former Rosenwald School for black students – has some floor joists and sills that have to be replaced as a top priority. If you have some jacks that you can spare and lend for a while, contact Doug Sligh at 252-671-0745
Meanwhile organizers of the Ol' Front Porch Music Fest on October 15th are looking for musicians and also are giving regional artisans a chance to sell their works. A Village Marketplace for the vendors will be set up that day on Hodges Street between Broad and South Water.
The Town Board agreed to close off those 2 blocks of Hodges to traffic for the Fest. More on what else happened at this past week's Board meeting – next year's budget, property tax hike, a possible path to the Piglet – here.
7:50a This just in from Summer: "Solstice? I don't wait for no stinkin' solstice."
Lots of sun, and then some – up to the mid-90's today. It was already in the upper 70's at 7:30a. Hydrate is our word of the day.
That same Oriental Weather Forecast gives us cooler temps tomorrow, thanks to a north wind shifting here.
Hmm… north wind + traipsing across northern Pamlico County = Hobucken's hungriest mosquitoes riding that wave. To us. If you're looking for localized relief, the Provision Company has sandalwood sticks from Oz.
Ned Delamar's home burned yesterday – intentionally set as a fire-training exercise for area fire depts. Ned's nephew, Paul, says he plans to leave the corner lot at Main and Midyette open. No building is planned. Some photos are above in On The Cover. More coming..
New Classifieds:
19 Carolina Skiff, boat, motor, & trailer
35 Foot Chien Hwa Sundeck Trawler
Oriental Rug
Live in the Heart of the Village
Antique Shop Closing Sale Ends This Weekend
1929/1979 Ford / Shay Model A
Grace Harbor Yacht Brokerage
Jeffs Diving & Repairs
1986 Catalina 27 Sailboat
9 Zodiac inflatable dinghy
Recent cover photos:
See
more cover photos...
Web Cams: