It's Thursday September 21, 2017
Dock Quote: "Pictures must not...
News From The Village Updated Almost Daily
Upcoming Events
29th Oriental Cup Regatta returns to Oriental. The Story
Golf carts on state roads, rabies and leash law, Officer Blayney nabs turtle. The Story
Shocking Lineage Revealed. The Story
Marine Band returns to Oriental for performance in the park. The Story
Sailing in pursuit of medals and a rubber chicken. The Story
Drawing Out 1917. Drawing The Town
Shiny new building. Bathrooms smell better. The Story
Adventurer, survivor, and loyal companion. Pet Of The Month
Dark(er) skies and DIY viewing devices. The Story
48 years of watermelon for everyone. The Story
Officer Sworn in, Permits Revoked, Alcohol Sales on Sunday. The Story
The town can do something. Like the paint.. Letters To The Editor
Most Oppose, Some For Fulcher Trawler Paint Yard. The Story
Party At The Piglet. The Story
The Piglet's 1st Birthday. Drawing The Town
Chris Fulcher's Latest Plan: No Roof For Harbor Building. The Story
CAMA Official: Public "Shortchanged" By Lack of Notice. The Story
Super greeter and employee of the year. Pet Of The Month
An Open Roof, Dark Skies and Water @ July's Meeting. The Story
Planning Chair Urges Public To Attend Meetings. Letters To The Editor
Knife fails to move Picker's purchased fridge. The Story
Flooding Study, Surplus Funds, New Hours At Town Hall. The Story
37th Annual Croakerfest. The Story
Collison With Morehead City Bridge Adds A Bend. The Story
A Man With A Grill Tips His Hat. Letters To The Editor
Formal Resignation Submitted June 21. The Story
Combining two popular events benefits local charity. The Story
Lights, Camera, Treats. Pet Of The Month
Microbrewery, Budget, and Police Hire. The Story
17 Vessels Compete. The Story
For the last week the TownDock server has saved up Atlantic view images from NOAA's GOES satellite. Every hour, 24 hours a day. Above is a movie made from these (over 200 images)… showing Sept 12 through today… Hurricanes Jose & Maria.
This movie will be updated in a couple days.
Wednesday September 20, 2017
5:05p Now 110 mph (Category 2), and forecast to be at 90 mph (Category 1) in 5 days. Hurricane Maria is still powerful hurricane, but down a serious notch or two as she gets closer.
More good news – the latest official NHC 5 day forecast has nudged a bit east. More offshore. Away from us.
Most long term forecast models remain well offshore… although there are a couple radical outliers pointing more or less at us (see below.)
2:22p The family of Jerome Parker tells TownDock that Jerome passed away peacefully Sunday. Jerome and Anne Parker have been long time residents of Oriental. The family will have a celebration of his life at a later date. At right is Jerome at the Battleship North Carolina.
Jerome's work can be seen in Oriental at the history museum. He hand crafted a model of the Steamer Oriental, and donated it to the museum in 2009. You can see it at this link.
2:14p An Air Force Hurricane Hunter reports the center of Maria just off the northwestern coast of Puerto Rico. Hurricane Maria now 115 mph, Category 3.
The NHC Forecaster's Discussion has not been updated to include this new info (the reduced winds)… we'll have to wait for the 5p update to see how that may effect Maria's speed 5 days out. The official forecast path remains offshore, but close enough at day 5 to our shores for local concern. That forecast track will change around… which way is the question.
11:01a Hurricane winds are slowed by time spent over land. Unfortunately for Puerto Rico, that is where Hurricane Maria is today. Now 140 mph (Maria was 175 last night), still Category 4. The official NHC forecast track about the same, long term computers models a bit west but still most are well offshore.
NOAA/NHC is forecasting that we may get tropical storm winds from Maria as early as late Sunday / Monday. It will depend on how close the path the ultimately is, and how big Maria is.
6:48a Summer-esque day ahead. Sunshine, high near 90.
Almost autumn returns for the weekend, with highs around 80.
Well, actually it will be autumn. The autumnal equinox is Friday, September 22. On the equinox, night and day are the same length – 12 hours. The word "equinox" is derived from Latin… meaning "equal night."
That's your Mister Peabody knowledge for today.
6:40a Maria's long term models back a bit west (they're calmer in Bermuda this morning), but still clearly offshore. Puerto Rico not so fortunate, getting Hurricane Maria right now. The storm is technically now Category 4 – it's 155 mph (a Category 5 is 156 mph and above.)
Jose is no longer a hurricane – now Tropical Storm Jose, still offshore, and raining on Massachusetts.
Tuesday September 19, 2017
8:00p 175 mph.
5:22p The long term forecast tracks today have been our friend, showing Maria staying offshore in her future trek north. Those forecasts are a week out… we shouldn't count a visit from Maria out yet.
11:07a Maria trending a bit more east. Bermuda may start worrying more than us.
8:25a Maria back to 160 mph, Category 5.
7:00a Despite all the hurricane talk, the weather at our lat / long is just fine. Clouds around this morning, then clearing this afternoon, about 80. Wednesday a return to summer, highs near 90. The weekend looks sweet, sunshine & 80.
6:38a This morning Hurricane Maria is "only" a Category 4 storm, in the most splitting hairs kinda way. Category 5 is 156 mph and above. Maria is currently at 155 mph. Call it a Category 4.9.
There is positive news. Overnight long term computer models appear to have all moved east and offshore, taking Maria's probable path between our shores and Bermuda. This will likely dance around in coming days, but for the moment we get slightly lowered blood pressure.
The Leeward Islands and Puerto Rico will get the force of a Category 5 or 4 storm. However, Maria is forecast to gradually weaken, being at 115 mph by Sunday.
Hurricane Jose's path again may involve clockwise corkscrews. But this time the maneuver is in northern waters… Jose will be losing strength soon (probably not a hurricane by tomorrow), and by the time the new loopy maneuver is underway Jose will no longer be a tropical storm.
Monday September 18, 2017
7:58p Hurricane Hunter aircraft report that Maria is now a Category 5 storm. 160 mph. From NHC:
This special advisory is being issued to increase the initial and
forecast intensity of Maria. Recent reports from an Air Force Reserve Hurricane Hunter aircraft indicate that Maria continues to rapidly strengthen… the initial intensity of Maria has
been increased to 140 kt (160 mph), making Maria a potentially catastrophic category 5 hurricane on the Saffir-Simpson Hurricane Wind Scale. Some additional strengthening is possible during the next 24 hours, but fluctuations in intensity are likely due to eyewall cycles and land interaction. No change was made to the previous track forecast, and the extremely dangerous core of Maria is expected to pass over Dominica within the next hour or two.
The National Hurricane Center is predicting Hurricane Maria will have lost some strength 5 days out, forecasting 120 mph.
Meanwhile, Jose is almost directly east of us. Weather radar showing some precipitation coming through in classic counterclockwise motion (wayyy outer bands of Jose.) We're just getting occasional sprinkles.
5:01p Hurricane Maria now Category 4. 130 mph. Projected to be at 155 mph tomorrow. On the bright side (Mom always said there was one), the hurricane force winds are just near the eye of Maria. For now, anyway.
This one could be a nail biter. The official NHC track has moved slightly west & south (not good from our perspective.) Long term computer models still mostly keep Maria offshore, but…
11:28a Heartworks HarborFest is this coming weekend. Dinner? The time to register is now. From Heartworks:
Today is the last day to register to attend Harborfest for HeartWorks. Laurie Sampson has to give the caterers a final headcount tomorrow. Check all the great stuff to be auctioned Saturday night.
The on-line catalog is here.
Basketball fans might win tickets to the
UNC
/Duke game on March 3.
Click here for item #67
and sailors a trip to parts of the Caribbean spared by Irma.
Go here for item #96
More info at harborfestnc.com.
11:05a Jose down to 75 mph peak winds as he treks north (offshore.) Maria is a different story. Maria now 120 mph, a Category 3 storm. And growing. From NOAA/NHC:
Reports from an Air Force Reserve Hurricane Hunter aircraft indicate that Maria is undergoing rapid intensification. Atmospheric and oceanic conditions appear favorable for additional rapid strengthening for the next 24 h and possibly longer.
NHC
now predicts Maria will be a 150 mph Category Four storm within the next 48 hours.
Most models show Maria trending offshore as she approaches the US east coast, but this will be a nervous watch.
8:03a For a day with a hurricane just offshore, it's rather nice out there. Mixed sun/clouds and a high near 80.
Mark Twain is coming to town… tomorrow at The Old Theater.
7:55a Buenos dias dear reader. Another Monday. Another hurricane (or two) to track.
Jose is out there (about 270 miles ESE of Cape Hatteras), almost directly to our east. We will see little effect here. Jose's forecast track now has a new clockwise corkscrew predicted at the end of the week… which could bring Jose back to somewhere between VA & NJ.
Hurricane Maria. Now at 110 mph (Category Two). Maria is forecast to be at 140 mph, Category Four, in the next two days. Long term computer models vary between a SC landfall… and Maria staying offshore (more models are trending offshore.) We're kinda in between all that.
Sunday September 17, 2017
8:01p The official NHC track on Hurricane Maria has trended more northwest (more north than recent Irma) – more towards us. In the past hour, the long term computer models have tightened (surprising to see this so early)… also suggesting Maria may be heading our way.
For sanity balance, there are also long term computer models that suggest Maria may head sufficiently north to stay offshore (similar to Jose.)
5:04p Maria. She is a hurricane now. At 75 mph, Hurricane Maria is forecast to strengthen to a major 125 mph storm in the next 2 to 3 days, as she approaches the Leeward Islands and Puerto Rico. Her path as she is closer to the US east coast (8 – 10 days away) is at this point is typically educated conjecture, but early computer models show we have reason to keep watch.
Hurricane Jose continues on an offshore path north, apparently safely away from our shores. While tropical storm conditions are not expected here, there is now a Tropical Storm Watch for the NJ coast and on up through Long Island, CT & MA.
11:20a Lazy kinda Sunday. It didn't quite rain this morning. More like moisturizer was in the air.
The New Village Brewery & Taproom, not normally open on Sunday… is today:
We've decided to open at noon today and stay open til around 6 (or when the Highland beer runs out). On tap: Gaelic Amber Ale (5.5%), St. Terese's Pale Ale (5.1%), Daycation
IPA
(4.9%), Oatmeal Porter (5.9%), Highland Pilsner (5.5%), Mandarina
IPA
(5%), Clawhammer Oktoberfest Marzen (5%).
While the Taproom doesn't serve food, you're welcome to bring your own food to have along with a brew.
If you're hoping for someone to serve you food, M&M's & O'Town have Sunday lunch/dinner (and beers & booze) on hand.
11:01a Hurricane Jose now 90 mph, but thankfully still tracking offshore. Maria will be the one to watch this coming week. A potential US east coast visit would be just over a week away. Storm info below posted at 7:07a basically unchanged.
7:25a Cloudy, damp morning. It's one of those might/might not rain days. Rain is a bit more likely in the early afternoon.
7:07a Jose still on track to stay way offshore as he passes us by Monday. From NHC:
The center of Jose is forecast to pass well east of the North Carolina coast on Monday, and tropical-storm-force winds are currently expected to remain offshore of the North Carolina Outer Banks. However, an additional increase in the size of the storm or a westward adjustment in the track forecast could bring tropical storm conditions closer to the Outer Banks…
We should see little from Jose.
Tropical Storm Maria strengthening (now 65 mph) and will likely be a hurricane later today. Maria is heading to the already storm battered Leeward Islands, and will be at Puerto Rico Thursday. Her path through the islands is similar to Irma's. The future Hurricane Maria appears to be a potential threat for the US east coast.
Tropical Storm Lee is forecast to fizzle out and dissipate mid-week.
Saturday September 16, 2017
5:00p Jose still on track to wave Hi from offshore Monday. Minimal impact here expected.
Tropical Storm Maria has been declared. Maria is potential trouble. She is forecast to be a hurricane by this time tomorrow (Monday at the latest), and to reach 120 mph winds by Wednesday. Way too early to be calling where Maria may be in a week, with initial models taking her from south Florida & the Gulf to the NC coast or points north.
12:01p Scroll down and read all that hurricane stuff. Build up some HA (hurricane anxiety.)
OK, You're ready. There are multiple solutions to HA, right here in our fair city.
New Village Brewery informs us that Oktoberfest officially begins today. What gives? It seems those calendar ignoring Germans officially have Oktoberfest beginning the 3rd Saturday of September, then running for 3 weeks. Mostly Septemberfest didn't sound as good.
The brewery has festbier Märzen on tap today. They're open noon til about 10p. Willkommen to the Wies'n.
This afternoon at 3p & 4p, it's wine tasting time at Nautical Wheelers. Today's tastings feature small vineyards:

Tonight, you can enjoy participating in the Oriental Cup without actually sailing. Have dinner on the grounds of the Oriental Marina Inn… it's an old fashioned cookout, starting at 6p. Then starting at 7p Saltwater Gold plays by the Tiki Bar.
You're cured of HA. For today.
11:05a Hurricane Jose remains on track to stay offshore, maybe give us some wind & rain Monday.
Depression 14 got a promotion, now Tropical Storm Lee. It's a temporary promotion. Lee is forecast to turn into a pumpkin mid next week, and dissipate.
But wait. There's more.
Introducing Potential Tropical Cyclone Fifteen. It's a lot of words. This will be formally named Tropical Storm Maria later today or Sunday.
We're going to have to watch Maria. Maria is forecast to gain hurricane strength and is a potential threat to the US east coast.
7:57a No reason not to play outside today. Sunshine 85. On the Neuse easy 5-10 knot winds. Perfect stuff for today's 2017 Oriental Cup.
7:44a All (so far) as predicted on the Jose front. Hurricane Jose's forecast path continues to run offshore. Category 1, 80 mph.
Tropical Depression Fourteen will come and go. In NHC official speak:
The depression has the opportunity to become a tropical storm during the next 24 to 36 hours… The
NHC
forecast shows some strengthening through Sunday, but weakening should begin thereafter. The system should degenerate into a remnant low in about 4 days.
In brief, 14 may be called Tropical Storm Lee on Sunday, but a few days later runs outa gas.
The one to watch may be Invest 96, which could be named a storm this weekend. The early computer models show potential trouble: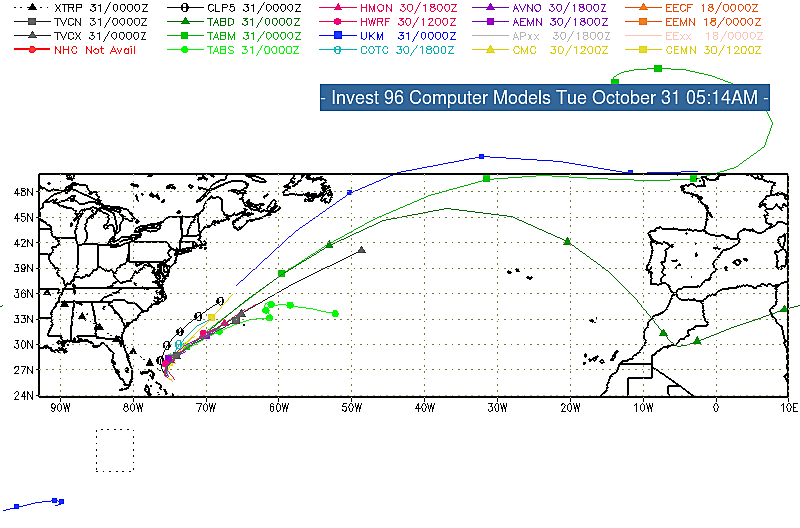 click image for larger view
Friday September 15, 2017
4:54p Jose is again Hurricane Jose. 75 mph. The forecast continues to look favorable to keep Jose offshore.
From the latest Jose forecaster's discussion:
Although the center of Jose is forecast to pass well east of the North Carolina coast early next week, tropical-storm-force winds are expected to extend well west of the center and could approach the North Carolina Outer Banks on Monday.
Assuming the current path holds, we are not expected to see tropical storm conditions from Jose here. The storm is big… we could see some modest wind & rain Monday.
11:17a Jose's forecast track continues to cooperate. Offshore, but it should be noted, not too far offshore.
This is the point in a storm's life when NHC reminds us:
It is important to note that the average
NHC
track errors at days 4 and 5 are about 175 and 225 miles, respectively.
So, yeah, Jose could get closer. Right now the forecast indicates he passes off our shores Monday (as a Category One hurricane), with limited impact to our fair city.
More on Jose below.
10:30a Coming up next weekend… is Harborfest, Sept 22-24. Harborfest is three days of music & food, all to support Heartworks and its mission to serve at-risk children in Pamlico County. More info at harborfestnc.com. One fave way to enjoy Harborfest is to take your boat up to River Dunes for the weekend. The boaters special includes up to three nights dockage.
8:21a OK. We've got your number. You wait til the day before a sailing race, to make sure the weather will be OK. No hurricanes and all that. Well, it is OK. Saturday sunny & 80, easy 5-10 knot winds on the Neuse.
Be brave. It's safe to register for the Oriental Cup now.
7:01a The early morning is cloudy & dull… but by mid-morning some sun should appear. A partly sunny mid 80s day is ahead.
6:53a This morning Tropical Storm Jose's forecast path about the same, but just a little bit closer to shore. Jose is expected to regain hurricane strength later today.
A new storm has formed, Tropical Depression 14. That is expected to gain strength and get named Tropical Storm Lee later today or Saturday. Early computer models are now indicating that 14/Lee could head northwest and not impact the US east coast. But it is early.
Thursday September 14, 2017
5:01p Storm Jose's path may stay offshore, but Jose is making us a bit nervous along the way.
The forecast track remains about the same, still with Jose a 70 mph tropical storm. Jose is expected to restrengthen and again be a hurricane this weekend.
The tight agreement among long term computer models earlier today… is now no longer the case. They have somewhat spread out again (a sign of uncertainty.) One model in particular, the UKMET, takes Jose just off Hatteras. While this is generally a respected model, it should be noted that UKMET has been literally all over the place on Jose (two days ago it forecast Jose was going to south Florida.)
The official NHC forecast track, and most computer models, continue to show Jose well offshore.
Two potential storms brewing on the Atlantic. Invest 96 and Invest 97.
Early computer models are today too varied to draw conclusions on both potential tropical systems.

11:07a Joe's forecast path has moved west. Closer to us. The storm is still forecast to remain offshore, but the forecast track now is close enough that we could feel some impact Monday or Tuesday.
Jose has been downgraded from a hurricane to a tropical storm. That isn't as significant as it may sound. Jose's peak winds are now 70 mph… just below the minimum level for a hurricane (75 mph.) Jose is expected to regain strength and again be a hurricane in the next two days.
Could Jose get closer? Possible, sure. A key positive however is how the many computer models are now in tight agreement showing Jose's center (and most powerful winds) staying offshore.
10:22a Ferry fixed, back on regular schedule.
7:55a Jose's predicted path a tad more west, but still expected to stay offshore. 75 mph, Category 1. Hurricane Jose has begun to slowly move west, as forecast.
7:27a One boat schedule this morning at Cherry Branch:
Due to mechanical issues , we will be on a one boat schedule, expect delays. The following departures will apply until further notice.
Cherry Branch; 5:00am; 5:45am; 6:45am; 7:45am; 9:00am; 11:00am; 12:00pm; 1:30pm; 2:30pm; 3:30pm; 4:30pm; 5:30pm; 6:30pm; 7:30pm; 8:30pm; 10:00pm; 12:00pm.
Minnesott Beach; 5:25am; 6:15am; 7:15am; 8:30am; 10:00am; 11:30am; 12:30pm; 2:00pm; 3:00pm; 4:00pm; 5:00pm; 6:00pm; 7:00pm; 8:00pm; 9:00pm; 11:00pm; 12:30am.
New Classifieds:
3 BR, 2.5 BA, Deep Water Dock,Remodeled, ICW acces
Helly Hansen Skagen Jacket, size small, never worn, $200 or best offer
Allegro 32 Motorhome
Waterfront Home in the Heart of Oriental
New In the box Sharp microwave
Wonderful Waterfront Home
Moving Sale Sat Sept 23... Boat and Tools
There Is An Architect In Oriental
Computer Repair, Sales, Service and Education
Experience A Clean, Organized, Professionally Run Boatyard
Big yard/garage sale Oct 7. Something For All.
Complete and Professional Yacht Care At Your Dock
Recent cover photos:
See
more cover photos...
Web Cams: