It's Tuesday June 27, 2017
Dock Quote: "Experience is what...
News From The Village Updated Almost Daily
Upcoming Events
Formal Resignation Submitted June 21. The Story
Combining two popular events benefits local charity. The Story
Lights, Camera, Treats. Pet Of The Month
Microbrewery, Budget, and Police Hire. The Story
17 Vessels Compete. The Story
Photos from the 5th Annual Music Festival. The Story
How You Can Be Part Of It Now. The Story
It leads to a camp that trains champions. Drawing The Town
Photos from 14th Annual Arts Festival. The Story
Billy Flockhart On What's New At The Piglet. The Story
Scenes of 4th Coastal Ride Weekend Here. The Story
Thank Yous For Cycle NC Event. Letters To The Editor
New Quick Response Vehicle Displayed. The Story
A Sailing Vessel Bound For The Artic. The Shipping News
Dedicated To The Missions Of The New NC Coastal Heritage Association. The Story
North Carolina's Largest Collegiate Sailing Event Thanks A Town. Letters To The Editor
Calm meeting, SB310, Potholes, NCCycle Coming. The Story
Sailmaker, Father, A Part Of Oriental. The Story
April Fri April 7 through Sun April 9 @ The Old Theater. The Story
Two Perspectives on Current Closing. The Story
A Pirate, A Rabbit and A Skunk Walk Into A Park.... The Story
Spring Pedals In The Air. Drawing The Town
SoundRivers: SB131 Will Hurt Neuse. The Story
Phase of Breast Imaging R&D Over. Letters To The Editor
Support Sought For SailPack Oriental Interconference Regatta. The Story
Potholes, Pickleball, Pathways: Some Easier To Address Than Others . The Story
29-4, Lady Canes finish season #2 in the state . The Story
Readers Give Their Take. The Story
Mobile Technology In A One Tower County. The Village Geek
Send In Your Thoughts For Town. The Story
"Landmines" In Park. The Story
Beer On Tap: Brewery Gets SUP; Wits End Offered To Town. The Story
New Sport, New Gym at Camp Caroline . The Story
Valentines By The Sea. Drawing The Town
A yawl on a mission. The Shipping News
Billy Flockhart On Changes At The Piglet. The Story
Year of the Rooster. The Story
Rooster & Dragon. Drawing The Town
Shrimp Fishermen Show Up In Numbers. The Story
Short Term Rental, Floodplain, Electric Charging Stations . The Story
Will you support America during its time of need? A special message from Croaker Festival Parade Headquarters.
Monday June 26, 2017
9:31a Hey. It's not gonna rain today. High 85. Great forecast for the week ahead.
On the Neuse 5-10 knot winds. Just the stuff for some small boat sailing. Open sailing is tonight @ Bow To Stern. Five bucks and you get to take a small sailboat out on the creeks of Oriental. Tonight is also the monthly Pot Luck dinner.
9:04a The Croaker Festival is this weekend. Saturday is the big day: the parade at 10a and the fireworks start at 9:30p ~ 9:45p. The Croakerfest Parade needs a few more entries, as you can see from the plea above. Be a proud American and join the parade. You and your wheelbarrow / lawn mower / motorized cooler / bicycle / golf cart / ugly car will be great parade additions. Call the parade hotline at 252-249-1211. Parade entry forms at Village Hardware, Town Hall or click here to get it online. Beyond a hit to your reputation, there is no cost to be in the parade.
As well as parade entries, Paul needs a few "Parade Wranglers". Wranglers are humans who help Paul just before and during the parade. Report for Wrangler duty Saturday at 9a at the Mini Mart (the parade starts there at the corner of Broad & Ragan). Look for a svelte man in bright shorts to receive your Wrangler instructions.
Need to see a parade today? Photos of the 2016 Croakerfest Parade are right here.
Sunday June 25, 2017
9:01a It turns out BBQ chicken is popular. Katherine Hudson writes in:
By 5:00 PM yesterday, all 250 tickets had been purchased for the
BBQ
Chicken Dinner. Then folks donated additional money bringing in close to $3,000 for the HeartWorks Summer Learning Program which starts tomorrow when 100 kids arrive at HeartWorks in Bayboro. Some will get to learn to sail thanks to the generosity of Capt. Jim Edwards, aspiring thespians will attend the Theater Workshop, all will learn to swim, and throughout the summer reading & arithmetic skills will be sharpened.
Cook on…
7:43a Rain? Maybe later… the hour-by-hour cast says after 3p if it does. Kinda like yesterday.
Saturday delivered up impressive dark clouds in the afternoon, dumping 1.25" of rain in a hurry.
Looking ahead to the Croaker Festival weekend, the forecast at this moment is perfect. Sunny clear days start mid week and through the weekend. Cooler and near 80 mid week, back to 90s for the weekend.
Saturday June 24, 2017
10:28a A BBQ Chicken Dinner – to raise needed funds for Heartworks – is 5-6:30p today at the Delamar Center at Pamlico Community College. Jim Kellenberger is BBQn 'em right there at PCC, fresh. Pamlico Progressives and Pamlico County NAACP are sponsoring the dinner from which 100% of the ticket sales will go to HeartWorks. Musical entertainment too – Brant Island Strings (Perry Cheatham, Ginny and Rick Vogt, Becky Ackiss) will be playing.
7:14a Lots of sun out with that morning wind. Partly sunny high 80s day ahead. A 40% chance of rain, but the hour-by-hour forecast indicates rain isn't likely until after 3p.
Small Craft Advisory on the Neuse til 2p today, 15-20 knots with 25 knot gusts. On the Pamlico Sound that Small Craft Advisory continues through tonight, 20-25 knot winds with 30 knot gusts.
7:05a Whoa mama… it's windy. 35mph wind peaks overnight. Check out the weather station chart:

And these are south winds, water levels are down almost 2 ft: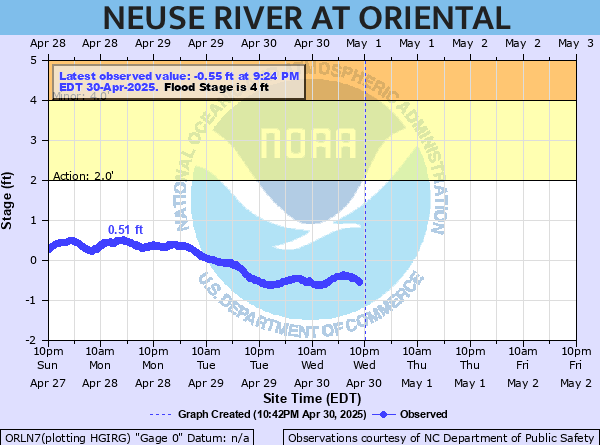 Friday June 23, 2017
12:05p Band-oh switch-oh. No Bob The Bass tonight. Saltwater Acoustic plays 7-10p at the Red Rooster.
To make up for the lack of Bob The Bass, TownDock.net generously provides a close relative for your listening enjoyment:

7:48a Next weekend is the Croaker Festival. This weekend isn't.
But hey, you can eat a chicken and listen to a bass.
Bob The Bass tonight at the Red Rooster. Which kinda bass is Bob? Chicken dinner (supporting Heartworks) Saturday at PCC. Morse code at Town Hall. Mystery live tunes Sunday afternoon at O'Town. It's all in What's Happening.
It's clammm-eee out there. Looks like rain but probably won't. After a cloudy morning Mr Sun will appear for this afternoon, high near 90.
The Oriental Weather Station's clam-o-meter:

Thursday June 22, 2017
4:47p As reported in April, a wooden boat is building. It has been built by traditional Harker's Island boat builder Heber Guthrie for the recently formed North Carolina Coastal Heritage Association.
It hasn't launched quite yet. This week it was trailered from Heber's Marshallburg NC shop to Pamlico County where window glass will be installed. Ben Casey writes in:
The M/V Frances Mae, well not yet a M/V because she doesn't yet have an engine, arrived in Pamlico County via Minnesott ferry. She is now at Daniel's Glass Shop in Alliance where she will reside for about a week or so for windows to be installed. She will then travel to Oriental to be fitted with an engine, assuming necessary funds are in place. Bud Belangia provided the transport vessel (pickup truck to haul it).
Ben, Bud & The Frances Mae
10:15a We forgot to mention… yesterday was the summer solstice. The first official day of summer. The longest day.
Summer is in the air. Drier air today, highs near 90.
Effective yesterday afternoon, Dwaine Moore officially resigned as Oriental's Police Chief. More here…
At June's Town Meeting a potential police hire (conditional offer) was announced, Nick Blayney.
Wednesday June 21, 2017
11:54a Oriental's Planning Board meets this afternoon – twice. 1p is a special session on sidewalks, greenspace. 3p is the regular monthly meeting – where the PB is to review the latest plan for Chris Fulcher's trawler washdown-sandblasting-painting business on Oriental's harbor. More here. Both sessions open to the public.
7:27a Croakerfest is just over a week away. You may want to give some thought to where you'll watch the fireworks from. The bridge, a long popular vantage point, is not an option – this year the bridge is the launch site.
This change also will require some forethought on travel in to and out of town that Saturday July 1. Croakerfest Organizer Cheryl Thompson writes:
Robert Scott Bridge will be closed to both traffic and pedestrians at 3:00pm on Saturday, July 1 and will remain closed until 11:00pm.The Fireworks show will begin at 9:45pm which provides patrons ample time to leave the Festival's "Master's of Soul Show" which will end at 9:15 and find a suitable area to view the fireworks. The Croaker Committee has worked extremely hard on securing this new venue for Fireworks and understand that patrons have enjoyed viewing the show from the bridge, however, this was our last effort in trying to keep the show in the Harbor area. The Wildlife Ramp, Water Street, Tiki Bar area, Hodges St. in Harbor area should be good venues to see the show.
Kudos to the Croaker Festival volunteers for making this happen – the bridge was the only remaining option for keeping the fireworks "downtown" and by the harbor.
A location at the end of Teaches Cove Rd was used for years – it is no longer available due to a house now being where the launch site was. Last year's launch ended way up Greens Creek. You could see it but it was hardly ideal.
The bridge launch site should make for a spectacular show. Croakerfest fireworks are paid for by donations – look for the donation jugs around town and give up some fireworks love.
Tuesday June 20, 2017
6:50p No Summer Solstice Regatta this weekend. Gerry Crowley with SCOO writes in:
Sorry to report that we've had to cancel the "Solstice" We just didn't get enough boats to make it financially feasible. We'll have to do some brain storming to figure what we might have to change next year.
The Solstice Regatta is a remake on what had been
The Whortonsville Yacht & Tractor Club Regatta
, "sailebrating" the first day of summer. It was
well attended in its Yacht & Tractor days – 34 boats sailed in 2009.
There's even a book about it.
3:23p Tropical Storm Cindy has formed in the Gulf. Cindy doesn't have hurricane in her future… now 45 mph winds and that may be her peak. The system is forecast to come ashore at the Louisiana coast and then turn northeast. Remains of it could dump rain in western NC this weekend. Not so likely here (at least from Cindy).

Names coming up this 2017 hurricane season: Don, Emily, Franklin, Gert, Harvey, Irma… Jose.
12:28p Ix-nay for the ax-tay. Pamlico County Commissioners voted last night 5-2 to NOT raise county property taxes (they had voted last month to raise taxes).
The premise for raising taxes had been to bolster the county reserve fund. State law requires the reserve fund to be at 20% of the budget – the counties fund is currently at more than 40%. That 40% plus level had many questioning why a tax increase was necessary. Last night Commissioners Baskervill and Delamar changed their votes to no. Still voting to raises taxes were Candy Bohmert and Pat Prescott.
11:23 A note of urgency from Gerry Crowley, who is organizing Saturday's Summer Sailstice regatta. He needs at least 3 more boats, pronto..
If we don't get a few more boats entered by noon we are going to cancel the event…and I do hate to do it but it's just not financially feasible without at least 15 boats entered and we currently have 12.
11:05a This in from Heartworks:
Chicken Dinner Fundraiser for HeartWorks. June 24, Saturday at The Delamar Center at Pamlico Community College. We have sold 150 tickets. We can sell 100 more! We need the count of number of tickets sold by Wednesday so chef Jim can buy the chickens. Tickets are available from Betsy, 252-249-2940, The Provision Company, Nautical Wheelers and Bayboro Pharmacy.
Tickets just $10, $5 for kids. Brant Island Strings (Perry Cheatham, Ginny and Rick Vogt, Becky Ackiss) will be serving up tunes at Saturday's chicken dinner.
7:14a Monday evening got breezy – winds hit 40mph around 7p.

Today isn't supposed to be so windy, but thunderstorms are forecast – 80% chance of rain.
S
Monday June 19, 2017
4:36p Higher taxes? The proposed county budget is part of the discussion at tonight's Pamlico County Commission meeting. 7p at the county courthouse in Bayboro.
7:53a Looks like it might rain. 30% forecast. 99.9% sky. High near 90. You're welcome.
7:46a Stormy skies this morning. So far they just threaten:
Some sailing news coming later today Tuesday (mowing intervened).
Sunday June 18, 2017
9:28a Got a summer solstice coming our way this week … and next
Saturday. up on Broad Creek, you can celebrate it dancing around a deck (instead of a rock) in the Sailstice Regatta. Still time to get your boat in the race.
Heartworks is trying to keep its summer program for kids going. There's a BBQ chicken dinner fundraiser next Saturday evening at PCC. TIx on sale now…
Also in What's Happening, tomorrow night you get what's likely your last chance to comment on the county's proposed budget before the commissioners vote on it. The prospect of a property tax hike drew a big crowd earlier this month. Tomorrow night's session's at the courthouse in Bayboro – 7p start.
Here in Oriental, the latest layout for Chris Fulcher's trawler haulout-washdown-sandblast-and-paint operation on the town's harbor is up for discussion at the Planning Board meeting mid-afternoon Wednesday.
7:14a As of a few minutes ago, all back to normal schedule at the ferry. From Sue Kinner at Cherry Branch:
Coast Guard just left us. We've been cleared to return to service (Kinnakeet is back in service), so with both boats operational, we are on schedule …. and on time.
YEAH
!
6:34a A quarter inch of rain overnight, but the rest of today looks to be a sunny one.
Saturday June 17, 2017
2:33p One of the ferries is miss-behaving. From Sue Kinner at Cherry Branch:
Cherry Branch Ferry is operating with only one boat.
PLEASE
NOTE
, WE
ARE
NOT
RUNNING
ON
OUR
USUAL
ONE
BOAT
SCHEDULE
.
Until further notice, we will be running as follows:
From Cherry Branch: 3pm, 4pm, 5pm, and 6:30pm.
From Minnesott: 2:30pm, 3:30, 4:30, 5:30, and 7pm.
11:57a Those winey folks at Nautical Wheelers are coming uncorked this afternoon. Wine tastings at 3 & 4p out front. You're invited.
7:42a It's that time of the year when there's a chance of rain most every day. Today's one of those days with the indecisive 50% precip forecast.
It rained for a few minutes overnight. Brave TownDock meteorologists say that might be it for today. OK, brief rainy bursts likely. Lotsa sun this morning, and even the humid air is drying a bit. High upper 80s.
10-15 knots on the Neuse today will help move that boat and you'll feel cooler… even if you're not.
Friday June 16, 2017
1:35p Hey kids, let's put on a show. The Ol' Front Porch Music Fest would welcome some more volunteers for its Oct 6-7 event. Here's how.
Maybe you'd want to be a vendor. That, too, is possible. More here, if you'd like to sell your finely crafted works.
10:17a You can, once again, get there from here. Hwy 55's two westbound lanes and one of the eastbound lanes have reopened, says the Pamlico Sheriff's department.
9:01a The Red Rooster has Ken Belangia playing (and beer on tap) tonight.
Saturday get your boat inspected, wine tasting at Nautical Wheelers, and a little wine buzz might help with the Ghost Walk Saturday night. It's all in What's Happening.
8:46a An auto accident near Reelsboro has Hwy 55 blocked. If you're headed to New Bern alternative routes would be going around via Aurora or the Minnesott / Cherry branch ferry.
Word is power lines are down, and 55 may be blocked for several hours.
Thursday June 15, 2017
11:50a Trunk show at Marsha's Cottage this afternoon.
Debuting a new jewelry line… you are invited.
8:50a The forecast says 60% chance of rain today, but you wouldn't know it this morning. Beautiful skies at this writing. The rain is more likely (not a sure thing) later this afternoon.
The Hope Clinic Regatta & Gala brought in over $100,000 this past weekend. It also brought out a lot of smiles for the dinner & silent auction… the story & photos here.
6:02a At the Old Theater tonite, you can see a free showing of the recent PBS film, "Being Mortal." It tackles those weighty, soul-searching issues that come as the end of life comes closer. There's a discussion afterward…
Wednesday June 14, 2017
12:28p Dale Montgomery and his Oriental Ghost Walk return this Saturday night. Dale has done extensive research, discovering truly local stories with a paranormal twist.


This time he's gathering brave souls at Lou Mac Park, 8:30p.
11:07a He looks like he may be a member of the Queen's entourage. Meet Radar – Mister June.
It probably won't rain today. Thursday & Friday – 60% chance. Near 90 today, cooling to mid 80s Thursday and through the weekend.
New Classifieds:
1988 Olson 25
Ericson 35, one owner
Sail Repair
Nissan Rogue car cover
Simrad NSS8 Chartplotter - $525 or best offer.
Candys Boat,Car, RV Wash, Wax, Detail Save $$$
Cape Dory Weekender - Must Sell
Enjoy the Sea breeze in your convertable
1989 Beneteau First 235
Large Oak Table (no chairs)
772 Bent Tree Yard Sale Saturday 10 till 2
Residential lot FSBO Whittaker Point Road $39,000
Recent cover photos:
See
more cover photos...
Web Cams: