It's Friday December 15, 2017
Dock Quote: "If the person...
SMALL CRAFT ADVISORY IN EFFECT FROM 6 PM EST THIS EVENING THROUGH LATE TONIGHT
Upcoming Events
Recycle a sail, help create young sailors. The Story
We hardy few: festivities continue in spite of rain. The Story
Parade & Lumaria Saturday. The Story
New Commissioners sworn in, retiring commissioners honored. The Story
Electric cars can recharge at Town Hall, Town Docks. The Story
Traditional Boat Building Meets Contemporary Education. The Story
Fay feeds a crowd every night. Pet Of The Month
Fifty Cyclists Uphold Thanksgiving Tradition. The Story
Small Cell Antennas may be coming to town. The Story
The List of Area Non-Profits That Could Use Your Donation. The Story
2017 Spirit of Christmas Parade Needs You. The Story
GMO approved, Fulcher LUP issued, donation for a dog park. The Story
Trees & Traction. Letters To The Editor
Price, White, Overcash, Dammeyer, Simmons - the New Town Board. The Story
Christening celebrates traditional Harkers Island build. The Story
Sharing The Haunted History Of Oriental. The Story
400 Bean Eaters Swarm Chili Cookoff. The Story
A Wooden Boat Restored. The Shipping News
3 incumbents and 4 newcomers vie for 5 Commissioner seats. The Story
2017 Oriental Classic Car Show Has Its Own Day. The Story
Changes to R1, zoning the Piglet, definition additions. The Story
The Piglet Comes Inside City Limits. The Story
Writer Warns of Noise, Traffic, "SUP du jour" . Letters To The Editor
4th annual festival has two days of tunes. The Story
Piggly Wiggly petitions for annexation, trash collection takeover, new Fulcher application to CAMA. The Story
High school sailors compete in Oriental. The Story
Some of This Year's Crop in Oriental. The Story
29th Oriental Cup Regatta returns to Oriental. The Story
Golf carts on state roads, rabies and leash law, Officer Blayney nabs turtle. The Story
Shocking Lineage Revealed. The Story
Mouse Hunt is tonight's Friday Flick. 7:30p, Old Theater. Tickets 6 bucks, includes your popcorn.
Friday December 15, 2017
9:02a Need a truly unique Christmas gift? A sea bag… one made from sails that sailed the Neuse.
8:32a Mixed clouds n sun today and a balmy 60. Enjoy.
Calm day on the water, light 5-10 knot winds. A bit better breeze for sailing Saturday (but cooler) with 10-15 knots.
It's the time of year when a mouse might make its way inside to your abode. What to do? Mouse Hunt is tonight's Friday Flick.
Saturday it's wine tasting at Nautical Wheelers… and live jazz too.
Thursday December 14, 2017
3:55p What if education could include libations? You can learn to paint this Saturday, while drinking a beer…
11:25a Have you seen the Spirit Of Christmas photos yet? There are lotsss of 'em…
8:03a Tonight at The Old Theater the Pamlico Music Society is bringing in some bluegrass.
From Nashville, it's Barefoot Movement, showtime 7:30p. Word is there still may be just a few tickets left.
There is also a free "informance" by the bluegrass band today. 2p at Oriental Methodist Church. You're invited.
7:49a It might not feel warm this morning… but it is compared to yesterday. Overnight low 43 (it was 28 Wednesday.)
Beautiful day ahead… sunshine & near 60. Same for Friday. Saturday cools down to nearer 50 (with sun), then Sunday warms up again to near 60.
Water levels are down a foot, thanks to winds from the west.
The Neuse River marine forecast calls for 20-25 knot west winds this morning, then calming down to 10-15 by mid morning. Northeast winds tonight should push water levels back up.
Wednesday December 13, 2017
8:30a It hit 28 overnight. Brrrr. Today will be bright & sunny, but it isn't warming up much. High just into the low 40s.
Thursday & Friday get back into the mid 50s though, and Sunday may warm up to 60.
Christmas tunes? Hear a holiday concert performed by two bands Thursday night at the high school auditorium in Bayboro. It's the Pamlico Community Band plus the Pamlico High School Band. Starts 7p.
Tuesday December 12, 2017
10:24p Winds are more northwest than the west winds forecast. If that holds, water levels are not likely to drop. High wind so far tonight 32mph at 9:37p.
9:14a We're getting winds today we don't get that often. West winds, 15-20 knots in the Neuse marine forecast. Enough west winds that there is a low water advisory.
LOW WATER ADVISORY IN EFFECT FROM 7 PM THIS EVENING TO 1 PM EST WEDNESDAY
Water levels are trending lower: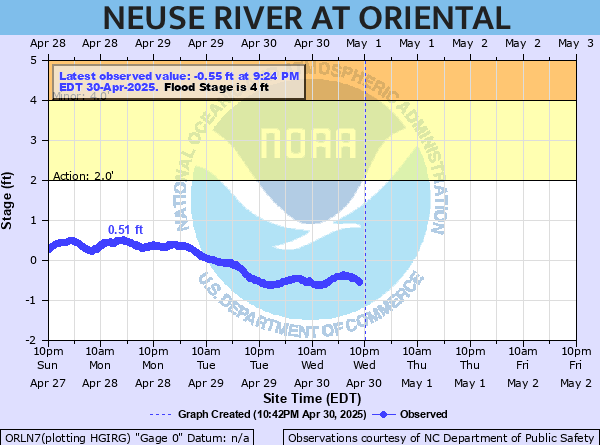 8:05a Sunshine. Warming up to the low 60s today.
7:57a In many towns there is an establishment that requires a piano player. Shockingly, Oriental is such a town. Tch tch… this establishment isn't what you're thinking. It's in the theater district.
The upcoming musical play Assisted Living is in need of a pianist. The play is directed by Ben Gaskill. Rehearsals start in January. The performance dates are March 2-4. Contact Ben Gaskill at 252-249-1605 or Judi Heit at 252-249-2772 for more info.
Monday December 11, 2017
7:45a Stand by for warm. Followed by cold. Mid 50s today, near 60 Tuesday. Then Wednesday's high may barely reach 40.
Ladies. Gentlemen. TownDock readers. The Spirit Of Christmas Judges have decided the parade winners:
Da Mayor – Best music
Provision Co. – Best use of pastel colored hula skirts
Offshore Rafting – Most extravagant production and best hula hoopist
Nautical Wheelers – Best coordinated outerwear
Lilly – Best antlers on a small horse
Roe family – Best Margaritas
Jones/Lee tractors – Best use of agricultural machinery in a holiday parade
Oriental Vet Hospital – Best holiday decorations on a canine
Oriental Rotary – Best cuisine
Dixon family – Best Christmas elf in distress
Boy Scouts and Cubs – Best pirate flag
Oriental

FWB

– Best traditional theme
New Dragon – Most energetic and colorful
Brantley's – Best fed Grinch/pointiest hair
New Bern YC – Best Macy's Day parade entry
(coming from far, far away they managed to get 20 people together…)
Coulter kids – Best behaved
Capps Trailers – Best control of a float driven by a moose
Pamlico Community College – Most enthusiasm

NSA

– Most likely to be ticketed for over loading a boat
Portraits of Christ – Most consistent
Barnett family – Best family float
NC Coastal Heritage – Prettiest boat
Animal Control – Best decoration on a municipal vehicle
Ol' Front Porch – Best banner walkers
Dragon Boat – Largest boat in parade
River Keeper – Valiant and true
Reelsboro rescue boat – Wetest boat
Fire Trucks – Most red paint
Santa and the Coast Guard – Perfect ending to the parade
Sunday December 10, 2017
6:48a You won't need that rain coat today. But you will need a warm coat.
Considering the rain & cold Saturday, a fine parade showed up Saturday. The judges are still deciding on the winners…
Saturday December 9, 2017
9:26a Word from the Parademeister: It's a go. The Spirit parade is still set for 1p. Paul Fairbank's predicting nice-ish weather then.
6:38a Good day. This is your daily monsoon report. Friday saw 1 1/2 inches of rain, and then we got almost another inch overnight.
There's good news in there somewhere. Sunday sunshine and 45, Monday & Tuesday more sun and warm up to mid 50s.
Oh. We do have that event. Today. Spirit Of Christmas. Your finest decorative rain gear may be in order. It may rain on our parade.
But you're tough. And spirited. So don ye now your rain apparel.
The rain will depart sometime this afternoon. In time for the parade? The Official Parade Master Forecast says: Rain Saturday morning will taper off to a moisturizing mist (if any at all) by noon. The parade will go as scheduled.
And who among us doesn't need some nurturing moisturizer? You'll look decades younger.
Friday December 8, 2017
2:06p The large boat flotilla has been cancelled. The lighted kayak parade, with their light bedecked boats and paddlers, is still a go. The decorated kayaks will enter the harbor 5p~ish Saturday.
11:32a And now a word from Spirit Of Christmas Parade Master Paul Fairbank:
This is your official Parade Master's Prognostication. Rain Saturday morning will taper off to a moisturizing mist (if any at all) by noon. The parade will go as scheduled.
The parade starts Saturday at 1p.
7:28a OK. The forecast is a bit short of ideal. But the event is about spirit, and folks around town are saying they have it. Check the Spirit Of Christmas schedule, dress warm and get out there and smile.
About a half inch of rain overnight, more soggy on the way. No worries. You look good in foul weather gear.
Thursday December 7, 2017
1:17p Everything Is A GO for Saturday.
TownDock.net just got off the phone with Marsha Paplham. The parade, the kayak and boat flotillas… and the luminaria. All set for Saturday.
The forecast for Saturday says "Cloudy. Rain, mainly in the morning." Oriental Optimists are interpreting that to mean a not rainy Saturday afternoon may be ours.
12:12p Another SOC schedule change. The So has the lighting of the Oriental Star. These outdoor events have been moved from Friday on account of rain (as in: chance of, 100%.) It's not a lock that Saturday will be dry but there's a better chance.
The takeaway: luminaria, lighted paddle boats, Oriental Star lighting now in the Saturday evening line-up.
The open house offerings at – inside – various businesses scheduled for Friday are still on for Friday. Any further changes will be listed here. Check back.
9:08a Friday is the last day for Toys for Pamlico Kids. There is still time to drop off your donations at Town Hall.
The Town Board met Tuesday night, swearing in two new commissioners. Here's the report.
9:01a A change-up. The luminaria lighting is being moved from Friday night to Saturday… the luminaria will like the drier weather. Meanwhile, the bag stuffing and initial candle lighting (they are lit briefly) is on for today, 3:30p at the firehouse.
Marsha Paplham is the Chief Luminarian. She says some more volunteers are still needed to deploy the luminaria Saturday. Call Marsha at 252-675-5142.
8:50a No getting around it. We have a cold and wet Oriental Weather Forecast. Rain and highs only in the 40's for the next 3 days. Multiple layers – and foulies – may be the fashion trend at the weekend's Spirit of Christmas festivities.
Speaking of spirit of the season, if you weren't sure what to give as a Christmas gift to children at HeartWorks, here are some details on what would be appreciated. Katherine Hudson writes:

Folks can focus on purchasing gifts for 5 -10 year old girls and boys. Suggested items: dolls, trucks, transformers, legos, craft kits, art supplies, games, etc. The Broad Creek Christian Church has committed to buying gifts for 45 of our "older" children – aged 11-14. This means the rest of the community can focus on the other 98 young'uns. Elves will be wrapping presents on December 14th in preparation for Santa's arrival at HeartWorks on Monday, December 18th.
One week to drop off the gifts at either HeartWorks in Bayboro or the collection site in Oriental, at Marsha's Cottage.
Wednesday December 6, 2017
11:55a Wednesdays mean new weekly specials at The Piglet. They are online at this link.
Readers have said they wanted it easier to find the Billy @ The Piglet videos. Links have been added to the Specials page above, plus here are the two latest here:
8:32a Fill 'er up? For ethanol free there's the Pig. But now Oriental has electric fill-ups available. For free. The town has put in two electric charging stations.
6:14a From the Town Meeting: The new Oriental Town Board was sworn in last night. Two commissioners stepped down and two new commissioners stepped up. The dog park installation (near the soccer field behind the fire station) has begun, the dredging of Pierce Creek is complete, the process for hiring a second Oriental police officer has begun, and Chris Fulcher submits plans for a parking lot.
Full town meeting report coming.
Rain likely – 80% – today. Make that 100%, it's already been raining on and off this morning. We have a less than ideal forecast (wet) for the next few days & heading into the weekend. There is good news in there though… while Saturday morning may get rain partly sunny skies are forecast for the afternoon. The Spirit Of Christmas parade should see dry weather.
Tuesday December 5, 2017
In November two new commissioners were elected, along with 3 incumbents.
Tonight at 7p is the December Oriental Town Board meeting, where the new commissioners will be officially sworn in, and then be seated in their new roles at the town meeting.
New Classifieds:
2014 Dodge Ram 1500 Crew Cab $21,000
Price Reduced. 289 Indian Bluff Dr. - 4 bed 3 Bath
SEEKING FULL OR PART TIME EMPLOYMENT
Beautiful 2001 Catalina 310
2BR/2BA in the Heart of the Village
There Is An Architect In Oriental
2 bedroom , 1.5 Bath Apartment.
Thank You from the Potters Market
JBL Studio Speakers
Craft Show @ Your Library
Attention All Catalina Sailboat Owners.
9ft Dyer Dhow Dinghy fully rigged for sail
Recent cover photos:
See
more cover photos...
Web Cams: