It's Wednesday August 23, 2017
Dock Quote: "Be silent as...
News From The Village Updated Almost Daily
Upcoming Events
Adventurer, survivor, and loyal companion. Pet Of The Month
Dark(er) skies and DIY viewing devices. The Story
48 years of watermelon for everyone. The Story
Officer Sworn in, Permits Revoked, Alcohol Sales on Sunday. The Story
The town can do something. Like the paint.. Letters To The Editor
Most Oppose, Some For Fulcher Trawler Paint Yard. The Story
Party At The Piglet. The Story
The Piglet's 1st Birthday. Drawing The Town
Chris Fulcher's Latest Plan: No Roof For Harbor Building. The Story
CAMA Official: Public "Shortchanged" By Lack of Notice. The Story
Super greeter and employee of the year. Pet Of The Month
An Open Roof, Dark Skies and Water @ July's Meeting. The Story
Planning Chair Urges Public To Attend Meetings. Letters To The Editor
Knife fails to move Picker's purchased fridge. The Story
Flooding Study, Surplus Funds, New Hours At Town Hall. The Story
37th Annual Croakerfest. The Story
Collison With Morehead City Bridge Adds A Bend. The Story
A Man With A Grill Tips His Hat. Letters To The Editor
Formal Resignation Submitted June 21. The Story
Combining two popular events benefits local charity. The Story
Lights, Camera, Treats. Pet Of The Month
Microbrewery, Budget, and Police Hire. The Story
17 Vessels Compete. The Story
Photos from the 5th Annual Music Festival. The Story
How You Can Be Part Of It Now. The Story
It leads to a camp that trains champions. Drawing The Town
Photos from 14th Annual Arts Festival. The Story
Billy Flockhart On What's New At The Piglet. The Story
Scenes of 4th Coastal Ride Weekend Here. The Story
Thank Yous For Cycle NC Event. Letters To The Editor
Sailor. Amputee. Scout is Pet of The Month.
Wednesday August 23, 2017
2:14p If you see the Oriental Police vehicle parked strangely on Hodges, don't worry; it's another improvement for the road. Jesse from Oriental's Public Works Department has been busy this morning, making repairs to the storm drain.

9:01a Dry & cool August weekend weather ahead? Really. Forecast highs of just 80 combined with dry days.
Piggly Wiggly weekly specials are now online.
8:50a The Planning Board is holding a workshop today from 1-3p at Town Hall to "Review/Revise Permissible Use Table and Consider Other Minor Adjustments to GMO." The minutes from the August 16th meeting are available for review.
Scout, Oriental's newest three-legged resident, is Pet of the Month.
Tuesday August 22, 2017
12:22p How to view an eclipse? There were box viewers. A sextant. Welding masks. Even an attempt at using Ritz crackers. Folks gathered at Lou Mac Park Monday to collectively catch an eclipse view.
10:00a Oriental Police Officer Nic Blayney is out painting the roads this morning. 15mph on Hodges. Ragan and Midyette near the boat ramp will also be getting a paint treatment today.

7:27a Mixed clouds and sun, highs near 90, small chance of rain. No chance of eclipse.
More Oriental eclipseee pics coming. Meanwhile, Gary Ramsey provided navigational instructions at Lou Mac Park Monday:

Monday August 21, 2017
7:45a Some clouds may compete with the eclipse today. Hey, we'll still have that dark goin' on.
Humans and other semi~sentient beings will gather at Lou Mac Park today for the eclipse.
Sunday August 20, 2017
9:01a What will the eclipse look like in Oriental? And When? Here's a projected view:

7:47a After a cool foggy morning, mostly sunny skies are ahead. Highs near 90.
7:35p Activist/Comedian Dick Gregory passed yesterday after 84 years on the planet. He left many thoughtful & edified quotes, but this one fits a sailing/fishing town:
"When I lost my rifle, the Army charged me 85 dollars. That is why in the Navy the Captain goes down with the ship."
7:31a Storm Harvey is a storm no more. The tropical wave that looked like it would become Storm Irma doesn't look like it will happen.
Compared to a few days ago, the Atlantic is almost quiet. The next few weeks are the peak of hurricane season though.
Here's what's happened so far this season:


Letter I, J, K, L & M storms may still test us.
Upcoming 2017 names: Irma, Jose, Katia, Lee, Maria, Nate, Ophelia.
Saturday August 19, 2017
2:35p That rain was cooled town down. Now 82 / heat index 88.
12:53p Ninety-two out there. The heat index is 107.
11:15a Out on the Atlantic, Invest 92 (the potential storm Irma) looks much less likely to form.
We'll just have to settle for an eclipse for now.
Wine tastings at 3 & 4p today at Nautical Wheelers:
We're tasting Casa Contini Brindisi Riserva from Italy, Rickety Bridge Rose from South Africa, Temptation Zinfandel (California) and Mucho Mas, a crisp wine from Chile.
Tempting. Wine tastings will be inside today… escaping the afternoon heat.
Big Hakuna Double IPA & Brown Sugar Brown Cow Mocha Brown Ale are among the D9 brews on tap today at New Village Brewery.
The Oriental Cup Regatta is less than a month away, set for Sept 15-17 (the race is Sat Sept 16). More at www.orientalcup.org.
Friday August 18, 2017
4:20p Saltwater Gold is making music tonight at The Red Rooster (behind The Silos). Tune start around 7p.
12:22p You seemed a bit complacent there. As punishment, it's about to rain. Again.
Just in case your lawn isn't growing fast enough, Mom Nature is planning to do it again Saturday.
Thursday August 17, 2017
5:04p No more Hurricane Gert. She got up around Newfoundland and came to a frigid end.
Tropical Storm Harvey has been declared. Harvey is staying down around Central America and the Gulf.
Invest 92 – or Miss Potential Storm Irma, remains the one to watch for now: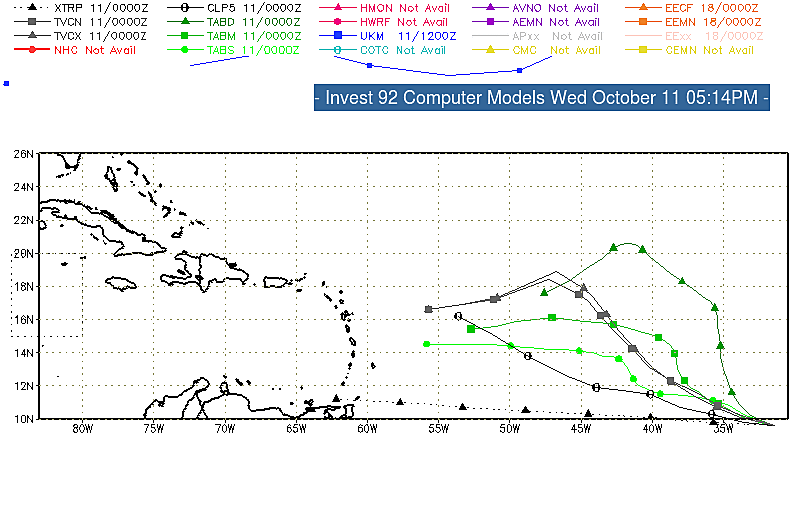 12:11p Tropical System Nine is now out there (formerly dubbed Invest 91). Nine is wayyy south and heading for the Gulf Of Mexico – it won't be local trouble. Nine is expected to strengthen and get the name "Harvey."
The one to watch is that future "I" storm – Irma. Invest 92 could well become Irma, and has a potential track that could head our way.
11:58a Thirsty? New Village Brewery has brews from D9 Brewing of Cornelius NC on tap. Even something called "Big Hakuna Double IPA." The brewery on Broad St is open today through Saturday, noon until 10~ish.
Over at The Pig, this week's specials are online. FYI, Piglet summer hours are 7a – 9p Sunday through Thursdays, then on Friday & Saturday they stay open til 10p.
7:10a Dry. It looks like mostly probably dry today. A very welcome change. Maybe not quite as dry as the image at right suggests. But drier than it's been.
For August, it isn't that hot. Near 90 today, then temps forecast to dip to mid 80s mid next week.
Wednesday August 16, 2017
8:27a As the "G" storm passes by (Miss Gert), we approach that part of the alphabet that gives locals pause. The "I". That's pronounced "eye" there Bunky.
The next names in line this season… Harvey. Irma (that's the scary one.) Jose.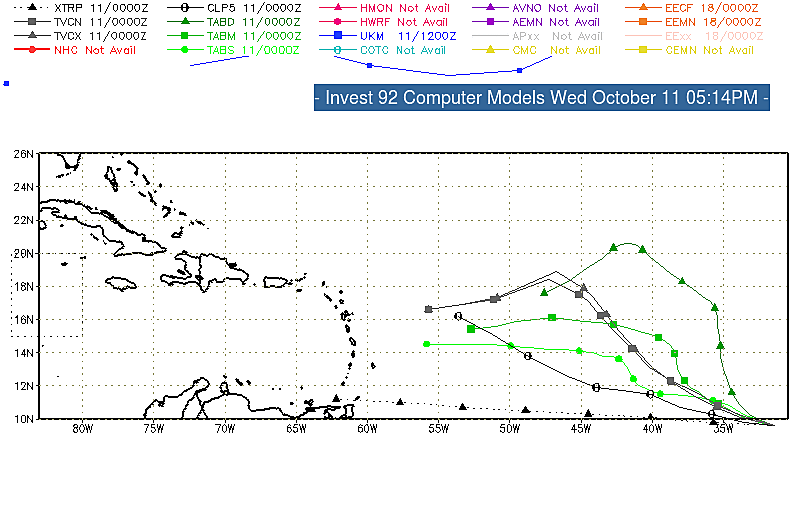 Invest 92 (at right) has "Irma potential."
Be brave and carry on.
Cloudy morning, then one of those mixed clouds/sun/dang it might rain 40% days ahead.
Tuesday August 15, 2017
9:48a Harborfest is coming Sept 22-24. It's a key part of funding Heartworks. Find out how you can help at Harborfest 2017 by going to HeartWorks (709 Main St., Bayboro) today at 1:30p for a volunteers meeting. Last year over 100 people volunteered… the many hands made it all work. For more info, contact Katherine Hudson at 252-745-9703.
8:09a There's a hurricane just off our shore – but far enough that we will hardly know.
Gert has been upgraded to hurricane status with 75mph winds, but Hurricane Gert is politely staying out to sea – about half way between us and Bermuda.
While Gert passes by, skies are clearer outside than we've seen for a while. Wed and Thursday should bring more mostly clear skies and a mere 20% chance of rain (that's low lately).
Monday August 14, 2017
1:22p It helps balance the humidity. One of the great things of August – the Bond family's watermelon Sunday.
11:17a Oriental Police Officer Nic Blayney reports a rabid fox was discovered Friday "playing" with a dog at Dolphin Point. All is OK, in that the dog did have a rabies shot. The fox is no longer with us.
But Nic says its a good reminder to make sure your pets have had a rabies shot.
11:05a Clameeee. August has been the humidity month so far:


Humans grumpy. Slugs happy.
No sign of imminent change. More clouds n sun n wet n humid for the week.
Mom always said one should point out the positive. OK, Mom. It ain't 100 degrees.
New Classifieds:
2014 Coachmen Apex 215RBK Travel Trailer
3BR/2.5BA in Sail/Loft Community
Saturday Garage Sale 26th August 8AM - 6PM
Boat Slips $100 Per Month
Your Neighbors Are My References
Tangaroa, US documented, in-water cruise ready
Yep I Do
Live in the heart of the Village
Vintage Linens and Fabrics
Sunny and roomy home with boat dock
Canvas sewing machine operator
Yard Sale - Sat Aug 26
Recent cover photos:
See
more cover photos...
Web Cams: