It's Tuesday February 9, 2016
Dock Quote: "If I'd known...
Upcoming Events
The Timeline: Two Weeks and... Gone. The Story
Spread of Rot A Safety Concern. The Story
Post-Walmart, Post-T&C Oriental. Letters To The Editor
Town-n-Country Manager Calls Move "Pitiful". The Story
Experiment Over, Now What?. Letters To The Editor
23rd Instead of Football Regatta. The Story
How To Get There . Letters To The Editor
January Board Meeting. The Story
One To Remember. Letters To The Editor
Half Century of No Rain on This Parade. The Story
Positive Flotation: Boat Easier Than Apartment. The Shipping News
Even A Dragon Needs A Home. The Story
100 Runners, Walkers Help Hope Clinic Raise $1700. The Story
Rabbit Ears For A Digital World. The Village Geek
Lighted Flotilla Takes A Village. Letters To The Editor
Merry Dinghy Christmas. The Story
He's a birdseed eatin' machine. The Story
You Can March Right In. Drawing The Town
Friday & Saturday December 11-12. The Story
Boats need Christmas too. Drawing The Town
100 Miles - Some More, Some Less. The Story
Candy Bohmert, Angie Propst Seeking Seats. The Story
Practice at Minnesott Before Bermuda Regatta. The Story
First Season Includes A Race in Oriental. The Story
2 Months Since Shooting: Update. The Story
Gus knows his place at Arlington Place. Pet Of The Month
Police Looking for Transient Boater From Florida. The Story
Rock n Roast Thank You. Letters To The Editor
Readers Send Ideas. The Story
Where There's Smoke, There's Ire. Letters To The Editor
1st time visit to Oriental for many new cruisers. The Shipping News
Oriental Elects A New Board & Mayor. The Story
Mess or Message. Letters To The Editor
Early Voting in Oriental Elections. The Story
Spend Less Money, Get More TV. The Village Geek
Record Attendance - Record Revenue. The Story
Seven Board Candidates And One For Mayor. The Story
Over 200 Wheels By The Neuse. The Story
Country Comes To The Village. The Story
A hull reflected in the waters of Sailcraft Marina Monday afternoon
Tuesday February 9, 2016
Fat Tuesday has some fat clouds rolling on Oriental's horizon today but no rain in that Oriental Weather Forecast, not for a week. But hang on….before you celebrate this needed dry spell, take a closer look at that forecast — temps are on a downward slide.
Check out the forecast for Valentine''s Day. 29. For the high. That'll freeze your Whitman Sampler.
There area some things to celebrate and gather for even before Sunday. St Thomas Episcopal Church serves up a pancake supper this evening to mark the start of Lent. The Coast Guard auxiliary starts its 2016 Seamanship Course tonight, too. Details are in What's Happening."
Hey, hey, we're … wishing you a Happy Asian Lunar New Year. We are now in the Year of the Monkey.
Oriental's Chinese Dragon and its dance troupe didn't parade yesterday as in other years. Instead, dragon and team will be a part of the festivities at the 2nd Annual Oriental Indoor Dragon Boat Race at the Village Club pool on February 20 – a week from Saturday.
Monday February 8, 2016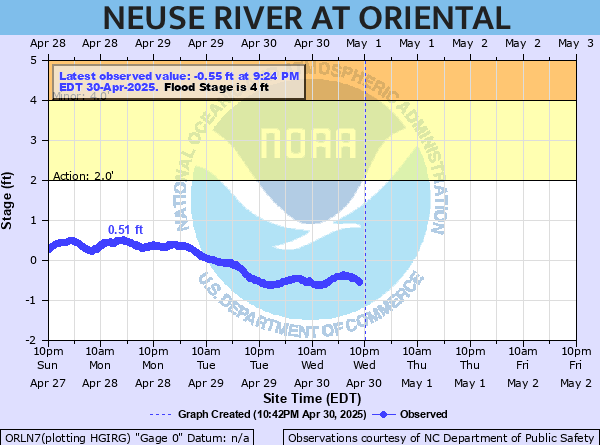 Snap. Just like that. West winds overnight have the water levels back to normal.
It's safe to come out now. No more sideways rain. The winds have died down and water's receeded from Hodges St. You can get your coffee and not wade in for it.
We do get a chance to dry out. Check out that string of suns in the Oriental Weather Forecast. Sharp eyes will see descending temps from today's high in the 50's. With the coming gelid temps we may see the wet ground freeze rather than evaporate.
Sunday February 7, 2016
Lashing rain and wind in the air this afternoon and water up past your ankles – mid-shin on parts of Hodges and those low lying areas near the Duck Pond. The Oriental Weather Forecast has this storm tapering off after midnight,
Saturday February 6, 2016
Condolences go out to Assistant Town Manager Heidi Artley. Heidi's husband John, passed away Wednesday at CarolinaEast with his family at his side. A private service is planned. In lieu of flowers, contributions may be sent to PAWS or the Oriental Rotary's Car Show.
Today's the day to be outside. Not because a high around 50 is short-sleeve weather but because it will be warmer and drier than Sunday's sop-fest. Your Oriental Weather Forecast is here.
In What's Happening today, Village Gallery has a reception for February's guest artist, Norm Robins. Nautical Wheelers has a wine and chocolate tasting – no, Bunkster they're not serving up 10-point Yoo-Hoo – it means you can sample some locally handmade chocolates and some good wine.
Oriental's History Museum drew a big crowd last week for the opening of the Pre-GPS Navigation exhibit. You can see the exhibit still – its coordinates haven't changed. 35° 1' 49.5372'' N 76° 41' 34.2528'' W on your GPS or, if you navigate by chart and local knowledge, 802 Broad Street at a diagonal from the Post Office.
Friday February 5, 2016
11:43a Public Radio East came to Oriental earlier this week for a story about what the community's doing since Walmart closed. Oriental Food Initiative as well as the efforts of volunteer drivers are among the subjects to air at noon on the show, Down East Journal. You can listen live….or later on.
7:34a Now Elmer, Valentines Day is coming up. Soon. It's your annual opportunity to improve your reputation. Could alcohol & sugar could help dampen the memory of any recent faux pas? Nautical Wheelers has a wine & chocolate tasting Saturday afternoon.
7:06a While the rain seems endless… it should actually end this morning. By 9a, partly cloudy/sunny & dry skies should appear… and then be with us at least through Saturday.
Over 3 inches (3.21 on the exactometer) of rain yesterday & overnight. It's tedious. The partly sunny day today & Saturday will raise our spirits.
Breezy today on the water (NW up to 25 knots), but calming Saturday to friendly boating weather – 5 to 10 knots.
Wednesday February 3, 2016
We've got one of those full-of-life spring mornings right here in the dead-of-winter. Sunny and 66 already at mid-morn and the Oriental Weather Forecast has a high in the 70's — but also, some chance o'rain by mid-afternoon sez the Oriental Weather Forecast Still, a beautiful morning.
Readers here have been asking what's up with the empty WalMart Express store that closed last week. Town Manager Diane Miller says she posed that question to WalMart yesterday. Miller quotes a Walmart spokeswoman saying that she "'would expect clarity by the end of the month.'"
A bit of background: when we left off last Wednesday night, at the public meeting, two local store owners, Billy Flockhart of the Grantsboro Piggly Wiggly and Frank Zeidan of the mini-mart on Broad Street both said they wanted to buy the building but Walmart had been saying it wanted to sell those stores in blocks of 20 or 30.
A member of the Oriental Food Initiative went home from that meeting and immediately emailed Walmart and made the mutually beneficial case – for Walmart's image and Oriental's well-being – to let the Oriental store be sold separately. Walmart came back and said, 'okay' and then gave both local men 24 hours to put in bids. They did.
Billy Flockhart's announcement of wanting to set up a store in Oriental had drawn widespread applause at last week's meeting. (Some in town are already referring to it as The Piglet.) But a confidentiality agreement he signed makes it tough for the resst of us to suss out where things stand in his talks with the big retailer.
A word of explanation. TownDock late last week held off on reporting that such a CA had even been signed. TownDock staffers here have to eat, too, and want a grocery in town, so didn't want to muck up the chances of Walmart selling that building sooner rather than later. Since then however, other media learned of the CA and reported it. TownDock will update as news emerges on the potential grocery store in town.
Thumbnail from last night's Town Board meeting: the rezoning request in the 900 block of First Ave – from R1 to R2 – was denied. The owners wanted to be able to rent it out by the week, and R1 allows it only by the month or more.
Talking leaves and tree: A property owner last night called on the Town Board to hold off on cutting down the willow oak in LouMac Park and see if the tree leafed out in spring and to get a second opinion on the matter. The Town Board stood by the Tree Board's recommendation and the expertise of its chairman, retired urban forestry professor Bob Miller. Commissioner Charlie Overcash says the NC Extension Service ran it by NC State which concurred with Bob Miller.
As reported here last week, the concern was that the extensive decay in the tree could lead to boughs falling on people who use the park.
As Miller had noted in that story, even if leaves sprouted, the tree had lost 43% of its strength and so, poses a threat. Last night at least one speaker noted that 43% level doesn't dictate immediate removal asked why the Town doesn't wait for 50% strength loss. To that, Miller said the 43% figure did not take in the decay in the tree's crown, nor in all of its interior.
Town Manager Diane Miller (no relation) says once the Town determined the tree to be a threat, it posed a greater liability to Town. Making plans to remove that tree, about a week from now, she said Wednesday morning, reduces the Town's liability.
Monday February 1, 2016
1:03p Today's gorgeous warming weather comes at the right time. We all needed this breather and balm of temps in the mid 70's.
The past two weeks have been turbulent with the announcement and then closing of Walmart's experiment in small-box retail, the Express stores – in particular, the one Walmart knew as #7207, the one just outside Oriental's town limits.
TownDock's been covering developments and updates in that story here on the home page for two weeks. We've now compiled all those reports. You can take it from the top – January 15 – right here.
7:30a Happy February. We're moving in to the new month in style – high today bumping 70. Enjoy and soak it up today – rain on the way midweek and in to the 40's later in the week. The
Oriental Weather Forecast tells all…
Sunday January 31, 2016
There was a time when saying, "GPS" meant you were referring to The Gap's stock market symbol. Or German Potato Salad.
In those days – before the development of the Global Positioning System – you'd use Loran's lines on a chart, the signal of an AM radio station, the stars in the sky or a sextant to suss out where you and your boat were.
Quaint, huh? Well Loran's out, but the other systems still do work, along with paper charts. You can see them at Oriental's History Museum's new exhibit of those pre-GPS tools of navigation. It opens today with a 2p talk about celestial nav.
Still more national coverage about Walmart's curtailed short dance with Oriental. On your radio yesterday morning, you could hear Oriental Mayor Sally Belangia talking with NPR's Scott Simon. If you missed it – perhaps you were busy seeking that smoked tofu* – you can hear and or read it, here.
This morning's News and Observer meanwhile reports on the differing experiences of the several small towns in NC where Walmart Express stores opened (and now closed).
Saturday January 30, 2016
More beautimous weather in the Oriental Weather Forecast. Sunny and high in the mid-50's today, mid-60's manana.
So, here we are at the end of January already. These last two weeks just sped by, what with the Walmart Saga. The store did close Thursday night.
If there's any one takeaway from these past two years, it's this: for local businesses to be here and stay local – especially the little guys, the indy owned places – we have to support them and shop there. We have to Go Local.
Friday January 29, 2016
12:30p Gorgeously dry air blowing cross the town today. Step outside if only for a moment and breathe that in….ahhhh.
Hey sailor…. There was a time when you couldn't rely on GPS (cos it hadn't been invented yet, Bunkster) So, in order to get your boat pointed in the right direction or to know where in that big ocean you were you'd use a sextant, some brass tools, an AM radio. (contrary to rumor, the AM did not stand for Ancient Mariner.)
The Oriental History Museum has put together a new exhibit oof those pre-GPS tools of navigation. It's opening this weekend with a talk on Sunday. More details here.
5:30a We may be getting a drying spell. The ground could use it. We could use it. Clearer skies today and in to the 50's says the Oriental Weather Forecast
Thursday January 28, 2016
Two of the network news 'casts last night. Today, Today. (Yes, we are that small a town that we talk about it when we hit the national news.) All this because what happened here in Oriental with Walmart served as an example of what's happened in many of the other small towns where Walmart is closing down stores.
In Oriental Walmart came and now less than 2 years later, with an indy grocery in its wake. Walmart Store #7207 shuts down tonight, a darkness on the edge of town.
Ok, so, that's all been said. What's next, what can we do? That was the overriding spirit at the public info meeting at the Old Theater last night, organized by the Oriental Food Initiative. It was standing room only and there were many standout moments.
Prime among them was when Billy Flockhart, manager and local owner of the Piggly Wiggly in Grantsboro said he'd open a Pig in Oriental in the Walmart building and could sell whatever foods the public wanted. The prospect of that practically radiated thru the room. But, Flockhart said, Walmart says it wants to sell its Express stores in blocks of 30.
Jim Edwards suggested contacting Walmart was at least a first step to get them to peel off this one store. That would let Walmart live up to its words 2 weeks ago when it said it would help communities it was abandoning get a grocery. (More on that approach coming…)
Town Manager Diane Miller rose to speak toward evening's end and in a spirited delivery said that despite the depiction of a town with no grocery that Oriental would get it solved. Evidence of that she said, was the turnout in the theater.
It was noted that the town does in fact have places to get food in the meanwhile – fresh local produce, dairy, meats at the Provision Company, shelf goods at Dollar General, wines at Nautical Wheelers, deli at the Silos. There's also the Mini-Mart whose owner Frank Zeidan said he wanted to buy the Walmart building as well.
Also addressed were the grocery-shopping needs of those in Oriental and the area without transportation. Town Commissioner Allen Price has been arranging volunteers to give rides to the Grantsboro stores such as Food Lion and Piggly Wiggly and pharnacies. More signed up last night. If you'd like to volunteer, call Allen or Leigh Price at 249-1361.
New Classifieds:
Waterfront Home on Whittaker Creek
Standard Poodle Puppy
Sofa for Sale
Computer Assistance
Help Wanted
House Cleaning
Chevy HHR with panels--$6000
Miscellaneous Items
30' Catamaran that's a real Opportunity
Sailrite Ultrafeed Zigzag Sewing Machine & Table
Recent cover photos:
See
more cover photos...
Web Cams: